Digital toolkit for rental
By Thomas Allen11 December 2020
How can rental companies manage and leverage the increasing amount of data being collected from construction equipment? Thomas Allen looks at the tools being offered by software providers.
The equipment rental sector is waking up to the benefits of digitalisation, and software provides the tools with which to make sense of the growing pool of data being collected by new hardware on construction machines.
However, that digital toolkit can get rather messy. This was a problem face by US-based Northside Tool Rental (NTR), which has five locations in the city of Atlanta. The company had been using an IT system that relied on a number of different software products, making it difficult to train new staff – especially as the company expanded.
So NTR went in search of software that could handle all aspects of the business, from its inventory and fleet to its employees and finances. It landed upon Point of Rental in 2017.
When it came to transitioning to the Expert software, NTR's Manager of Recruitment and Development Andrew Shields said Point of Rental provided training in advance of going live, which allowed them to "almost flip a switch" when moving over to the new system. Now it can see its inventory at all locations and make reservations on equipment without interrupting the other offices' work with inquiries.
Based on this positive experience, NTR recently decided to implement Point of Rental's Inspection App, which enables the company's management team to create standard checklists for inspections or any other process to which they want to assign people to ensure they are maintaining a consistent level of quality.
Checklists updated
Shields said this helps him because he can implement, track and change those checklists quickly; "Part of my job is to bring in new employees and get them up to speed. Having a programme that helps the business flow the way that it's supposed to, but is very easy to teach to others, is huge."
Meanwhile, software company Intrador has been working with an unnamed international South America rental company for more than a year, helping it to overcome some of the challenges of managing its fleet.
When rental contracts came to an end, the rental company was finding that equipment was often being returned with significant damage and even missing parts.
In an attempt to avoid the extra costs associated with repairs and replacements, as well as the resulting fleet devaluation, the South American rental firm would commission independent inspectors to conduct regular physical inspections on its equipment out on rent. However, this was expensive and not particularly effective – in reality, about one in every 10 machines was actually inspected.
Inspection App
As a solution, Intrador offered its inspection App, which can be installed on smartphones and tablets, allowing anyone to easily and quickly take photos of machines in a prescribed manner. The App uses artificial intelligence (AI) technology to recognise the machine and it validates the authenticity of the data.
The data collected is accessed via a central online information management system, which gives the location and condition of the machinery.
The App has reduced the client's direct costs by 50%, according to Intrador, and the software company is working to further optimise the solution so that more savings can be realised
In addition to the inspection App, Intrador has linked its online information management system with MarketWatch, which is another solution developed by Intrador. MarketWatch gives access to online data about used equipment, enabling rental companies to gauge the value of their assets.
Remote asset monitoring is also increasingly being used in rental. UK software company Spartan Solutions has grown its asset performance management portfolio with the introduction of its new Prophes intelligent asset monitoring and predictive maintenance software.
The Spartan Expert Rules Engine (SPERE) is included in the Prophes solution. Using the web-based SPERE rule builder, equipment experts design, test and launch AI algorithms to react to emerging events or predict future events.
Digital workflows
One application of SPERE is to connect the physical product with operational processes using on-board equipment telematics. Using Prophes to connect a physical product with operational processes enables a range of digital workflows to increase efficiency and improve customer service, says Spartan.
For example, turnaround times can be reduced and utilisation increased by auto-receipting equipment when it is in the vicinity of the receiving depot
Another example is that customer service can be improved by altering customers when equipment is incorrectly used.
Furthermore, technician productivity can be increased and maintenance costs reduced with condition-based monitoring and automated service work creation, according to Spartan.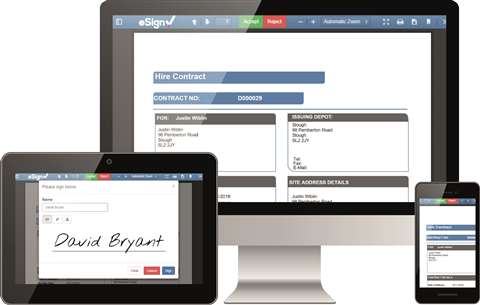 The company highlights the fact that AI applications like Prophes help to prepare equipment, people and processes for the transition to predictive maintenance.
Also offering remote monitoring solutions, digital platform security provider Irdeto has begun to transfer some of its technologies, used in other industries, into the construction equipment rental space.
Most recently, the company introduced Keystone, which is already being implemented by US-based forklift rental company MCJ Supply Chain Solutions.
Keystone enables contactless renting with a digital key, enforced daily inspections, hygiene reminders, and daily maintenance prompts.
Niels Haverkorn, General Manager of Connected Transport at Irdeto, said, "Construction companies, including rental providers, need a flexible, secure rental access management solution. Our Keystone solution provides a suite of controls helping them with booking, handovers, operations and end of rental or daily checks, all done with good health and safety measures."
North American roll-out
MCJ, which has four depots serving the US, Canada and Mexico, has begun the process of rolling out Keystone across its rental fleet in North America.
Niklas Strobel, Director Rental Solutions, MCJ, outlines some of the benefits of the system, beyond a standard telematics solution; "The tablet on the forklift sits in a cradle so it can be removed and used as a camera and inspection protocol via the user interface."
He added, "All pre-op checks are stored with photos on the back-end." Irdeto is working on AI-based technology to analyse photos to identify damage.
Also, if there is an impact, a check procedure can be enforced; "The truck will go into limp mode automatically and that will only be unlocked once the post check has been applied with satisfactory conditions," says Strobel.
Other benefits include the ability to tailor driver programmes to a particular operator, for instance reducing the maximum speed and restricting usage for new operators.
Also, good behaviour can be rewarded, for example by offering reduced rental rates when no impacts are recorded during a given rental period.
The Covid-19 pandemic has been driving digitalisation in recent months since it can help business to continue while maintaining social distance. Rental software provider MCS has seen a rise in demand for its electronic signature capture product, MCS E-Sign.
It enables rental companies to provide a faster service to customers and reduce the margin of error because quotes and contracts can be signed from any device.
Signature capture
Nick Thomson, Sales Director at MCS, said, "Before this solution, many companies would be sending out quotes and contracts that would need to be printed, signed, scanned and sent back as 'approved'. This took time and was often a cumbersome process.
However, it was clear that our customers valued making sure there was a formal signature attached to their quotes and contracts to make the hire process as smooth as possible. Now, our customers are able to send out documentation to their clients which can then be digitally signed from any device."
Customer service is also enhanced by MCS's mobile Apps, such as Transport Mobile and Workshop Mobile, which give rental companies visibility of their workforce and enable them to provide customers with real-time updates on the progress of service engineers and delivery drivers.
Thompson said, "Rental businesses have the ability to receive automatic alerts from the MCS Transport Mobile solution that trigger text messages to a customer with an expected arrival time. The Transport Mobile solution can also provide the team in the office with clear visibility of which service engineers are best equipped to deal with an ad-hoc job request."
UK-based rental software company HireHope, founded in 2016, offers a solution that does not need to be installed, is updated automatically and can be accessed via a web browser because it is cloud-based.
This makes it fast to operate, according to the company's Chief Technology Officer Justin Levene, who adds that the platform is fully customisable. A company can use its own developers to augment it, adding or hiding features.
Accounting software
Levene says one problem with existing rental software is that it can only link to one type of accounting software at a time; "As some rental companies operate more than one company in the same depot, or different companies at different depots, with each company using different accounting software," Levene says, "HireHop developed a new and unique simple-to-use feature to handle this complex problem."
HireHop has added the ability to assign different accounting software, including Sage 50, Sage Business Cloud, QuickBooks and Xero.
This means that invoices and credit notes are automatically directed to the accounting software of the appropriate depot or company within a depot.
"HireHop also synchronises all transactions live with the accounting software. Or, if preferred, it can buffer them and synchronise them at a chosen time," Levene adds.
The HireHop platform also handles the complexities of different taxes for different countries within the same account, and it can process multiple currencies.
Another new feature highlighted by Levene is the simplified Point of Sale (POS) system. Given that the various features offered by HireHop for a rental desk could be confusing for a new or inexperienced worker, the company has included on its platform a cash register style interface that enables the rental and sale of parts to be processed quickly and easily.
The interface works on touchscreen POS terminals, normal computers, phones and tablets.
Getting the right data to where it needs to be is fundamental to driving digital operations, according to Steven Thomas, Chief Technology Officer of telematics provider ZTR.
Next generation interface
"We're offering a next gen user interface that's intuitive, mobile/web integrated, responsive and adaptive, with applications available on multiple form factors. We've optimised our delivery on a global scale to ensure we provide market availability faster than ever," Thomas says.
One example he points to is Genie Lift Connect, which is a telematics programme powered by ZTR. It has been designed to address the business needs of rental companies, such as Vandalia Rental in Vandalia, Ohio, US.
Kurt Barney, President of Vandalia Rental, said the Genie Lift Connect programme allows his company to enhance equipment uptime for customers; "Within the system, we can set up notification parameters that can warn us of potential equipment issues so we're able to proactively troubleshoot problems, reduce jobsite trips and increase our overall repair efficiency."
The Genie Lift Connect programme continues to evolve, though, to further help rental customers, for instance by leveraging the ZTR Data Brokerage service, which enables machine data to be shared securely across multiple customer accounts.
Christine Zeznick, Genie Director of Product and Business Development, Telematics, Terex AWP, says, "We've been working to provision all of our machines destined for rentals to be automatically configured in a way that brings visibility to both the rental company and OEM.
"ZTR provides us with the API [Application Programming Interface] technology and processes to set this up seamlessly from the factory floor, enabling our collective vision for a more connected value chain across the industry. The result is that rental companies get a telematics-ready solution with data flowing into their business system. Accessing Lift Connect and all its advanced features, we also have visibility to serve and support our customer."
US-based technology and rental firm EquipmentShare has expanded into New Zealand. Until recently, the company had offered its smart jobsite technology and equipment rental, retail and service distribution exclusively to customers in the US, through a growing footprint of more than 70 locations.
Now, EquipmentShare New Zealand (NZ) is expanding the company's technology platform to accommodate rental service providers, rental customers and contractors internationally.
EquipmentShare uses cloud technology to power its portfolio of digital solutions, which include features and tools that enable customers to rent, track and maintain mixed fleets of construction equipment, as well as monitor spending, coordinate employee hours and streamline maintenance schedules.
Antoni Tisot, Head of Product and Growth at EquipmentShare NZ, the team that is leading the testing and development of the international platform, said, "With the expansion and versatility of our platform, we can now target and serve an entirely new market, and enable next-generation rental operations and contractors."
EquipmentShare intends to continue expanding its offering into other international markets in 2021.
BOX STORY
Dozr offers e-commerce to rental partners
Online heavy equipment rental platform Dozr has launched a new software product called WebStores that can be applied to rental companies' existing websites to offer an e-commerce storefront for their customers.
Kevin Forestell, CEO of US-based Dozr, said, "The demand for e-commerce has advanced tremendously over the last six months. Customer expectations are changing and contractors want to book their rentals online through touchless, paperless transactions."
He added, "We are thrilled to offer this product across North America so our partners can transact faster than ever with their customers, fully online through their own e-commerce solutions, powered by Dozr."
Described as a way for companies to "meet new business and customer expectations in a post-Covid world", Dozr said its new WebStores software could integrate with any existing equipment rental website and maintain its original look and feel, while enabling touchless transactions with an online checkout.
The software can introduce a number of features into existing rental websites, including digital transaction processing, real-time rental requests and inventory tracking and pricing. Functions such as preferred dynamic pricing for account customers and credit account payments can also be used with the software.