Dingli electric booms reach 30m
By Euan Youdale24 August 2020
Dingli has confirmed that its full series of large self proppelled boom models are now available as electric-powered versions.
Since 2016, Zhejiang Dingli's European research and development centre has launched 14 boom lifts in the 24.3m to 30.3m working height category. Seven of the models are combustion engine-powered, while seven are electric- powered. The models have basket capacities up to 454kg.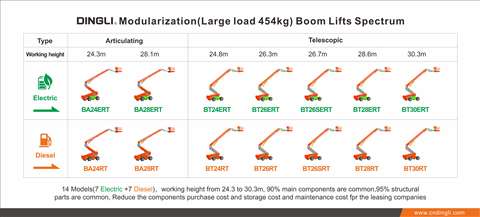 Dingli claims to be the world's only series production manufacturer of an electric-powered self propelled boom with a capacity of 454kg and a working height over 22m.
The electric and diesel engine drive series are developed on the same platform, with 95% of the structural parts and 90% of the components being commont, thus reducing the cost of maintenance, parts storage and labour.
The electric models are equipped with 80V520Ah high-capacity lithium battery packs, which support 90-minute quick charge, supporting on average four days of use. The manufacturer says the warranty is set for five years for models equipped with the maintenance-free lithium battery as the power source, with the life of the battery being eight years.
The range incorporates Dingli's unique boom design with lowered centre of gravity, with all major components moved down to the chassis and a new intelligent control system. However, the chassis itself is relatively higher with a large wheel hub and tyre diameter of 108cm, and a chassis ground clearance of 41cm.
The series is equipped with a special axle, which can meet all 4x4 driving requirements, offering 30% gradeability for electric versions and 45% for combustion engine versions. There is a 100% hydraulic differential lock, so that even if three wheels slip, the machine can still move forward.
Apart from zero emissions, the pure electric drive meets the requirements of harsh working conditions, and is suitable to working in state grid, petroleum, petrochemical and residential areas, added the company.