Discovery areas: TMHU rolls out Aichi aerial work platforms in Northern California
By Lindsey Anderson03 March 2010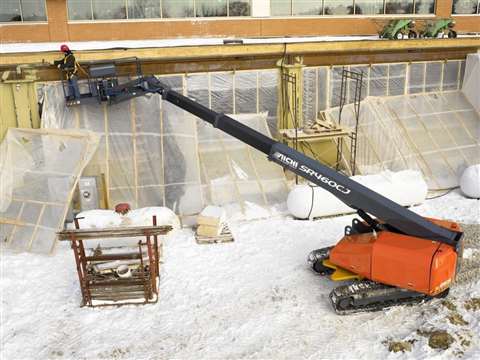 Toyota Material Handling USA recently announced it would use its Toyota Aichi dealer base to rent Aichi aerial work platforms as well as sell the machines. Lindsey Anderson spoke with Toyota Material Handling of Northern California about renting versus sales and how it will change the company.
Having been around since 1968, Toyota Material Handling of Northern California is one of the original Aichi dealers in the country, and now is one of the first to start renting Aichi aerial platform products.
"Equipping our dealers with products to succeed in this market requires a strategy that incorporates both rentals and sales of AWP equipment," says Melinda Beckett-Maines with TMHU.
All 26 independent dealers have the option to rent Aichi products, says Alan Dotts, aerial work platform sales manager for Aichi. Dealers can tailor their product lines to meet local needs, which makes the option of renting a flexible decision.
Despite this laissez-faire approach, however, TMHU does have national goals, but Dotts says those numbers are confidential.
Toyota Material Handling of Northern California is one dealer that chose to take the leap into Aichi rental. "We like to consider ourselves the total material handling solutions provider," says Mark Andres, vice president of sales with TMHU of Northern California.
"So, unlike a lot of our competitors who are just forklift dealers, we have five core products: we're a Toyota forklift dealer, we are an aerial dealer with JLG and Aichi, we have industrial vehicles, we have industrial cleaning products like sweepers and scrubbers and we also have outfitting [such as] racking, shelving and doors."
The company is an authorized exclusive dealer for JLG stock pickers.
Toyota owns Aichi, and in the recent years has decided to take the lead in marketing the company's aerial platforms in the US after almost a decade during which Aichi attempted to sell to the US market under its own steam.
Having been a Toyota dealer for many years, when the Aichi product was introduced to TMHU of Northern California, Andres says the company knew it was a product they were interested in.
"As one of the biggest Toyota dealers in the nation, we know that when Toyota does something, they do it right - they don't swing and miss," he says. "
This is something that we felt we didn't have a choice - we wanted to do it. It's the fifth core product that we feel rounds out our market perfectly. It's organic. It's Toyota."
But despite the pro-Toyota optimism, Andres isn't ignoring the market and the difficulties facing the aerial business. The company has been an aerial player for the past two years with JLG products, so they are familiar with the terrain.
"It's been a tough market since Toyota came into the US with Aichi, it was about when the construction market just about fell apart," he says.
Andres considers the economy to be an equalizer of sorts, however, and says that by offering a forklift company like TMHU of Northern California the opportunity to rent aerial work platforms, it equalizes his company with the major aerial renters in the area. "Now we can compete quite well," he says.
Popular pieces
The main products renting out right now are the narrow scissors, says Carl Beglund, aerial specialist with TMHU of Northern California. The 19-foot scissor lifts that are 30-inches wide, as well as the 26-foot unit that is 32-inches wide, have thus far been the most popular.
"[Those units] give people the ability to get in and rent for inventory, racking and maintenance on their facilities," he says. "They can replace light fixtures, heat registers, fire equipment."
But these Aichi machines, whether they are narrow scissors or bigger booms, aren't only limited to working in the industrial or construction markets; Beglund says.
They are also serving quite a niche on the west coast, a niche that is both tasty and synonymous with the state that is home to the Napa Valley.
"A lot of the beverage industry and wine makers [use these machines] during crushing and bottling," says Beglund.
"We're seeing a lot of use for these in the topping off of barrels and stirring. Instead of taking the barrels down and out of the racks, they can do it with a person and an AWP - it saves time.
"It's kind of a discovery area right now, we're just exploring this, but a lot of wineries are trying it."
Andres says the contractor market isn't one that THMU of Northern California typically hits. "Our real core has been with Toyota customers," he says.
"We have commercial and industrial customers in warehouse, distribution, health care, commercial applications like amusement parks, and colleges and universities.
"Contractors are where I've seen the real established aerial players because they're just rooted in it. They're going to rent [contractors] a pavement striper, a highway sign and two booms, and that's just not our market."
Andres also says everything the company has rented so far has been short-term aerial. "The [big rental houses] tend to focus on the construction market, that's their wheel house, but that's not ours," he says.
"Being a forklift house, we cater to retail. We cater to short-term rental. Anything that has wanted to go longer than that, people have looked at purchasing."
Andres admits his company is not a huge player in rental, having about 50 aerial units as their scale of operation, and that year-end dollar percentages account for 80 percent toward sales and 20 percent toward rental.
"Most everything we rent turns into a sale," he says, attributing that once customers try out an Aichi machine, they're very interested."A lot of what we've started as rentals, people have bought, especially with Aichi," he says.
"They're really impressed with the machine, and I know a lot of manufacturers might say that, but we're dealers. We've had more rent to sales than sales."
Why Aichi?
Toyota was very aggressive in terms of giving TMHU of Northern California good flooring plans and rental development planning and the backing financially to get started, Andres says.
Toyota's backing made it cost-effective for the company to make the move and stock the machines.
"They've come into this saying, 'Look, we know the market's tough. Tougher than it's ever been and we know it's a tough time to come to the market,'" Andres says.
"But they've certainly taken that into account and really made it viable for us as a dealer to do well with this product."
Andres says his company has an exclusive territorial agreement with its Aichi line in California, and that other pros include Aichi's two year warranty from front to back, top to bottom.
"It's basically double what the industry standard is," Andres says. "By purchasing the Aichi machine, you're basically not going to have any problems for the first two years, or at least no problems that Toyota won't take care of."
The company plans on continual investment into its aerial fleet during 2010 with an expanded focus on the boom market, which had been lighter in the past year, Andres says.
"We typically focused on scissors, but we have had some opportunities that have worked out for us so we might add [more booms] in 2010."
Beglund says one customer, who couldn't be named, has had an Aichi boom go out on rental during several different occasions and that the company is looking into their capital budget to make the purchase.
"Our customers need a lot of fine controls and don't want anything jerky or that will bounce around, for safety reasons," Beglund says.
"So they've tried out this boom lift a couple times and just love it. It's very precise in the way it drives, it comes standard with many of the features that are options on other lifts such as four-wheel drive and foam-filled tires.
"All hoses, cylinders, and housing is rooted or covered in ways that can't damage or allow debris in. It is going to be a machine that lasts a long time."
Hot spots
Toyota Material Handling of Northern California has five branches across the state and more than 800 pieces of equipment, most being forklifts, says Mark Andres, vice president of sales for TMHU of Northern California.
Dealerships are located in Hayward, West Sacramento, Salinas, Fresno and Rohnert Park. Hot markets for the company include: food production, agriculture, the solar industry, property management/maintenance and mass recycling.
"I see these trends continuing to lead the economic improvement," Andres says. "Those are the things that we clinged to in 2009 and I do see them leading us out of 2010 in terms of trending.
"I don't see the housing or construction market pricking up anytime soon, so we're going to continue to leverage on our warehousing, solar/green building, property management-type customers to keep afloat."