Dizzy new heights: the tower crane market worldwide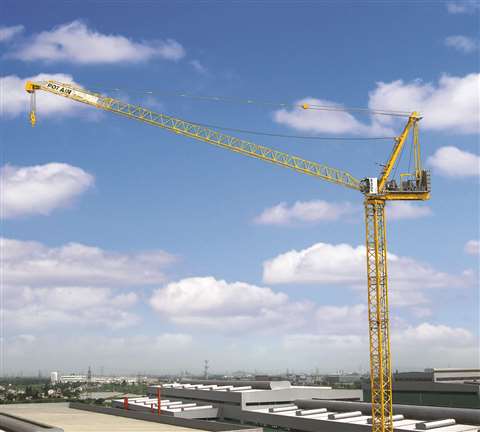 The continuing trend of urbanisation around the world means that construction in cities is growing ever upwards, rather than outwards, due to space restrictions. And to serve this 'high-rise rush' construction contractors have a plethora of tower crane types to choose from.
From self erectors and flat tops to low tops and luffers, there is a tower crane solution for every situation. The cost-effective capabilities of tower cranes further add to their popularity with contractors. "For longer jobs where you need to build high and have a crane that provides reasonably big coverage, then a tower crane provides the most cost-effective solution," says Thibaut Le Besnerais, director of global top slewing cranes at crane manufacturer Manitowoc. "Being electric, operating costs are low and there's less to go wrong, so maintenance costs are low, too."
Le Besnerais has more than 20 years' experience of the tower crane market and, as such, is well placed to comment on current trends in the sector. "We are seeing an increase in the popularity of luffing jib tower cranes," Besnerais states, "both in the Asian markets and, to a lesser extent, in Europe." In Asia this trend is driven by the amount of construction taking place in mega cities where space is limited. The small, contained footprint of the luffer makes it well-suited to this environment. In Europe, there are more controls restricting where traditional hammerhead and flat top tower cranes can be located, for example, to avoid them overflying residential areas or schools, so here the luffer provides an attractive alternative to other types of tower crane. Due to this demand, a large number of luffing jib cranes have been, or are about to be, launched on the market.
Comansa CM's new luffing jib model
Luffing jib cranes
Manitowoc's latest luffing jib crane is the Potain MCR 295, which was launched at the 2016 Bauma China trade show in Shanghai. It is manufactured at Manitowoc's factory in Zhangjiagang, China, and is sold in Asia, the Middle East, Africa and Latin America. The MCR 295 is available in three variations, each with its own rated capacity and load chart. The MCR 295 H16 has a 16 tonne capacity; the MCR 295 H20 is a 20 tonner; and the 25 tonne MCR 295 H25. All three have a 60 metre maximum jib. The crane has a compact
2 x 2 m footprint and a number of winch options, all with variable frequency drives for smooth acceleration and control. The winch options are: the 75 LVF 40 Optima or the 100 LVF 40 Optima on the 16 tonne version; the 100 LVF Optima 50 or the 150 LVF 50 GH Optima/180 LVF 50 GH Optima (depending on power supply) on the 20 tonne version; and the 100 LVF 63 Optima or the 150 LVF 63 GH Optima/180 LVF 63 GH Optima (depending on power supply) for the 25 tonne version. Manitowoc's Top Tracing II anti-collision system can also be specified.
New from Comansa CM in China, the sister brand of Spanish crane manufacturer Linden Comansa, is the CML165 luffer, available in Asian, Middle Eastern, and South American markets from September 2017. It is Comansa CM's first addition to the CML Series, the factory's luffing jib family, which was created in late 2016 with the launch of the CML190.
Two Liebherr 1000 EC-H 40 Litronic saddle jib tower cranes erecting a 40 storey prefabricated concrete condominium in Singapore
The CML165 is rated at 12 tonnes and offers a 50 m reach. A 45 kW standard hoist mechanism provides a maximum speed of 94 metres per minute (m/min) and it has a drum capacity of 545 m of rope, allowing the crane to work on projects up to 270 m tall. An optional 65 kW winch with a larger wire rope drum enables the new model to build towers of almost 400 m, working with hoist speeds up to 131 m/min, says Comansa CM.
The new crane also features a short counterjib of just 6.5 m long, and an out of service radius of 19 to 22 m (depending on jib length). Comansa CM says this makes the CML165 well suited for narrow sites or projects with space restrictions due to buildings and other cranes or due to regulations limiting overflying.
Comansa CM says the CML165 will not be its only addition to the CML Series in the near future, as another luffer is expected before the end of the year, although the company has yet to release details.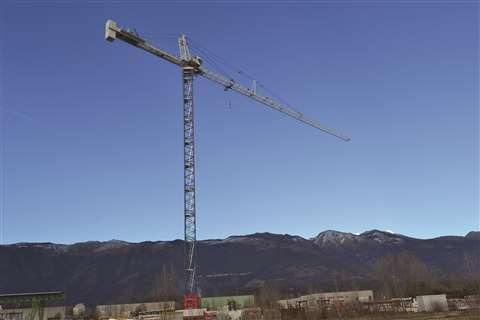 The SK452-20 from Terex Cranes
German manufacturer Jost Cranes has two new hydraulic flat top luffing cranes: the JTL268.16 and the JTL68.4s. According to Jost, the JTL268.16 is the strongest hydraulic luffer on the market today, with a 16 tonne capacity, while the JTL68.4s lifts 4 tonnes and has a 4.0 m out-of-service radius.
Jost says that the hydraulic luffer concept has a number of advantages: it is easy to assemble, as there are no luffing or suspension ropes to sort out; the crane has less total weight, which results in less logistics and associated savings; and its steep jib positions make it well-suited for working in dense city areas, as it can operate without breaking overflying limitations.
Jost says that the UK is a major market for its hydraulic luffing cranes (JTL series) and its conventional luffing (JL series) due to this ability to not over-fly. It claims that due to emerging standards and government regulations around the world, issues such as over-flying limitations, out-of-service radius, wind conditions, and crane operator safety will continue to gain in importance.
Italian tower crane manufacturer Recom says its most recent tower crane is the RTL 315 luffing jib tower crane. "We developed this in 2017," says Mariano Moritsch, Recom managing director. "It has a 65 metre jib with a capacity of 2 tonnes at 65 metres. At 6 metres the capacity is 3.3 tonnes. The crane's total capacity is 20 tonnes."
The use of high tensile steel and secure bolt connections enable it to reach greater free-standing heights, says Recom. The crane has an 80 kW winch with a Svendborg brake and a Lebus drum, while a new cabin offers the operator more space and improved visibility, says Moritsch. The cabin includes a seat from Grammer AG, a joystick from W. Gessman, and a control system from ABB.
In 2018 Recom plans to develop its luffer range with two models, with capacity ratings of 450 and 650 tonne-metres, which will feature fixed ballast. "This will be a return to our family tradition of using fixed ballast which started with the CTL 202 back in 1986," Moritsch commented.
In mid-2016 Spanish manufacturer Jaso extended its range with three new luffing jib towers. "The continuous development of new models is the key to our success," the company states. The first new luffer is the J118HPA. Jaso describes it as "a revolutionary luffing jib design" due to the use of a hydraulic ram at the rear end of the tower. It has a reach of 45 metres, and a 6 tonne capacity. The second is the J265PA which Jaso describes as, "a fast and versatile crane with a reach of 60 m and an 18 tonne capacity." Finally, Jaso says the third new luffer model, the J438PA, is, "a powerful luffing crane designed to solve space constraints and capacity issues." It has a reach of 65 m and a capacity of 32 tonnes in double fall configuration. In single fall configuration it has a capacity of 16 tonnes.
Greater capacity
Another trend noted by Manitowoc's Thibaut Le Besnerais is the demand for higher capacity tower cranes. "This is because we are seeing an increase in the use of prefabricated structures for housing and offices that are largely assembled off site and just need to be lifted into position," he explains. "As these prefabricated structures become bigger, our customers are asking for higher capacity tower cranes."
These pre-assembled structures speed up the construction process. This means the amount of time tower cranes spend on these types of job site is also becoming shorter. This, in turn, means the tower crane's erection and dismantling costs become more important. "Twenty years ago it was common to have a tower crane on a job site for over a year," says Besnerais. "Now it's rare to have a tower crane on site for so long."
The increasing focus on fast erection and dismantling costs plays to Manitowoc's strengths as the company prides itself on the user-friendly nature of its tower crane designs. "We try to make the erection and dismantling process as simple as possible. We put a lot of effort into this. When it's simpler, it also makes it safer as less time is spent setting up on site and there are fewer elements to check," says Le Besnerais.
"Our Crane Control System (CCS) can help speed up setup time as it significantly reduces calibration time," Le Besnerais continues. "We started to implement CCS at the end of 2015 on some of our smaller capacity MDT models in the 100-200 tonne capacity range. Then, during 2016, it was rolled out to our larger MDT Topless tower cranes. In 2017 we extended the system to include our traditionally-shaped classic hammerhead with cat head tower cranes – namely the MD 509, 559, 569, and 689."
Prefabricated structures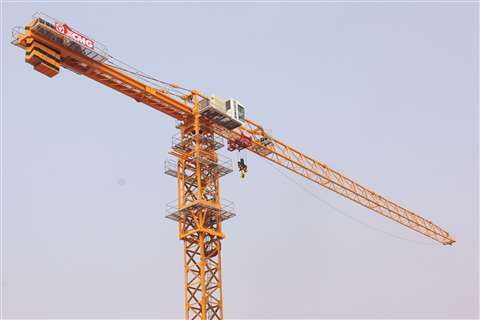 XCMG from China's XGT7020-10/12 flat top tower crane
An interesting example of the use of prefabricated building structures is on a job site in Singapore where contractor Dragages Singapore is building a 40-storey condominium. The building is being constructed from an all-concrete version of the prefabricated pre-finished volumetric construction (PPVC) system. PPVC is a method in which free-standing modules are prefabricated off site and then erected on site. Once completed the building will be the tallest in the world built using this technique for concrete modules.
To build the condominium, Dragages Singapore used the expertise of the Tower Crane Solutions department, part of German crane manufacturer Liebherr's tower crane division. The department was created specially to provide consulting services for special projects.
The weight of the preassembled concrete modules (between 17 and 29 tonnes) meant that the Tower Crane Solutions department recommended using two Liebherr 1000 EC-H 40 Litronic High-Top towers. As this was the first time this type of tower crane had been used in Singapore, there was a lengthy and stringent approval process that took almost six months to complete before the cranes could be imported.
They arrived in December 2016 and January 2017, and took between four and five days to erect on site. They lift 40 tonnes at a working radius of 35 m and can operate from a fixed position outside of the two towers and, as they are tethered to a non-modular element of the building, will grow as the buildings grow.
"Lifting the modules into place is very quick," says Seng Swear Wern, civil production manager on the project, "but it takes longer to do the precision placing. Placing has to be within plus or minus 2mm because if there is any greater discrepancy then the entire building could come out of alignment."
To ensure accuracy Liebherr tower cranes have a Micro-move precision placing system, operated from the cab. In addition, Dragages has its own laser guiding system. The crane operators are employed by Dragages but have been provided with training by Liebherr Singapore. In total there are 1,866 modules to lift. Dragages is in the early stages of the project and is lifting on average five modules per day; it is aiming to increase this to eight as the project progresses and the total lifting operation is expected to take between 13 and 14 months.
Returning to new product launches, it's not just luffers that are proving popular; across the other tower crane types there are a whole host of new products that have either just been launched or are coming to fruition.
Hammerhead cranes
Global crane manufacturer Terex Cranes launched the SK452-20 at the end of 2016. "It's a 20 tonne hammerhead that is proving to be very popular in North America," says Marco Gentilini, vice president and general manager of tower cranes at Terex Cranes. The SK 452-20 has a max capacity of 20 tonnes with a jib of 80 metres. Terex Cranes says it features the latest technology in terms of crane control, enabling fast crane setup, easy servicing, and smooth crane operation. "There is an improvement in speed, load chart and control due to frequency variable motors," explains Gentilini. "The commonality of parts with the existing SK 415-20 is also of benefit to the customer in terms of parts management." Terex Cranes says it has also recently expanded mast production of its hammerhead SK models at the Terex Oklahoma City facility, as North America is a critical SK market.
Flat top cranes
Italy-based manufacturer Raimondi Cranes has just launched a flat top tower crane: the MRT234, described as its most technologically-advanced flat top tower crane to date. It has a maximum jib of 70 m and lifts 12 tonnes, on four falls of rope. At maximum radius it can lift 2.25 tonnes in Ultralift mode and there are eight different jib length configurations – from 70 down to 28 m. The MRT234 can have a 45 or 55 kW hoisting winch.
"We wanted our newest crane to satisfy the load capacity requirements that customers were requesting," says Domenico Ciano, Raimondi Cranes technical director. "Another priority we had was ensuring smooth installs and dismantles that took less time and reduced the potential for error and the number of technicians needed onsite. To facilitate this we worked to improve the jib connection system, and to have each jib element ready for assembly without requiring the installation of accessories on the job site. This means the full jib can be assembled by just two people in just a couple of hours. If required, we can install the full jib in one go with the trolley ready to work as soon as it is connected to the electric cabinet. This is possible because we can install the trolley and hook block on the jib, complete the rope paths on the ground, and prepare the system for an easy hoisting rope installation when we connect the jib to the counterjib."
A focus on R&D is evident in Raimondi's newest crane. "At the forefront is user experience and user interface – this is something that is widely applied in the latest technologies out of Silicon Valley, and we're bringing that into the manufacturing sector," says Ciano. "It's clear that the modern approach is to design machines that have an enhanced level of interaction with their surrounding environment, enabling people to work faster and more safely." For example, the MRT234 can have Raimondi's Deluxe R16 cabin and V3.0 control system with human-machine interface (HMI). To help improve visibility for the operator more than 80 % of the cabin's surface is glass. To achieve this, Raimondi says special attention was devoted to improving both thermal and acoustic insulation, while also reducing glare and reflection. "Inside the cabin the V3.0 human-machine interface means all information is displayed clearly and the operator can easily check parameters during work," says Ciano. "It also allows the maintenance team to check and set the crane quickly." A fully integrated system, the R16 has an anemometer, black box, radius, load and wind indicators, and a zoning option can be added.
New models
Manufacturer Wolffkran has announced a new replacement flat top tower crane model in the 140 tonne-metre class. The Wolff 6020 Clear replaces the 6015 Clear, that was launched in 2008. It has a bigger tip load and incorporates design detail improvements from other recent new models, Wolffkran says. It will be available from September 2017.
Two versions are available: the 6 tonne capacity 6020.6 Clear and the 8 tonne 6020.8 Clear. Each has three tower crane connection options. These are the 1.5 x 1.5 metre UV 15 or the 2 metre TFS20 or UV 20.
Gerd Tiedtke, Wolffkran product manager, commented, "Compared to its predecessor the 6 tonne version can lift 2 tonnes instead of 1.5 tonnes at the tip at a 60 metre jib radius, while the tip load capacity of the 8 tonne version was increased from 1.5 to 1.8 tonnes."
Both models are designed for two-fall rope operation. On the 6 tonner a new 28 kW hoist winch, type Hw 628.1 FU, shortens cycle times with its 108 m/min hoisting speed under partial load. A 45 kW Hw 845 FU hoisting winch is fitted on the 8 tonne version.
Changing some elements of the design has allowed smaller bolts to be used which means faster and easier assembly. Counterweight slabs are no longer supplied with the basic crane as many owners already have suitable existing ones. For easier transport there is a special support to hold up to three jib sections on the counter jib. To help better protect the crane against corrosion there are more galvanised parts than on the preceding model, including railings, platforms and covers.
Terex Cranes has launched the CTT 132-6 – a small flat-top with a maximum jib length of 60 metres. The capacity at maximum length is 1.4 tonnes and maximum capacity is 6 tonnes. Gentilini says the CTT 132-6 was designed to replace an older flat-top model, offering improved speed and capacity. "It's easier and faster to erect compared to previous models, too," Gentilini adds. "We also wanted to improve quality and facilitate easier maintenance by introducing things like a stainless steel electric box, standard sockets, and our control system. Although available globally, Gentilini says Terex Cranes targeted Europe – particularly Central Europe – with the launch of this model as the company wanted to boost its presence there. Gentilini reports Terex Cranes has also sold a number of units in Italy, which he says is "encouraging" given the difficult nature of the market since the economic crisis in 2007-2008.
Terex Cranes says it plans to launch two new tower crane models in early 2018 – one 400+ tonne-metre class flat top crane and one new 60 metre luffing jib. "Both these products will be equipped with a new operator cabin," says Gentilini, "which will then be rolled out across all future launches. The new cabin will have improved visibility and offer greater comfort with new air conditioning and heating systems. The seat, control panel and joystick have been designed to be as ergonomic as possible."
Terex Cranes claims it is able to accelerate product development because it is investing in its tower crane facilities and in its product development team. This is important, Gentilini says, because it addresses recent questions in the industry regarding how dedicated Terex Cranes is to investing in its tower cranes division. "Terex has established a long-term strategy (Focus, Simplify, Execute to Win) focusing on three key business segments, with cranes being one of these," Gentilini stresses. "And tower cranes are a key element of the cranes segment. Our focus is now on accelerating new tower crane product development to meet our customers' needs. The purpose of this is to improve their own return on invested capital and provide them with efficient and safe equipment."
Chinese manufacturer XCMG has launched the XGT7020-10/12 flat top, which it describes as "a high-end, intelligent tower crane that has attracted widespread attention in both domestic and international markets". It has a maximum lifting moment of 278 tonne-metres, with nine jib combinations available from 70 down to 30 metres.
The crane uses modular technology to facilitate the sharing of parts and to help make erection and dismantling as easy as possible. Efficiency is improved by more than 60 % the company says. The new crane also has a new XGT-AMCS intelligent control system to provide enhanced crane control, fault-diagnosis, real-time recording, monitoring, and remote management.
Low top cranes
In October 2017 Recom also plans to launch a new range of low top cranes, available in three models with capacities ranging from 16 to 32 tonnes. According to Mariano Moritsch, these will combine the advantages of flat top and tie-bar cranes and will incorporate a new system enabling them to be transported and erected complete with their trolleys, ropes and motors to speed up erection time. The counter jib will also have a new system that will enable them to be folded for transport without removing items such as hand rails or platforms.
By 2019 Moritsch says the expansion of the Recom tower range should be complete with the RTL luffing jib line ranging from 150 to 650 tonne-metres and the RTT low top line ranging from 200 to 700 tonne-metres.
"With such an experienced team, decisions and time to market is faster than we expected," comments Moritsch. "Our sales this year have proved we are heading in the right direction. The founder of our family business [Mariano's father Ferruccio] would be proud of the current team." For more on the Recom story see ICST April 2017.
In conclusion, judging by the large number of new tower cranes either currently on the market or about to be released, the sector is in good health. Urbanisation, prestige construction projects, and the cost-effective nature of tower cranes are all playing a part in boosting the sector. Add to the mix the diversity of tower crane options available to construction contractors, it seems the drive to reach 'dizzy new heights' will continue.