DNV GL certification for automatic hooks
By Christian Shelton24 August 2017
Spanish automatic hook specialist Elebia has announced its evo5, evo10, and evo20 automatic hooks have received certification from maritime classification and consultancy agency DNV GL. The three hooks have 5,000 kg, 10,000 kg and 20,000 kg capacities, respectively.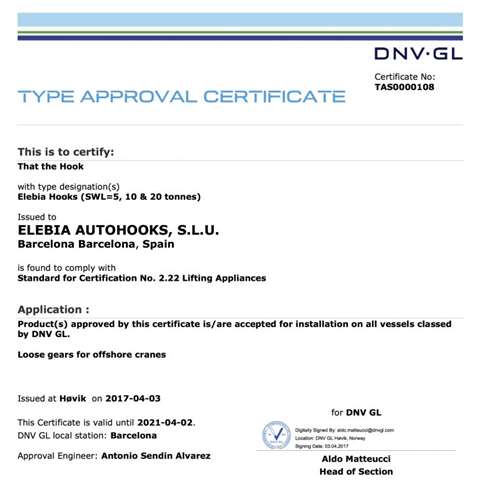 The automatic hooks have received certification number 2.22 for lifting appliances, which means they can be installed on all vessels classed by DNV GL, said Elebia.
Elebia automatic hooks have a magnet in their lower section. According to Elebia, when the magnet is close to the load, it attracts and correctly positions the sling. The operator pushes the control button and the hook closes, catching the ring and lifting the load without any additional handling, Elebia explained. It claimed this helps minimise risk, enhance safety, and increase productivity.
Elebia stated its automatic crane hooks work with cable slings, chains slings, master links, textile slings and big bags.