Dockside cranes under the spotlight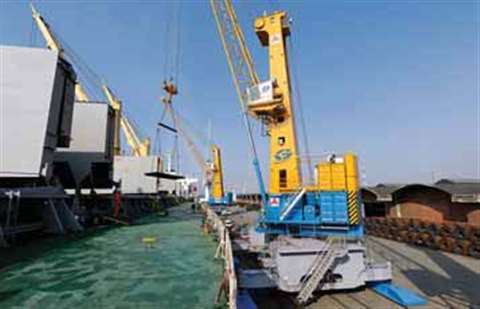 Increased lifting requirements at ports have meant dockside cranes have had to become faster, bigger and more flexible. Euan Youdale reports.
The global demand for dockside cranes remained strong in 2007, with manufacturers making inroads into untapped markets and strengthening their business in the more traditional sales regions. This is reflected in their 2007 financial reports, which are showing the kind of growth experienced throughout the crane industry.
In 2007 Liebherr set a new company record by delivering more than 88 mobile harbour cranes (MHC). This represents a 26%, or 70-unit, increase over 2006, marking the company's best performance since the launch of the mobile harbour crane to the market in 1974.
Over the last five years sales have grown by 83%. "This above average growth is more than 30% above the worldwide growth of the mobile harbour crane market and is by far the best expansion rate of all MHC manufacturers," adds the company.
Liebherr explains that in recent years MHCs have become increasingly popular. "They have established themselves, not only as universal, multipurpose equipment, but, also, as an alternative to specialized equipment, such as container cranes, bulk gantry cranes and continuous ship unloaders for dedicated bulk handling."
According to the company, market figures prove the point, with MHC sales growing 25% on the previous 12 months and 50% in the last five years.
"Mainly this development is traced back to the fact that lifting capacities constantly increase. The extreme flexibility of the mobile harbour crane makes it a universal all-rounder, handling everything from containers to bulk goods, general cargo and even heavy lifts up to 208 tonnes."
The price also helps, adds Liebherr, with MHCs ranging from €1.4 to 3.5 million (US$2.2 to 5.5 million), while container gantry cranes are sold for anything from €2.8 to 6 million ($4.3 to 9.5 million).
Pioneer
Gottwald Port Technology claimed that 2007 "strengthened the company's position as leader in mobile harbour crane technology and as a pioneer in the field of automated port technology."
Its cranes sales, including harbour, portal harbour and floating cranes, set a new record at 96 units, amounting to a 17% increase over 2006. Sixty-three of them came from the company's new Generation 5 series, of which the Model 6 – successor to the HMK 300/330 – turned out to be the most popular, with 40 units sold.
At the end of 2007, Gottwald extended its Generation 5 range, with the Model 4, designed as an entry level for the diversifying 100 tonne class. "We offer Model 4, naturally with Gottwald's typical diesel electric drive for the utmost economical and environmentally-friendly operation, and in several versatile variants, including a four-rope-grab variant for professional bulk handling," comments Dr Mathias Dobner, Gottwald CEO.
The Generation 5 range, which incorporates four models, numbered 4, 6, 7 and 8, can be supplied as an MHC on a tyre-mounted chassis, or as a portal harbour crane or floating crane.
"A major driving force in the strong growth of recent years has been the dynamic change in the cargo handling business, accompanied by increasing cargo volumes and ship sizes, obliging port and terminal operators to improve and expand their handling and storage capacities," adds Dobner.
Conquering markets
From a continental point of view, Gottwald, along with other dockside crane manufacturers, has cited Africa as an important emerging market showing "dynamic growth". In 2007 the company sold 19 cranes there. "In Libya, two orders for 11 cranes marked an important step for Gottwald in its efforts to conquer new markets," the company explains.
Liebherr-Werk Nenzing in Austria has identified Sub-Saharan Africa as a major market for the coming years. "[There is] massive potential arising as African countries upgrade their port facilities, either directly or through international partnerships, to meet the port demands of the next decades," comments the company.
In 2007 Liebherr set a company record by handing over 11 MHCs to African customers. With units delivered to Tunisia, Benin, Nigeria, Egypt, Morocco, Algeria, and Namibia, the sales accounted for 13% of the total sales volume. This represents an 83% increase over 2006 (six units) and is the company's best performance so far on the continent. In the last five years Liebherr's MHC population in Africa has more than doubled, to 42 units.
Regional service is provided by Liebherr Africa Pty in Springs. Liebherr is forming a service station there, just for its maritime products. "Local contact with the customer and excellent after sales cover is the key to our success in Africa," explains Leopold Berthold, sales director. "Our product is good, the service is good and we respond to our customer feedback. These are the keys to long-term mutually beneficial relationships."
Dedicated
Africa is also proving a profitable destination for Kalmar Industries, part of the Cargotec group. Transnet Port Terminals (TPT) recently awarded Kalmar Industries a maintenance contract for all rubber-tyred equipment operating at the Port of Durban's newest container terminal Pier 1. The agreement strengthens the longstanding Kalmar and TPT partnership, previously known as South African Port Operations, says the manufacturer.
The contract calls for the maintenance of 18 Kalmar E-One rubber-tyred gantry (RTG) cranes, two Kalmar reach stackers and a range of other machinery, including 40 terminal tractors, 47 trailers and two empty container handlers. A dedicated maintenance team of about 20 Kalmar service technicians will work around the clock, 365 days a year, to ensure that Pier 1 Container Terminal operates with the highest possible machine availability.
"Kalmar's decision to open offices in South Africa to provide closer customer support is bearing good results. Kalmar is now better positioned to provide TPT with the critical skills and experience needed to perform world class maintenance of our operating equipment," says Sabelo Mzimela, senior manager, Capital Projects and Engineering Services Department at TPT's head office.
Potential
Latin America has also given growth to the industry. In 2007 Liebherr sold 15 MHCs to Brazil, Chile, Colombia, Argentina and Costa Rica, which, the company claims, has cemented its leadership in the second biggest mobile harbour crane market. "Above all shines Brazil, with the delivery of nine Liebherr MHCs. Three of them are for dedicated bulk handling and six machines for container handling, marking the entrance on a market dominated by Gottwald."
The LHM 500 has become Liebherr's best selling container operations model. "One major tendency not only to be observed in Latin America, is the vote in favour of ever bigger and more powerful machines, either for the potential attraction of new shipping lines or the handling of constantly growing vessel sizes. Obviously it doesn't surprise that some of the biggest vessels today are already berthing at various Latin American ports. As with the kind of cargo to be handled, the continuing trend for container goods can be noticed, another tendency is the growing importance of the twinlift operation."
The LHM 500 was designed for this purpose, Liebherr adds. When handling Panamax container ships the LHM 500 has a capacity of 50 tonnes below spreader at a 40 m outreach, which, Liebherr explains, is the perfect scenario for full twinlift operation up to the 13th row. "Even when operating on Post-Panamax container liners, the LHM 500 can handle full 40 foot (12.2 m) containers up to the 17th row (51 m)," adds Liebherr.
Another important market is Brazil, where Gottwald says it strengthened its position with orders for five cranes.
Foreign investment
Earlier in 2008 Kalmar established a new sales and service centre in Mexico to provide better support to its dealer network, and develop the market for its industrial and container handling products. In addition, it will provide local product and spare parts support.
"In recent years, Mexico has been subject to a variety of foreign investment projects, particularly in the ports sector. With this development and the consistently positive outlook on the economy, Kalmar remains steadfast in its strategy of shifting its sales and service support closer to its customers' operating environments," comments Kalmar president, Pekka Vauramo.