Dockside lifting: first rate
By Christian Shelton12 August 2019
The nature of the shipping sector brings a truly international feel to this dockside lifting feature, which is awash with equipment orders from around the world.
Finnish crane manufacturer Konecranes is enjoying a busy period, celebrating selling its 2,000th Gottwald mobile harbour crane and receiving orders from Sweden, Turkey and the United Arab Emirates, among others. The 2,000th crane was sold to Ership terminal in the Mediterranean port of Cartagena in south east Spain. It is a four-rope Konecranes Gottwald Model 6, model G HMK 6407 B, which will mainly be used for continuous-duty bulk handling, general cargo, and project cargo weighing up to 100 tonnes.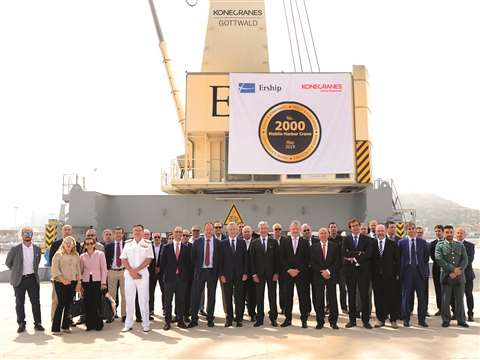 In Sweden, Uddevalla Hamnterminal port has placed an order for a Konecranes Gottwald Model 3 portal harbour crane. The crane is scheduled for delivery in autumn 2019. The crane is a G HSK 3432 variant two-rope crane mounted on rails in order to integrate with the port's existing infrastructure. It has a capacity of 100 tonnes, a radius of 46 metres and operates from an external power supply. Uddevalla is located in the south-west of Sweden, about 80 km north of Gothenburg. Konecranes described it as a 'small but important port' and said that this will be the first Gottwald portal harbour crane in the country, opening up the market there.
The Turkish Konecranes order comes from port operator Atakas¸ Port Business. It is for a Gottwald Model 7 portal harbour crane. Starting mid-2019, the new Model 7 will be used at the port operator's Iskenderun site, on Turkey's south east coast, where it will handle bulk cargo and serve large container vessels. The crane is a rail-mounted, four-rope G HSK 7528 B model with a lifting capacity up to 125 tonnes, a 50 tonne grab curve for mechanical grab operation, and a 54 m outreach. The crane's portal has a clearance of 6 m and the track gauge measures 14 m.
To compensate for the different rail loadings due to the crane offset in relation to its portal, the bogies on the quay side are fitted with eight wheels each and on the land side with six, Konecranes said.
The Konecranes order from the United Arab Emirates comes from bulk terminal Saqr Port, part of the Ras Al Khaimah Ports Group. It's for three Gottwald Model 8 mobile harbour cranes, two of which will be delivered in April 2019 and the third in July 2019. Specifically, the cranes are four-rope G HMK 8410 B models with a 63 tonnes capacity grab curve and a high operating speed. They will handle inbound and outbound bulk material including coal, limestone and clinker. They are diesel-electric cranes that can be linked to the terminal's main grid.
In Puerto Quetzal, Guatemala, global container terminal and port operator Yilport has ordered two new diesel-electric Gottwald Model 8 mobile harbour cranes for its port there. Delivery is scheduled for mid-2019. This will be followed by two more for its site in Puerto Bolivar, Ecuador, two months later. The cranes are two-rope G HMK 8410 models. They provide lifting capacities of up to 100 tonnes and an outreach of up to 61 m, enabling them to handle containers across 19 rows alongside large vessels.
RTG orders
In the USA, South Carolina Ports Authority (SCPA) has ordered three Konecranes rubber tyre gantry cranes (RTGs) equipped with hybrid power packs. The hybrid system will have a lithium-ion battery pack and management system that will monitor the charge level and the general health of the batteries. Konecranes will be able to monitor the status of this system via a Truconnect remote connection. The hybrid system comes with a Tier 4 Final engine that will charge the batteries when necessary and can be retrofitted, if required.
Terminal operator MSC Terminal VLC (MSCTV), based at the Port of Valencia on Spain's east coast, has implemented the country's first busbar retrofit of its Konecranes RTG cranes to fully electric operation. It has also purchased new Konecranes RTGs that come fully busbar-ready. "The busbar retrofit provides us with a CO2 emissions reduction of approximately 20 %, as well as producing less noise, requiring less maintenance and operating at higher levels of productivity and reliability," says MSCTV terminal manager Sven Valentin.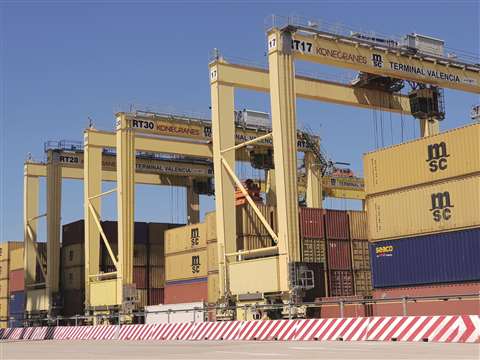 Environmentally aware
Continuing the eco theme, in Miami, Florida, USA, South Florida Container Terminal (SFCT) has ordered six zero-emission rubber-tyred gantry cranes (RTGs) from cargo handling solutions specialist Kalmar.
South Florida Container Terminal (SFCT) in Miami, Florida, USA, has ordered six zero-emission RTGs from cargo handling solutions specialist Kalmar. Mark Baker (left), managing director of SFCT and Troy Thompson, vice president, sales, Kalmar Americas, signing the agreement
According to Kalmar, the cranes will be equipped with a busbar energy system and operator assistance features, including auto steering and container stack profiling.
Delivery is scheduled for early 2020. Kalmar said this will be the first container terminal in the USA that has 100 % zero-emission RTG cranes and that these will also be the first RTG cranes installed at the Port of Miami.
The Kalmar Zero Emission RTGs will be delivered as part of an ongoing densification and terminal redevelopment project at SFCT. Mark Baker, managing director of SFCT, said, "We are excited about the opportunity to increase our capacity through this terminal redevelopment project. We will not only offer better service to our customers, but we will do it eco-efficiently with all-electric RTGs."
Reviving markets
Crane manufacturer Liebherr says that it had a very successful 2018 in the dockside lifting sector, with 83 sales in 40 countries. It also launched its first purely electrically driven portal crane: the LPS 420 E. The crane has two winches, each with a 190 kW electric motor, providing a maximum load capacity of 124 tonnes.
"We have succeeded in reviving countries and even entire regions that have shown almost no turnover development in recent years," says Andreas Müller, sales director for Liebherr mobile harbour cranes. "A record year in the UK and an impressive result in Africa are two examples."
This year appears to be continuing in a similar vein for the company. Liebherr Container Cranes has sold four ship to shore (STS) container cranes in the USA: two 69 m Megamax outreach cranes to Port Newark Container Terminal (PNCT), New Jersey, USA; and two super-post-Panamax STS cranes to Penn Terminals in Eddystone, Philadelphia, USA.
The cranes for PNCT are part of a terminal expansion plan. They have a span of 30.48 m and a backreach of 20 m. Lift height over rail is 50.3 m and the cranes have a safe working load of 66 t under a twinlift spreader. The semi-automated cranes are fitted with anti-sway and anti-collision systems and a straddle carrier positioning system. They also have remote access and diagnostics.
Penn Terminals' new STS cranes have semi-automated trolley and hoist functionality with manual operation only being required when operating below a pre-configured safe height. Anti-sway, anti-collision, and remote diagnostic systems are also included. The cranes have a span of 18.29 m, an outreach of 48 m, a backreach of 15 m, and a safe working load capacity under a twinlift spreader of 66 tonnes.
In Maputo, Mozambique, east Africa, port operator Maputo Port Development Company (MPDC) has bought two new LHM 550 Liebherr mobile cranes. The two new cranes join two existing models and will be mainly used for bulk handling of high-density bulk material like ferrochrome.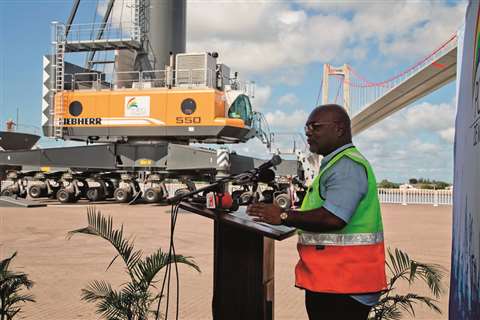 Maputo Port Development Company (MPDC) has bought two LHM 550 Liebherr mobile cranes
"In addition to the two mobile harbour cranes, we have recently acquired 14 payloaders, 8 tractors, 8 forklifts and 2 rail excavators (for wagon unloading operations)," says MPDC chief operations officer, Marla Calado. "This investment is in line with the need to improve the berth usage and the rehabilitation and deepening works that are taking place at the moment."
And in Montevideo, Uruguay, terminal operator Montecon has ordered an LHM 800, which will join two existing LHM 800s. The LHM 800 is for handling large container vessels. In container handling configuration eye-level is above 40 m and the fulcrum point is above 36 m. Outreach is 64 m, meaning it can serve vessels up to 22 container rows wide. Hoisting and lowering speeds are up to 120 m per minute. This allows for up to 40 boxes per hour, Liebherr says.
Inland ports
Inland ports have been investing in new dockside lifting equipment, too. German port owner Bayernhafen bought a Liebherr LHM 420 mobile harbour crane from Liebherr-MCCtec Rostock for its Passau inland port location in Bavaria, Germany. Liebherr said it is the first of its mobile harbour cranes to be sold that complies with the new Stage 5 exhaust gas emission standard.
Only minor technical adjustments were made to achieve the new emission standard, says Liebherr, with the atomisation of the adBlue urea now taking place through an improved air-assisted injection which it says improves the degree of atomisation. A new control unit was also installed.
Liebherr says that the LHM 420 is one of the best-selling models in its LHM product range, with more than 150 units being sold since 2011. The crane has a capacity of 124 tonnes and is intended for use in a wide range of applications, including bulk goods, general cargo, container handling and for handling complete wind turbines.
Another inland port to buy Liebherr port cranes is Varanasi, located on the banks of the River Ganges in northern India, 780 kilometres east of Delhi. Two LHM 180 mobile harbour cranes were sold to infrastructure development company Afcons, part of the Shapoorji Pallonji Group. Both cranes run a 390 kW Liebherr diesel engine and provide a maximum lifting capacity of 64 tonnes in four-rope configuration.
According to Liebherr, Varanasi is India's first multi-modal terminal. Three others are under construction at Sahibganj, Haldia and Gazipur, enabling commercial navigation of vessels with capacity of 1,500-2,000 DWT on the River Ganges.
In summary, reading between the lines, it can be seen that there is a trend towards the increasing use of electric or hybrid cranes and automation systems in developed markets. Across the seven seas, however, the sheer number of ports requiring cranes means the market for more established dockside lifting equipment remains buoyant, too.
Simulator for safer handling in New Zealand port
Port Nelson in New Zealand has ordered a Liebherr training simulator loaded with a generic ship crane simulator and the LiSIM simulator version of Liebherr's LHM 550 mobile harbour crane. The mobile harbour crane simulator training programs installed are for basic operations, as well as bulk, breakbulk and container handling. Further Liebherr crane modules can be added to the simulator, if desired.
"The simulator will make for safer and more efficient handling in a variety of weather conditions," comments the port's container operations manager Jonny Cook. "We also expect it to reduce box damage during operations."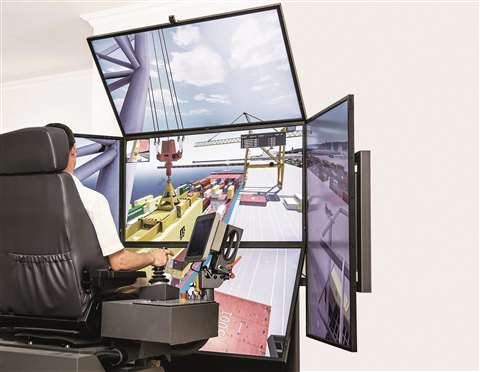 Port crane relocated across neighbouring properties
Canadian port operator Termont Montréal commissioned heavy lift and transportation specialist Mammoet to relocate a 700 tonne port crane from one of its terminals to another one 2.5 km away. Mammoet worked closely with the Termont Montréal for over a year to help negotiate with the company's neighbouring port operators to secure permission to transport the crane across their properties, saving time and money. The crane was moved using customised transport beams and 48 lines of SPMT and the transportation itself was completed within eight hours.
In related news, Mammoet Belgium has opened a new facility in the Port of Antwerp. Mammoet said it was a strategic decision to place the facility on the harbour with its load-in and load-out facilities. From here Mammoet said it will provide localised support to the region's growing petrochemical and industrial sector.