Don Udelson: 'The constant drive to improve, innovate and stay ahead of the curve is invigorating'
Born into a family of equipment industry entrepreneurs, Don Udelson built Lift Source Machinery from the ground up.
Don Udelson, CEO and owner of Lift Source Machinery, has deep roots in the construction industry. Over the past 100 years, his family's business journey has taken diverse paths.
"It all began with the first-generation American Udelson brothers founding a Cleveland-based contracting company in the early 1920s," he said. "Their venture saw steady growth, which included contributions to iconic projects like the Terminal Tower and Municipal Stadium. After World War II, my grandfather, Edward Udelson, recognized new opportunities in entrepreneurship. He shifted away from contracting, establishing Udelson Equipment Company (UECO), with the goal of becoming a world-leading provider of cranes, machinery and trucks."
An industry force
Not long after, Don's father Alan and uncle David joined the company, and the business quickly became an industry force, he said.
"And they mentored me extensively," he said. "From sweeping shop floors in my grade school years to managing UECO's Texas operations, I learned the industry inside out. In the early 1990s, we ventured into the bare rental market. With a team of around 175, including ten Udelson family members, UECO expanded across the U.S. and became one of the largest independent, family-owned operations in the industry until United Rentals (URI) acquired UECO in 1999, marking a significant milestone in our journey."
Udelson stayed with United Rentals for a while, gaining what he termed "valuable experience." But in 2001 he decided to go out on his own, establishing Lift Source Machinery and focusing solely on the crane industry.
The company's first focus was building a fleet of rough terrain cranes, which quickly grew to more than 150 units working throughout North America as well as Latin America and Australia.
"As customer requests for the application of our business model to all terrains and crawlers grew, we began adding these to our fleet mix," Udelson said. "Following an early career stint in the investment banking sector, my son-in-law Justin LaPoten, accompanied me to the 2017 ConExpo to get a sense of what I do."
With great enthusiasm, Udelson said, LaPoten joined the company in 2018. In 2021, he became a partner in LSM.
"In 2021, Justin was named one of the Specialized Carriers and Rigging Association's 4 Under 40, which 'recognizes the insight, vision and wherewithal synonymous with SC&RA leaders over the decades,' Udelson said proudly.
Don has been a force in the crane industry for many years, and he is esteemed for his market insight and crane knowledge. He has built a brand that is recognized and respected.
We asked him to answer our questions, and he did so with clarity and purpose. I think you will be interested in what he has to say.
United Rentals purchased your family's business, UECO, in 1999. Initially, you worked for them for a couple of years. What made you decide to start Lift Source Machinery?
United Rentals is a great company, but I was raised by a family of entrepreneurs, and it's in my blood. I felt constrained at URI. I wanted to build something from the ground up. The experience at URI, coupled with my years at UECO, gave me the perspective to recognize the advantages of running a nimble business with the ability to structure personalized deals to help customers work through their own unique fleet challenges.
What led you to focus on the lifting sector, specifically a crane fleet?
In my career, with exposure to various types of heavy construction equipment, cranes stand apart due to their relatively low wear and tear, minimal impact and stress during operations. This type of operation generally extends equipment lifespans and reduces maintenance costs, aligning with our focus on agility, sustainability and operational efficiency. The specialized nature of crane operations, the technical expertise required, the focus on safety and their critical role in various industries contribute to maintaining a crane's value and boosting profitability for companies like ours with a well-maintained and diverse crane fleet.
What distinguishes Lift Source Machinery in the markets it serves?
What truly sets us apart, our niche in the market, if you will, is our specialization in Rental Purchase Options (RPOs) and the unique flexibility we offer our clients. It's what we call our "white label" solution. Our approach is collaborative rather than transactional. By truly understanding our clients' needs and goals, we develop tailored solutions that go beyond equipment rental – we become strategic partners in their success. We work with each customer individually to craft a structure that suits their needs, whether pure "rent-to-rent" or RPO.
We collaborate with some of the largest crane companies in the world, as well as smaller early-stage businesses, giving them the ability to provide crane services under their own brand. This highlights our adaptability and willingness to work collaboratively with our customers. We serve as a core supplier to some and a swing supplier to others. Eventually, most crane companies will find our model advantageous in increasing their capacity while helping to manage their balance sheet.
You have a lot of different cranes in your fleet, predominantly the Tadano and Liebherr brands. What led you to focus on these brands?
Our decision to incorporate Liebherr and Tadano cranes into our fleet was the result of a thorough evaluation of various factors, including cost of ownership, which underscored their status as top-tier brands within the crane industry. Over time, I've witnessed Liebherr and Tadano consistently demonstrate a history of engineering excellence, durability, reliability, technological innovation and robust product support. These brands have solidified their positions as global industry leaders by consistently delivering crane solutions known for their exceptional quality and pioneering innovations. This commitment to excellence aligns perfectly with our mission to provide top-notch cranes to our clients worldwide.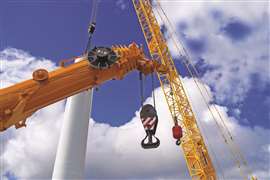 What are your core markets/customers?
LSM's primary clients are crane companies that rely on LSM when job requirements stretch their fleets and capital limits. The typical LSM customer supports industries such as oil and gas, infrastructure, petrochemicals, heavy civil and commercial and power generation and transmission. We are customer-focused and enjoy helping both up-and-coming and established crane companies overcome obstacles to growth.
What is it about the crane industry that keeps you engaged?
What keeps me engaged in the crane industry is its inherently competitive nature and ever-evolving landscape. It's a field where every day presents new challenges and opportunities. The constant drive to improve, innovate and stay ahead of the curve is invigorating. Whether it's adapting to emerging technologies, finding more efficient ways to handle heavy lifting, or navigating complex logistical puzzles, there's always something exciting happening in this industry. It's this dynamic and competitive environment that keeps me motivated and eager to be a part of the crane industry's evolving journey.
What is your advice when it comes to running a successful family business?
A common thread among successful family businesses is a culture that emphasizes stability and long-term visibility over short-term wins. Hence, we plan and implement accordingly. This long-term view permeates throughout LSM's relationships with customers, vendors and employees alike, with a goal of success for all. With an eye on doing the right thing and creating win-win strategies, our family has continuously built multi-generational relationships in the industry. For example, in 1952, my grandfather met Mr. P.L. (Pete) Baris, a European businessman. Together, they began an international commercial relationship that continues today, into each family's third and fourth generations (Baris-Livnat & Udelson-LaPoten). Moreover, the Udelson family has historically employed generations of other families. Several client relationships span generations as well. Lastly, consistently doing small and easy things over a long period of time is extremely powerful – the simple things like returning calls and emails promptly, not overpromising, fulfilling your commitments and being honest, even when things go wrong.
How would you categorize the market for crane rental as 2023 winds down?
As we approach the end of 2023, I hold an optimistic outlook for the industrial and energy markets in the coming years. The recent passage of the infrastructure bill, along with the Inflation Reduction Act, which allocates substantial stimulus funds – amounting to hundreds of millions of dollars – for renewable energy endeavors like wind farms and biodiesel plants, serves as a promising catalyst.
Additionally, the Energy Information Administration has adjusted up its projections for peak oil demand, and the Permian Basin is currently experiencing unprecedented activity. While the demand side of the industry remains robust, we must remain vigilant as we navigate challenges such as global conflicts, inflation and escalating interest rates, requiring strategic planning for the road ahead.
As a fourth-generation family business, what is your best advice for attracting younger people to the industry?
My best advice for attracting younger people to the industry is to foster a culture of diversity, mentorship and education. We need to actively demonstrate to the next generation the wide range of opportunities and diverse skill sets required to succeed in our field. Embracing technological advancements and harnessing the power of social media to showcase the exciting projects that cranes are integral to can help make the industry more appealing and relevant to younger individuals.
Additionally, companies should take advantage of programs like the SC&RA Leadership Program, which offers a valuable platform for networking, knowledge sharing and building strong connections within the industry. By offering mentorship, highlighting innovation and providing opportunities for professional growth, we can make the crane industry an attractive and fulfilling choice for the younger generation.
In June's ACT100, Lift Source Machinery climbed the ranks from 26 to 18. What factors can you attribute to this impressive growth?
While we haven't increased beyond our peak total unit number, our total fleet capacity has really leaped. In our early years, with a rough terrain crane-heavy fleet, our average unit was around 70 tons with an average age of 40 months. We now target the 100 to 900-ton market. Our average unit today is approximately 250 tons, with an average fleet age of less than 30 months. This business model allows our relatively small staff to effectively manage the much larger capacity fleet while minimizing client downtime. Moreover, it gives clients the opportunity to increase their fleet capacity with young, quality cranes, either temporarily through renting or long-term through rent-to-own agreements. This approach enables us to remain nimble and affords Justin or myself the time to be involved in every transaction. It's a personalized approach in which our customers don't have to deal with corporate red tape to get a deal done.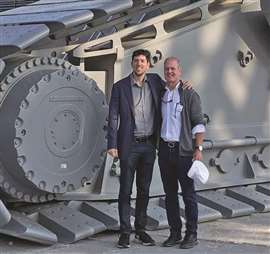 This industry offers unique travel opportunities to check out new equipment, manufacturing facilities and tradeshows. Where is your favorite place you have visited?
I've been to several crane and machinery manufacturers' plants across the globe. Some were very impressive. However, as someone who has spent his life in and around the heavy machinery industry, the triennial Bauma in Munich is my favorite business trip. I always look forward to it with great anticipation. Thousands of exhibitors from around the globe showcase their latest and greatest products over nearly 6 million square feet of space. It presents a great opportunity to see the latest products in the crane industry and spend quality time with our industry colleagues – possibly while enjoying a Pils and Weisswurst.