Doosan brings ZHS technology to mini
Doosan has launched the compact DX17Z mini-excavator, which is says is ideal for rental and urban construction sites with limited space.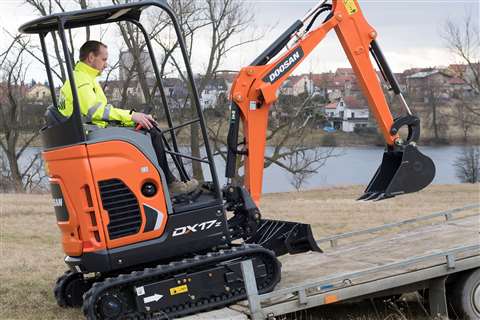 Designed for applications requiring frequent mobility, powerful performance and a comfortable working environment, the 1.7 t DX17Z is a Zero House Swing (ZHS) machine that protects the front upper structure corners within the swing circle. As a result, ZHS functionality provides 320° of free rotation while working close to any object.
It has a retractable undercarriage and an optional long dozer blade, and the company says the resulting extra stability is essential for making maximum use of the exceptional digging forces and lifting capacities available in the DX17Z.
Incorporating the architecture of a 2 t class hydraulic system, with a combination of variable piston pumps and a gear pump, the DX17Z's hydraulic system makes the best possible use of the engine's power.
According to Doosan, fast cycle times, combined with smooth control of class-leading breakout forces, provide maximum productivity.
The product's standard operating weight is 1,749 kg (3,855 lb) with a maximum digging depth of 2,249 mm (88 in).