Doosan excavators to be Trimble ready
To meet the increasing demand for grade control systems, Doosan Construction Equipment is collaborating with Trimble to introduce a Trimble Ready factory option for Doosan excavator customers.
The Trimble Ready option will be available direct from the factory through Doosan Smart Solutions for use with Trimble GCS900 2D and 3D Grade Control Systems.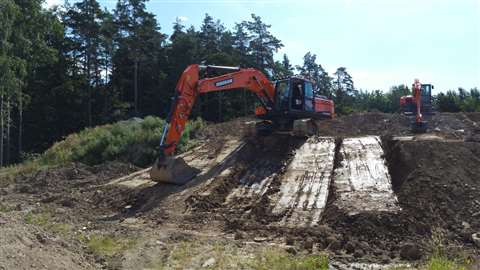 The Trimble GCS900 Grade Control System gives operators access to design surfaces, grades and alignments on a display inside the excavator cab. The system uses GNSS, GPS, laser, sonic or total station technology to accurately position the blade or bucket in real time, improving the contractor's productivity and efficiency.
With the GCS900 system, the site plan and grade information can be displayed in the cab, so operators can finish jobs faster with minimal supervision, obtaining higher precision finishing with a reduced number of passes.
In addition, there is no need to wait for subcontractors to provide survey and grade checking information, ensuring jobs are completed correctly the first time.
Use of a common grade control platform across an entire excavator fleet allows customers to port the system between machines and machine types. Flexible and scalable components can be used on a wide variety of machines. The improved productivity that results leads to a reduction in personnel and machine costs and accurate grading also helps customers to carefully control material usage and fuel costs.