Doosan launches new DX-7 excavator range
By Mike Hayes10 December 2021
Manufacturer promises improvements 'across the board' with new machines
Doosan Infracore Europe has unveiled its new range of DX-7 crawler and wheeled excavators, with upgrades ranging from operator comfort, power and efficiency and worksite safety.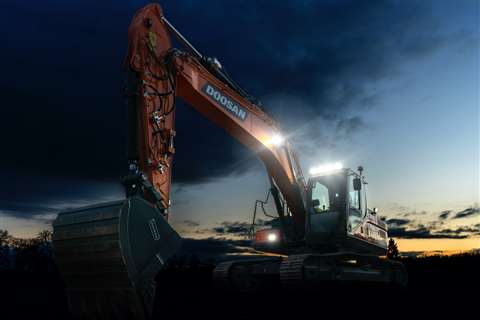 In a live virtual event, the company introduced a number of machines from the 10-model medium excavator range, which runs from 14 to 25 tonnes.
The company gave an overview of the DX140LCR-7, the most compact of the new line-up, describing its Stage V-compliant D34 engine, articulated boom, with optimised features for urban utility work.
The machine also has a new cab design, with DAB audio system, plus keyless start and remote control door locking/unlocking.
Many of these new features are echoed throughout the range, including a tiltrotator mode, with optimised settings for the increasingly-popular attachment.
Mid-range machines
Doosan next introduced the DX225LC-7 and DX225-7X models, within the 23-25 tonne class.
In these machines, digging force and stability have been enhanced to improve productivity and efficiency, while the D-Ecopower feature promises to improve productivity, with reduced fuel consumption and smoother control.
During the virtual event, Doosan said the 7X model was full of "new smart solutions", including fully-electronic hydraulics, machine guidance and control, 2D Grade Assist technology and an onboard weighing system to increase the accuracy of production.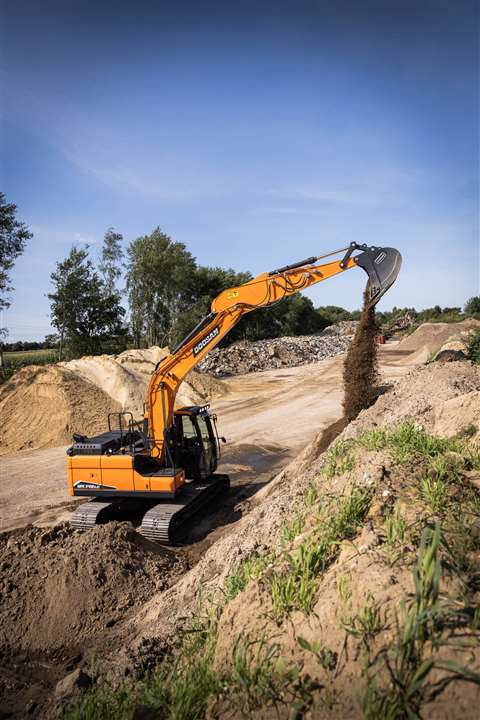 Onboard technology also includes Fine Swing, to improve controllability, and a Virtual Wall feature – a workable range that can be set by the operator to increase safety.
3D Grade Assist for use with tiltrotators is said to be coming soon for the 7X, and will be fully compatible with tech firm Trimble's 3D machine control system.
Quarrying and mining machines
At the top of the size class, Doosan introduced the DX490-7 and the 530LC-7, with new features including a seat with heating and cooling capabilities.
Retractable tracks on these machines combine enhanced stability and easy transportation, while the company says the digging force improvements make these machines the best in their class for quarrying and mining applications.
Optional extras for the bigger excavators include an ultrasonic detection system – enhancing safety and giving operators a clear all-round view of the worksite – plus an intelligent floating boom and an auto greasing system.
DX-7 range overview
Doosan Infracore Europe's VP of sales and marketing, Gilles Bendaoud, talked about the safety improvements on the new range, saying, "With exceptional 360-degree cameras, to give full visibility around the excavators, linked with ultrasonic object detection, our excavators are safer than ever, allowing operators to focus on their job and minimising the risk of accident."
In terms of efficiency, he said, "Our new smart hydraulic system provides, thanks to a priority valve, optimal flow to the attachment, when both the arm and the attachment are working simultaneously, resulting in 30% better work efficiency."
On the DX-7 machines' sustainability credentials, he said, "We have increased fuel efficiency with our latest Stage V-compliant engines. In addition, with an improved combustion system, reducing particle emissions, we have increased the lifetime of the diesel particulate filter, with no maintenance required until 8,000 hours."