Doosan rolls out Stage V compliant ADTs
By Mike Hayes08 October 2019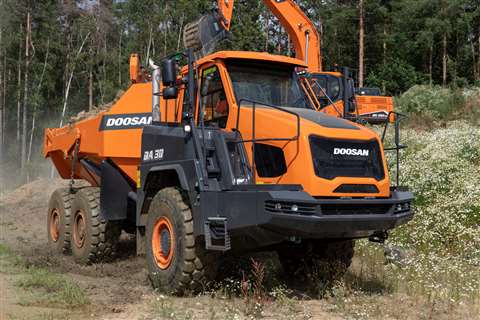 The latest articulated dump trucks (ADTs) from Doosan Construction Equipment are the Scania-powered Stage V compliant DA30-7 and DA45-7. The trucks have payloads of 28 tonnes and 41 tonnes, respectively and Doosan says the engines have undergone two years of intensive testing in "exacting construction and mining environments", to ensure their reliability.
The DA30-7 is powered by Scania's DC09 9 litre diesel engine, providing 276 kW of power, while the DA45-7 is driven by the DC13 13 litre diesel engine, with an output of 368 kW. Both engines incorporate a new and improved after-treatment system.
The advanced features of the DA30-5 truck – including a new cab, self-levelling front suspension and tandem bogie system – have been carried through to the 7 Series version.
The DA45-7, however, features a semi-levelling front suspension that adjusts itself independently, depending on the operating conditions, to ensure a comfortable working environment for the operator.
The new models feature an articulation hinge positioned behind the turning ring, providing equal weight distribution to the front axle during maximum steer articulation. Doosan says that, combined with the free-swinging tandem bogie, permanent six-wheel contact and equal power distribution enhances the trucks' performance on difficult terrains.
New features also include a new positioning of the diesel and AdBlue tanks, which have been lowered, allowing the operator to fill them from ground level. The greasing system is also relocated.
The new ADTs are equipped as standard with a real-time payload measuring system, with a light indication for excavator operators to aid productivity and reduce fuel consumption.