Doosan to launch 1,600 kg breaker
By Lindsay Gale04 January 2011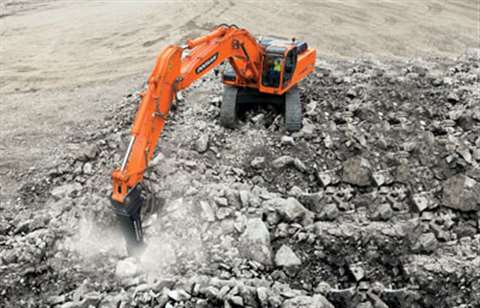 Doosan is to use the forthcoming Rental Show in Las Vegas at the end of February to introduce its new DXB170 1,620 kg (3,564 lb) hydraulic breaker. Doosan says that this new breaker will be ideal for use in demolition, construction and mining. It is intended for use on carriers weighing from 18 to 28 tonnes.
The DXB170 offers a blow rate of 600 bpm, an impact energy of 3,400 J and operates at 180 bar. It features an energy recovery system and a patented valve system that increases overall performance, says Doosan. Its high quality piston and cylinder are manufactured to precise tolerances and the DXB170 also features an advanced damping system to protect it from blank firing. Doosan says that the close tolerances used in the breaker will result in lower maintenance costs.
At the Rental Show, the DXB170 will be displayed mounted on a Doosan DX225 crawler excavator.