Double challenge for MONPE
By Alex Dahm16 January 2019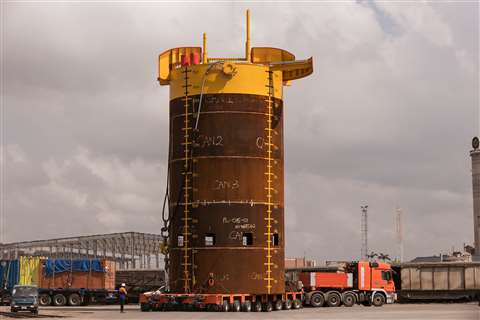 MONPE Ventures combined its orange ModulMax axle lines from Faymonville for a job in Ghana with two major challenges. To move the huge suction pile both the weight and the dimensions of the impressive load had to be managed.
MONPE Ventures is a specialized transport and heavy haul contractor operating in Ghana since 2005. Commenting on the project, Peter Everett from MONPE Ventures, said, "When I first got the request to move the suction pile in a vertical position, I was sceptical to say the least. I had seen this been done before but much smaller."
This suction pile was 8 metres in diameter, 16 m high and weighed 125 tonnes. For the ideal transport configuration, 16 Faymonville modular axle lines were assembled side-by-side in a 4-file configuration. Everett explained how MONPE worked with Faymonville, "Their engineers came up with this solution. At first, the tipping limits were barely acceptable, so we added 44 tonne counterweights, which reduced the height of the centre of gravity a lot and thereby extremely improved these values."
The piece was fabricated by Belmet 7 inside Takoradi Port. MONPE transported it 3 km to the quayside. Everett continued, "There are chambers and ruts on the road, but it was extremely stable. The client was so impressed that a local company had the equipment and support from the manufacturer to do such a job."
At the quayside, it was loaded on a vessel to be dropped on the sea bed for use as an anchor for the FPSO oil production and storage vessel in the Ghana oil and gas fields.
Prior to starting work the MONPE Ventures team received practical training from Faymonville.