Dover Harbour major expansion plans
By Neill Barston10 October 2014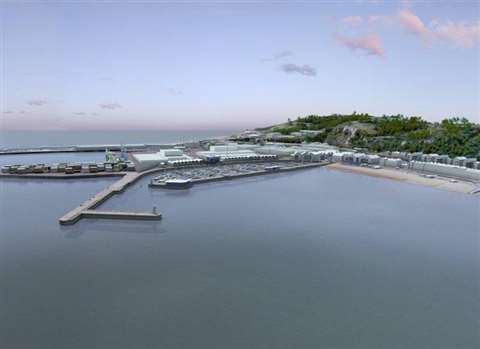 A total of UK£120 million (€152 million) is being invested in the regeneration of the UK Port of Dover's western docks.
Chief executive Tim Waggott, confirmed proposals for the first construction phase of the project, which will include two new cargo berths, new marina and an events facility.
The port, which is regarded as the busiest in Europe for ferry traffic, handles an average of 23 million freight vehicles a year carrying an estimated UK£89 billion (€112 billion) worth of goods.
Thorough enhancing the dock's capacity and improving distribution facilities, around 600 jobs are anticipated to be created - with phase one of the work having started this month.
The two cargo berths are scheduled to be 225 and 300 metres respectively, with the intention of attracting a greater range of specialist cargo traffic, according to the port.
As part of the scheme led by Dover Harbour Board, there will also be a traffic management improvement project in which 220 freight parking spaces will be created within the docks.
This is being created to alleviate major congestion issues caused during poor weather of commercial logistics traffic being parked on Kent's M20 motorway with no other parking facilities available.
Port CEO Mr Waggott explained that since approval for its expansion plans was granted in 2012, the harbor board has worked on producing a masterplan for delivering its plans.
Its proposals have been designed to link with wider regeneration within Dover, which he believed was long overdue.
He said, "This scheme will provide a revival for Dover – for too long people have been saying when is something going to happen? So this really is about the regeneration of the area and we have now started the first phase of this.
"We have the finances from our own reserves for the initial phase of the development and have been working with the South East Local Enterprise Partnership (government-backed enterprise organisation) and at other sources of government support to fund our plans.
"For the second phase we will be looking for business partners to develop our plans here, which could be up to of a quarter of a billion investment in total. It is very important to us that we work with the local community and one of the biggest challenges we face is working out how businesses within the area can play their part in the supply chain for the port's regeneration."