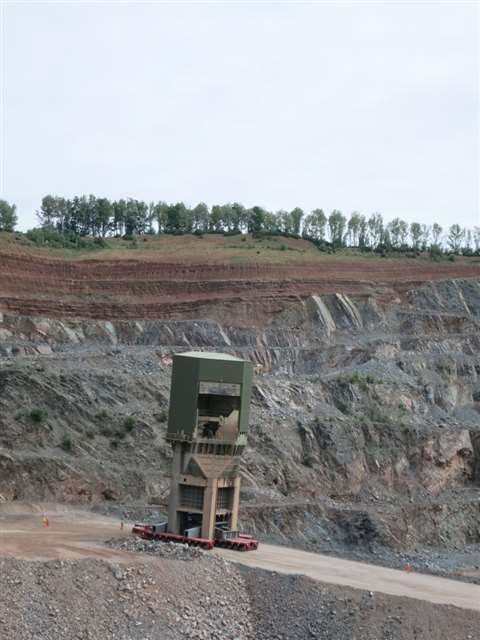 International specialized transport and heavy lifting company ALE relocated a 700 tonne rock crusher at Cliffe Hill quarry in Leicestershire, UK.
Tenova Takraf contracted ALE to move the primary crusher in the granite quarry operated by Midland Quarry Products.
The route involved transporting the crusher down an 8 % gradient. Its 17 metre high centre of gravity (CoG) meant extra care had to be taken with the transporter calculations to accommodate the 1.2m shift in the CoG position between the flat and the 8% gradient. ALE transported the crusher using 54 axle lines of self propelled modular transporter (SPMT) and additional drive axles.
Chris Taylor, ALE project engineer on this job said, "This was a very unique move and required detailed engineering studies. A typical movement on steep gradients is of the order of 200 to 300 tonnes, so to move a load weighing 700 tonnes is very exceptional.
"This is one of our first jobs in the minerals and mining sector in the UK. It illustrates our desire to offer a safe, quality solution for the client which will allow us to springboard into this sector further."