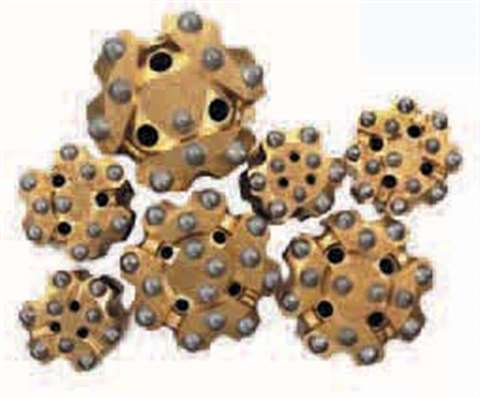 There have been a few changes in the worldwide drilling sector in the last 12 months with Terex's purchase of Reedrill from Metso and Atlas Copco's takeover of Ingersoll Rand's Drilling Solutions. Nonetheless, these changes have had little impact in Europe where, although the big names are well known and have a strong presence, there are numerous smaller but well-established and significant players.
Europe's drilling sector has expanded over the last few years and many companies involved in the industry expect the growth to continue for the foreseeable future. "Business in Europe started to pick up around 18 months ago and has steadily increased and, as yet, there is no end in sight," said Sandvik Tamrock marketing manager Pekka Kesseli.
"Southern Europe, including North Africa and the Middle East, is the biggest market for tools at the moment and is still growing," said Sandvik marketing communications manager Martin Lindfors. "The drilling market in Northern Europe, particularly Norway, is very active at the moment although Central Europe is not so strong."
According to Rockmore International executive vice president Pejman Eghdami, the market in Eastern Europe is growing faster than Western Europe but the price of raw materials is impacting on the whole market. "Steel prices have doubled compared to early 2004 and prices are being adjusted to cope with the rising cost," he said. "These are the first real cost increases in the drilling sector in the last 15 years so it will affect the rate of growth this year."
Atlas Copco is obviously still confident that the market growth will continue as it has announced plans to expand its mining and tunnelling equipment manufacturing facilities at Örebro in Sweden. "We have a positive view of the future and this is another step in our plan to increase our capacity," said Atlas Copco construction and mining business area executive Björn Rosengren.
Innovation
Getting accurate drill records from site quickly can be difficult but Soilmec claims to have found a solution to improve the flow of information. Soilmec unveiled its Drill Mate System (DMS) at Samoter in Italy last month and the first machine fitted with the system was due to be delivered to a UK contractor soon after.
"DMS integrates all of the rig's electronic control functions and logs them into its internal memory and can transmit information via email to our service centre if there is a problem which can reduce down time," said Soilmec general manager Federico Pagliacci. "The system also records and plots the working parameters to give an accurate drill record which can be printed out at the end of the day and stored for future reference in the memory."
Improving the lot of the operator, as well as the environment, is the aim of Tamrock's new ZeroDust system which is designed to significantly reduce dust produced during hydraulic top hammer drilling. The adjustable spray system adds a dust control agent – similar to those used by the crushing and road maintenance sectors – to the rock drill flushing air. The agents bind the dust to form a granular material and, according to Tamrock, ZeroDust almost eliminates creation of dust during drilling.
The new EL 60 percussive top hammer drill string from Boart Longyear has been designed for surface drilling work.
Sandvik's established Alpha 330 has been designed to use the power of 20 kW rock drills to drill smaller 45 mm diameter holes faster and straighter and can increase rod life by up to +80%.
Rig Releases
Atlas Copco has launched or updated several rigs in recent months. Atlas Copco Craelius has launched the Diamec U8 aimed at the deep hole surface and underground drilling market and Atlas Copco's Surface Drilling Division has introduced the ROC D7LM and updated the ROC F9CR hydraulic crawler rigs. The updated CM-780D hydraulic crawler rig is being marketed under the Drilling Solutions brand.
The Diamec U8 has been designed to provide deep hole core drilling down to 1500m for both above and below ground operations and is based on the Atlas Copco's established B20 and Diamec U6 rigs.
Both the ROC D7LM and ROC F9CR are designed to improve blast hole quality and productivity. The ROC D7 Long Mast is aimed at the construction market and can drill 64 to 115 mm diameter blast holes to depths of up to 5,75 m in a single pass or up to a maximum of 10 m with the addition of a second drill rod.
The ROC F9CR is now available with the latest version of the COPROD high production straight hole drilling system that combines the productivity benefits of top hammer drilling with the accuracy of DTH drilling. The system has both impact rod and drill tube in one section – with the rods transmitting feed force and impact energy and the outer tubes providing rotation and flushing.
The new Marathon carbon button bit insert from Rockmore uses an innovative manufacturing process to optimise the hardness through microstructural design and resist catastrop
The updated CM-780D is a compact machine featuring a powerful hydraulic rotary head and down-the-hole (DTH) hammer. The rig is powered by a Tier3/Stage IIIA compliant six cylinder Caterpillar C13 engine can is capable of drilling 165 mm diameter bores to depths of up to 30,5 m.
Sandvik Tamrock has introduced two new drilling rigs so far this year – the Ranger Rock Pilot for above ground drilling and the Axera 7 for underground mining applications.
Atlas Copco's ROC F9CR is now available with the latest COPROD technology which helps ensure fast and straight drilling in challenging rock conditions.
The Ranger Rock Pilot Series was unveiled at Samoter in Italy last month and, according to Tamrock, guarantees straight holes and high performance even in the most demanding ground conditions. The three model range – the Ranger 700, Ranger 780 and Ranger 800 – feature top hammers and are capable of drilling holes between 64 and 115 mm.
The new Diamec U8 from Atlas Copco Craelius is designed for both above and below ground work and is capable of drilling to depths of up to 1500 m.
The new Axera 7 is a twin boom jumbo replaces the D07 model and the largest machine in Tamrock Axera range. The Axera 7 is designed for applications where the heading size ranges from 4 by 4 m up to 6 by 6 m. The machine features the new Tamrock HLX5-series hydraulic rock drill which has a percussive power rating of 20 to 22 kW and can drill holes between 43 and 64 mm in diameter for blasting, rock bolting or cross cuts. Tamrock has also upgraded and renamed the full power single boom D05 and compact twin boom D06 models as the Axera 5 and Axera 6.
Tool Technology
Boart Longyear has launched a new percussive top hammer drill string which it claims offers superior performance and optimal thread life due to its engineered thread profile and unique tapered coupling. The features help to enhance energy transmission and distribute stress more evenly through the entire drill string for faster penetration and longer rod life.
Sandvik has also added to its drilling tool line up with the addition of the GT60 for use with top hammer systems and extension of the Mission hammer range for DTH hammer applications.
Improving drilling performance on 60 mm diameter holes is the aim of the new Sandvik GT60 drilling tool system which replaces the Sandvik 60. The tool is used with heavy duty hydraulic top hammers and can compete with DTH hammers on hole straightness but offers higher productivity.
Sandvik has added three new models to its DTH Mission hammer range. The Mission 30 for blast hole drilling and civil engineering, the Mission 85 for drilling blast holes for quarrying and mining and the Mission 80W, available later this year, for drilling water wells.
Soilmec's new Drill Mate System constantly monitors the operation of the rig to produce accurate drill logs and records rig performance.
The Mission range has an innovative piston and drill bit shape which uses 'mirror-impact-technology' to provide efficient energy transfer and high penetration rates for drilling hole between 90 and 305 mm diameter. The reversible piston case helps to boost service life and ease maintenance, while its lubricated bit shanks minimise spline wear.
On the Button
Rockmore International has introduced the Marathon range of carbide inserts for button bits which offer higher hardness properties to cope with abrasive rock drilling conditions. According to Rockmore, the inserts are manufactured using a newly developed process and on site trials showed that the carbides last up to +20% longer than older designs. The Marathon range is available for all DTH bits.
The new R32 long life button bit from Boart Longyear features a stronger body design to extend drilling life by more evenly distributing stress. The new bit made from the company's T6 hard material which was developed by re-engineering the tungsten carbide milling and optimising the sintering processes.