DripDiaper for scissors debut
By Euan Youdale25 June 2018
Tiresocks has launched the improved DripDiapers, with the addition of magnets and clips to make installation easier.
DripDiapers are used to protect finished flooring from fluid leaks caused by equipment. A replaceable absorptive pad in the centre of each DripDiaper collects the fluids that may leak from the chassis of the equipment. "This cost effective alternative to the typical plastic/duct tape method is more effective and saves you time and effort," said the company.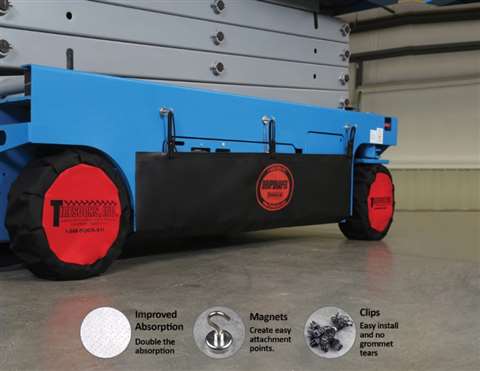 The neodymium magnets and clip, and hook bungee cord are all part of the installation process. Them magnets are designed not to slip due to vibration or normal pulling and tugging. Magnets also reduce the risk of improperly attaching bungee hooks to moving machine parts and allow unimpaired operation of machine pothole protectors.
"The new clip and hook bungee assemblies make installation fast and easy and eliminate the possibility of grommets tearing from the DripDiaper's edge," said the company, "A new higher-quality absorptive pad provides more than twice the absorption capacity of the previous design."
There are five customisable sizes to fit all types of equipment. To install the item, place them on the ground, drive the equipment over the them and use scissors to cut around each tire. Secure the DripDiaper using the previously-described method.