Drum lifts by ALE in Argentina
By Laura Hatton04 December 2014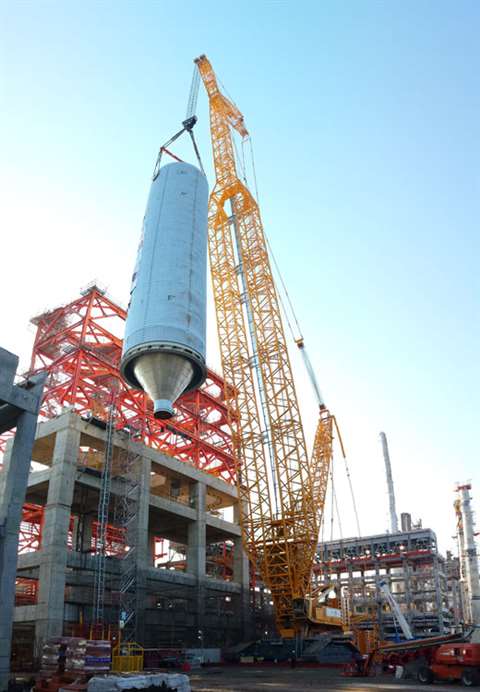 ALE's Argentina branch used a Liebherr LR 11350 to lift three coke drums at the YPF refinery in Buenos Aires.
The coke drums weighed 435 tonnes each. ALE was also contracted to transport them, along with lifting derricks, coke drum structures and several other columns and heavy components. To transport the coke drums to the installation area, ALE used four 22 axle lines of conventional trailers.
For the lifts ALE used a 1,350 tonne capacity Liebherr LR 11350 lattice boom crawler crane. To reduce the ground bearing pressure the crawler was set up on load spreading mats usually used for ALE's AL.SK crane.
Hernán Asensio, ALE project manager, said, "In this project we faced several challenges; working to install such large, heavy coke drums in a small working area filled with obstacles such as trees and buildings. Because of the client's schedule, the heaviest pieces needed to be lifted during the windy season, which posed another challenge.
"By using the LR 11350 crane with P boom and four configurations, we were able to optimise the manoeuvres in the limited space we had available and minimise the removal of any obstacles. The client was pleased we could provide the engineering solution within the challenging environment."
This transport and installation of the coke drums took three months to complete.