Dust control - Military precision
Military contracts can be hard to secure, due to the number of competitive bids involved. Along with a good plan, general contractors need to show they can complete the job in a timely manner, maintain a safe workplace and comply with environmental standards.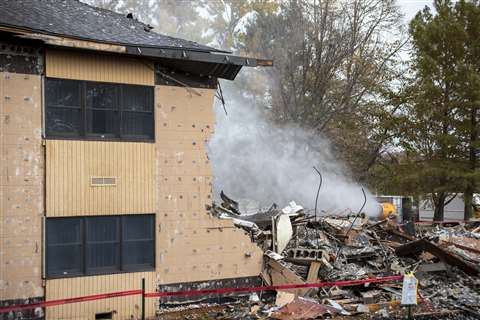 Over time, attitudes towards air and water quality of the local community drive new regulations. When general contractors appoint demolition subcontractors, these professionals should already be familiar with the local, state, federal and military rules around hazardous dust emissions, wastewater runoff and construction and demolition (C&D) waste disposal, as well as being equipped to comply with these provisions.
Knowledge, reputation and reliability made DMS Contracting, headquartered in Illinois, the right choice for a demolition project at a military base in the state.
"We've done several municipal and state contracts around the area, building roads and bridges, so we know what Illinois Environmental Protection Agency (IEPA) inspectors will likely want to see on any demolition project from an environmental perspective," said Josh Mazander, owner of DMS Contracting.
Many military facilities have a long history. In this case, nearly a century of dust build up, along with a host of different construction materials, posed a challenge for the DMS dust control plan.
What was once six buildings used as barracks housing hundreds of soldiers was transformed and expanded into a hotel for visiting family, dignitaries and soldiers on temporary assignment. Project leads chose a general contractor for the construction phase, and DMS won the bid for demolition on the 3.2 ha (eight-acre) site.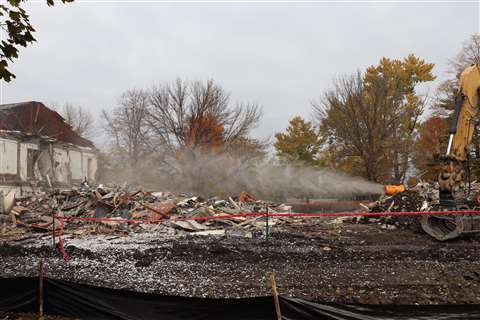 Built in different eras, some buildings were constructed of hollow-core cinderblock with beams, while others were wood. With an eight-month schedule for demolition, DMS used four excavators with different attachments. One had a hydraulic multiprocessor with a concrete cutter jaw that broke concrete and made easy work of metal support beams. Others had interchangeable scoops and accessories that helped take down, sort and load the debris into waste containers to be covered and transported to either the local recycling facility or landfill.
"Our goal was to wrap up this project well before the end date to allow the construction phase to get an early start," Josh Mazander explained
"However, there were dust issues that required abatement."
Hazardous air pollutant
The inside of the structures featured standard C&D materials such as drywall, metal and concrete, along with some vermiculite insulation and other materials containing asbestos, a hazardous air pollutant (HAP). The drywall was removed by hand to reduce emissions, but some dust was inevitable, and the presence of any HAP will have increased the need for a modern dust suppression solution during the process.
When broken apart using great force, any material can emit a cloud of small particulates. Even fragmenting different types of concrete can yield particulates of varying size and mass. A concrete floor can contain far more sand than a cinderblock, for example.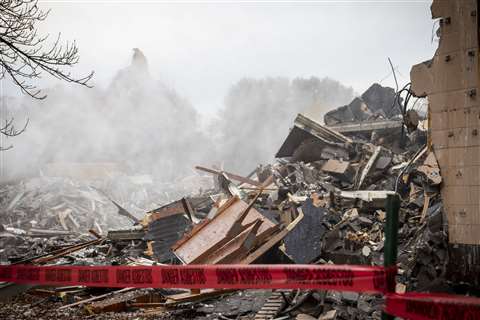 When broken apart or ripped from the structure above ground level, the dust can easily reach above the canopy level of trees and enter the upper air currents. Since these emissions originate from solid substances, it's almost impossible to stop dust creation with topical saturation. Depending on the size and force of the wind, particles can be carried into surrounding communities. These emissions can irritate people with chronic respiratory issues, and long-term exposure to some substances can cause future concerns in vulnerable populations.
Although much of the dust is not considered harmful, many can contain traces of HAPs, from asbestos to silica, which need to be mitigated at the point of emission and prevented from becoming airborne. This particulate matter (PM) can be as small as 2.5 microns (μm) in diameter, approximately the size of bacteria.
For perspective, to be visible to the human eye dust needs to be greater than 50 μm, and particles as large as 200 μm can remain aloft on ambient air currents for long periods.
Currently, the most common method to control airborne particles is by using water. Field studies have shown that for water droplets to control particles most effectively, they must be roughly the same size. The size and velocity of a droplet can cause air to rapidly move around it, referred to as a "slipstream."
Much like air flows around a bird's wing, the same effect happens to a falling water droplet. Hoses create droplets that average 200 to 1,000 μm in size, large enough to deflect airborne particles, causing them to stay aloft rather than fall to the ground.
By contrast, atomised mist droplets – ranging between 50 and 200 μm in size – linger in the air and create virtually no slipstream, facilitating collisions with airborne particles and driving them to the ground.
Atomised mist also settles lightly on material surfaces, offering ground-level suppression without soaking the substrates.
To comply with the small particle sizes of most local, state, EPA and military standards regarding HAP and general dust emissions – both inside the site line and out – many contractors are turning to atomised mist to cover large areas.
Illinois Environmental Protection Agency (IEPA) regulations restrict particles of 10 μm or less from leaving the site line of a demolition project. Moreover, the Occupational Safety and Health Administration (OSHA) regulates the exposure of workers operating around activities that produce harmful dust such as that emitted by crushed concrete (silica).
Personal dust monitors attached to trained workers measure the particulate density of the air in cubic metres to determine the level of exposure.
The OSHA dust density threshold has recently been relaxed to more than 50 μm/cu m of PM10 over a four-hour time-weighted average (TWA) from greater than 25 μm/cu m of PM10 over eight hours TWA.
The primary difference with military guidelines is establishing "the case-by-case maximum achievable control technology (MACT) determinations required by Section 112(j) of the Clean Air Act."
This stipulates that contractors should seek the best control method possible to suppress airborne particulates. "We needed to find a mobile and versatile dust control method that we could position wherever it was necessary and just walk away," said Josh.
"It had to be highly effective in suppressing airborne dust, so when I read about atomised mist, I realised we had found what we were looking for."
Atomised mist technology
Some demolition contractors still depend on dust control that assigns a worker to manually spray the operating area, locating the worker near the machinery and hazardous debris drop zone. For a hose to create the amount of pressure needed to reach high up to the level of the activity requires 189-378 l/min (50-100 gal/min) of water depending on the height of the spray and the size of the hose.
Atomised mist technology is considered MACT because of its superior ability to capture airborne particulates and pull them from the air using a fraction of the water.
The specialised cannons with front-mounted nozzle manifolds fracture pressurised water into a mist that is propelled by the high-powered fan in the back.
The mist droplets are light enough to travel on air currents with the dust particles and small enough to avoid creating a significant slipstream to collide with particles and drag them to the ground. Using a fan to propel engineered droplets rather than water pressure, pooling and runoff is minimised as the mist is absorbed by surface level dust and the ground.
After doing some research online, Josh Mazander discovered that DustBoss equipment – manufactured by Boss Tek – is among the most prominently rented and sold units of their kind on the market.
Weighing his option to either rent or buy, he decided that the timeline was long enough and that the versatility of the unit was such that it could be used on several other projects, so he decided to purchase a DustBoss 60 (DB-60).
Mounted on a mobile carriage, the DB-60 25 hp industrial fan generating 849.5 cu m/min (30,000 cu ft/min).
Water is pumped through a circular manifold fitted with 30 atomising nozzles that fracture the droplets into an engineered mist that is distributed in a 60 m (200 ft) long cone-shaped pattern. The mist can be directed at a specific activity or raise the humidity level over a large area using the 40° oscillator and 0 to 50° vertical height adjustment, which allows the machine to deliver approximately 1,950 sq m (21,000 sq ft) of coverage.
Capable of covering 11,613 sq m (125,000 sq ft) when equipped with optional 359° oscillation and consuming only 45 to 71 l/min (12 to 18 gal/min), the DB-60 limits runoff and pooling associated with other water-based suppression methods.
DMS powered the unit using a three-phase diesel generator mounted on a separate trailer and drew water from the local hydrant system.
Operators reported that the powerful fan allows the mist to cover the entire operational area, offering both topical treatment and airborne dust suppression. Disruption of settled dust by loading and separating material was also well-mitigated by the unit, allowing all stages of the operation to be compliant with little worker exposure to machinery or debris. This improved safety on the site and reduced the cost of operation.
Mike Lewis is national sales manager of Boss Tek, which specialises in industrial dust and odour control to provide solutions for safer and more productive work environments. Article first published in the April-May 2020 issue of Demolition & Recycling International