Early breakthrough for TBM in Himalayas
A Robbins Double Shield TBM working in the Himalayas mountain range has broken through about one year ahead of the overall project schedule, and seven months ahead of the tunnel boring machine (TBM) tunnelling schedule.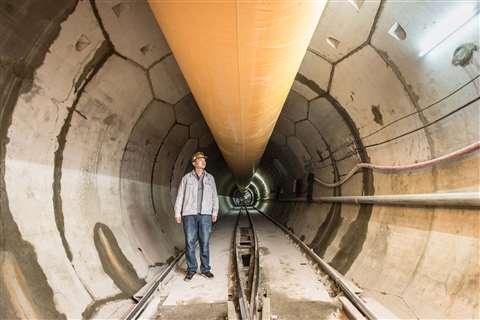 Nepal's first TBM, at 5.06m diameter, achieved over 1,000m monthly advance on two separate occasions and averaged over 700m per month over the course of tunnelling.
The machine completed the 12.2km Bheri Babai Diversion Multipurpose Project (BBDMP) for the Government of Nepal's Department of Irrigation (DOI) and contractor China Overseas Engineering Group Co. Ltd. Nepal Branch (COVEC Nepal).
The machine's completion of the tunnel in just 17 months came nearly a year ahead of the DOI's deadline for completing the tunnel of March 28, 2020.
When the BBDMP was fast-tracked as one of the country's 'National Pride Projects' feasibility studies showed that Drill & Blast excavation of the tunnel could take as long as 12 years, with TMBs offering a faster option.
The project began working with local Robbins representatives MOSH Tunnelling to bring what is said to be the first Nepalese TBM into the country.
The process for acquiring funding for the project and selecting a contractor through international competitive bidding took seven years, spanning from 2007 to 2015, when project commencement officially began. "We are proud to have introduced TBM technology successfully," said Prajwal Man Shrestha, Robbins Representative in Nepal with MOSH Tunnelling. "Despite roadblocks and resistance along the way, we eventually introduced this technology, which broke all tunnelling records in Nepal."
The tunnel is located in the Siwalik Range, part of the Southern Himalayan Mountains, where geology consists of mainly sandstone, mudstone, and conglomerate. Once the BBDMP is operational, it will irrigate 51,000 hectares of land in the southern region of Nepal and provide 48 MW annual generating capacity.
The estimated annual benefit of the project is US$64 million.