Earthmoving equipment: Intelligent machines
By Andy Brown20 November 2019
Earthmoving equipment can include a wide variety of different types of construction equipment – this feature will focus on excavators, bulldozers and backhoe loaders.
Doosan recently launched the new DX350LC-7 Stage V 36 tonne crawler excavator. This is the first Stage V model to feature Doosan's D-ECOPOWER technology, which is said to provide operators with higher productivity and lower fuel consumption per hour, as well as smoother controls.
The technology focuses on the role of the hydraulics system. It utilises an electronic pressure-controlled pump within a closed centre hydraulic system to accomplish increases of up to 26% in productivity and up to 12% in fuel consumption improvements, depending on the mode selected. A closed centred main control valve minimises pressure loss, while the electric pressure-controlled pump manages and optimises engine power.
Caterpillar's new D6 dozer is said by the company to deliver new levels of performance with a choice of Electric Drive or Fully Automatic power train. Customer profitability is reported to be enhanced with up to 35% better fuel efficiency and reduced service and maintenance costs, while a new cab offers more operator comfort.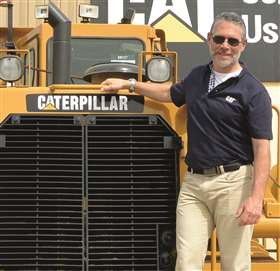 While there are a host of new features, with the D6 XE being the world's first high drive Electric Drive dozer this is sure to be an area of interest. Caterpillar introduced the first dozer with electric drive more than ten years ago, but this is the world's first high drive electric drive dozer.
Jean-François Villard, Dozer market professional, Caterpillar, said, "In the decade since introducing electric drive with the D7E, Caterpillar has continued researching and developing new proprietary testing and validation processes. The next generation electric drive is simpler and more efficient. Serviceability has improved thanks to the elevated sprocket, diagnostics are simpler, and components are easily serviceable."
Villard says that one of the main goals when producing the dozer was to offer a machine that was easy to use and help operators of all experience levels be more productive; with electric drive there are no gears to shift, so the machine is more efficient.
Electric drive also brings other benefits, as he explains, "With this advanced electric drive technology, the service and maintenance costs can be lower than with a traditional transmission. Electric drive has up to 90% fewer moving parts than a powershift transmission and is designed for a longer life. The D6 and D6 XE dozers have been engineered to be rebuilt and therefore have multiple lives."
The D6 and D6 XE will be available in Europe, North America, Australia, New Zealand, Japan and South Korea.
Construction technology
Technology is one way for earthmoving equipment to become more efficient. For instance, the average profit margin in the construction industry is around 2-4%, while the housing industry has a profit margin of 10-12%. In order to catch up, the measurability of work must be improved so that speed, accuracy and efficiency can be optimised – and the industry can consistently deliver projects on time and on budget.
Duncan McCormick, construction software specialist at Topcon, comments, "Hauling earth is often considered a 'micro-process' as it comes under lots of other processes but, depending on the type of project, it can account for up to 80% of the total cost.
"To reduce costs, the five Ps, 'Proper Planning Prevents Poor Performance', need to be applied to create mass haul design in infrastructure projects. Specifically, the MAGNET Project approach to planning, scheduling and controlling a project enables optimum efficiency and avoids any disconnect between how data is collated, stored and evaluated within the different stages."
Technology, such as the software highlighted above, can be used to manage the whole process of earthmoving and monitor many different machines, but the technology on the machines themselves has also led to increased efficiency.
Nathan Horstman, product marketing manager, crawler dozers, John Deere Construction & Forestry, speaking about the 850L Dozer said, "One of the most notable features on this machine is the compatibility with John Deere SmartGrade. This technology is integrated into the dozer – eliminating external cables to the masts, which reduces breakage, and the removal of the masts from the blades helps decrease vulnerability to theft and damage. SmartGrade technology removes the need to install blade-mounted sensors and components daily, reducing setup time, and allows operators to get more work done."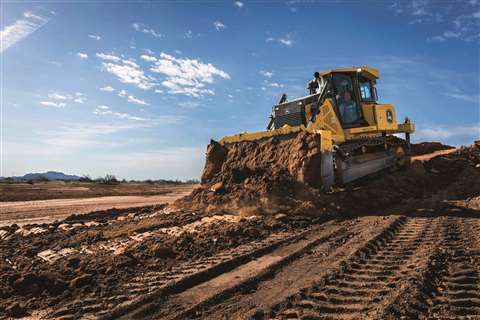 Much has been said about the industry's skills shortage and the role that technology, such as SmartGrade, can play in making an operator's life easier.
"We continue to see increased interest in technology solutions, which is why we offer the SmartGrade fully integrated, factory or dealer installed, mastless 3D grade control system," added Horstman.
"SmartGrade reduces operating costs by optimising machine performance and production throughout the entire job cycle, rather than only controlling the blade on the finish pass. Advanced features like Auto SmartGrade integrate the grade control system with the machine's power management system and control the blade based on engine load, making this system easy for operators of all skill levels."
Power sources for construction equipment

Electric and hybrid power sources are areas of conversation among those working with construction equipment machines, with earthmoving equipment being no exception.
Wilbert Blom, Hitachi product manager, Europe, excavators, echoes what is generally the industry's view when he says that battery driven might be the solution for medium and compact excavators but that for larger equipment diesel power – or some type of diesel power at least – will remain the main powertrain for a number of years to come.
When asked about how much customers speak to him about electric equipment he answers that it depends on the region.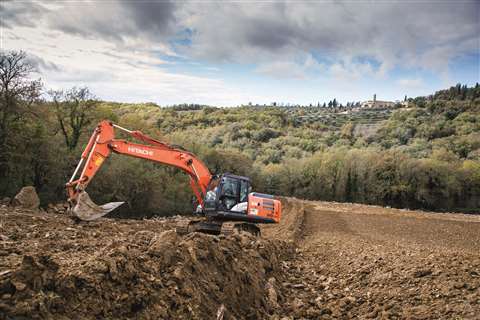 "For customers in Norway this is something they are interested in because of Olso's targets on emissions. In Norway they've been very successful in changing the automotive from disesel petrol to hybrid and full electric and they want to copy their success from automotive to other equipment which is creating pollution.
"Some of the big cities in Germany are quite proactively reducing emissions inside the cities, as well as London and Paris, but I don't think I have ever had a request from a customer about electrification in Spain."
While emissions are a big driver for some, but not for others, what is universal is the need for earthmoving machinery to work to the highest productivity standards possible. This is the case for an Italian contractor using a fleet of Hitachi construction machinery to help it prepare the ground for vineyards and planting vines. Agrichianti specialises in earthmoving and landscaping in the heart of Tuscany under the ownership and management of the Fronti family.
The company has been buying excavators from authorised Italian dealer SCAI since 2004. "There are three reasons why we buy Hitachi excavators: we like the machines; we have a strong working relationship with SCAI; and we receive an excellent level of support," said Fabio Fronti.
"Hitachi excavators are the fastest and most precise for the work that we do, and we consider the Zaxis-5 mini excavators to be our best machines. In addition, the reliability of the machines is vital, especially for the environment in which we work."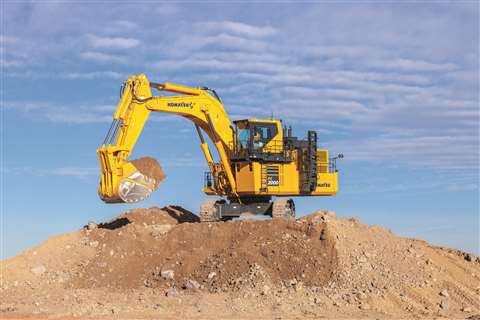 Hydraulic excavator
Elsewhere, Komatsu America has recently launched its PC2000-11 hydraulic excavator. Equipped with an EPA Tier 4 Final certified engine, the PC2000-11 is said to have more horsepower and a new engine-pump control for faster cycle times and improved multifunction performance.
"The PC2000-11 is designed to load 70 to 200 ton rigid frame haul trucks and is an excellent tool for stripping overburden, loading coal, and loading shot rock," said Robert Hussey, product marketing manager, Komatsu America. "The PC2000-11 has a simplified power module (cooling package, engine, PTO, and hydraulic pumps) which provides excellent accessibility to major components, low noise levels in the cab, and reduces labour hours when it comes time for planned overhaul."
KomVision, Komatsu's machine monitoring system, comes standard on the PC2000-11. To increase operator awareness of haul trucks and light vehicles entering and leaving the working area, the camera system provides a 360 degree view of the working area on a touch screen monitor.
Compact construction equipment
JCB is known for its backhoe loaders, and the company has introduced two additional variants of the 3CX Compact offering a host of new features. The 3CX Compact was launched in 2015; at just 1.9m wide and 2.74m high, the machine is suitable for road resurfacing and repair contractors, utilities, groundworkers and municipalities working in congested urban areas.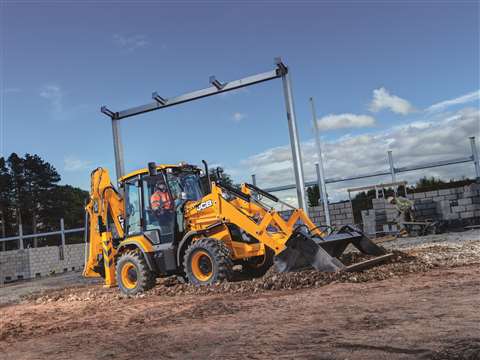 The company recently unveiled the new 3CX Compact PLUS and the 3CX Compact PRO models offering enhanced attachment compatibility to undertake a range of new applications.
JCB chief innovation and growth officer, Tim Burnhope, said, "The backhoe loader is already one of the world's most versatile pieces of construction equipment and when JCB launched the 3CX Compact in 2015, we condensed 60 years of expertise to create a backhoe with all the versatility, productivity and ease of use of the 3CX.
"With the launch of two new models in the range we are offering our customers an even more versatile tool carrier. With up to 70% more hydraulic flow, a skid steer loader quickhitch and multi-functional joystick, the new machines will be the most versatile on the market and open up new applications for backhoe loaders."
Volvo Construction Equipment (Volvo CE) has announced that it has delivered the ECR25 Electric excavator for customer testing.
Spac, part of the Colas Group, is using the 2.5 tonne excavator to dig trenches at the Saint-Nom-la Bretèche golf course, just outside of Paris, France.
Benjamin Silvent, site manager for Spac, said, "For residents and cities in general, it makes our worksites more acceptable because it limits carbon emissions and noise disturbance."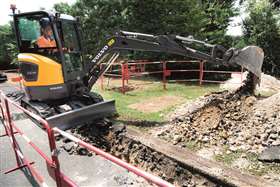 The Volvo ECR25 Electric replaces a combustion engine with 48-volt lithium-ion batteries and an electric motor that powers the hydraulics to move the machine and attachments. The batteries store enough energy to power the machine for eight hours in typical applications. It will be available in selected markets from mid-2020.
Global product manager, LiuGong, Alim Amuti, on the firm's new bulldozer and changing customer demands
In terms of your bulldozers, can you highlight some new features that are particularly innovative?
LiuGong B170D/B170DL (Standard model/Wetland) was unveiled at LiuGong's 60th anniversary in November 2018 and we are running final tests to get it ready for the market. For the overseas market it is expected to launch in about one year.
The Cummins engine provides stable power with three working modes that can be selected to meet different application needs of the customer: Power, Standard and Economy.
The B170DL adopts a modularised transmission system of European technology; the hydraulic system, single handle pilot operation and one-button gear shift allowing for smooth and stable operation.
Designed by LiuGong Industry Design Center in the UK, the B170DL's operating visibility is greatly improved from both the front and rear increasing an operator's blind-free spots more than 10° and the multi-functional display board can show the machine's conditions at a glance. The ergonomically designed system, high-sealed and micro-pressurised driving cab can reduce noise and dust.
Have customer demands and expectations changed over the last five years?
Yes, customer demands and expectations have changed. One particular change is the intellectulisation of the industry, with more intelligent control technology applied in the machines. 3D control and remote control are also widely used and expected.
More comfortable operating requirements in emerging markets are required due to the retirement of old operators, while younger operators require more in-operation comfort. Higher emission standards are required for environment protection purpose.
Are there any countries where you are seeing particularly strong sales?
North America and the Far East are the two biggest markets for bulldozers in the world.Any company that wants to make a breakthrough in the bulldozer business, needs to succeed in the US and China. We also find that Russia, Indonesia and Canada have big market potential.
Liebherr's milestone
Wthin the framework of organising a Liebherr event at the House of Alsace, in the heart of the Champs Elysées, Paris, the 60,000th Liebherr crawler excavator recently occupied a special place on the iconic avenue.
After it was unveiled to local officials and the workforce of Liebherr-France SAS, the 60,000th crawler excavator has embarked on a trip around France, Belgium and Luxembourg.
Already exhibited at Bauma Munich, the Tour de France in Colmar, as well as by some of the Liebherr sales network, this time the flagship from Colmar stopped in front of the House of Alsace on 39 avenue des Champs Elysées for two days.
Like all 8th generation models, the 60,000th R 922 is characterised by a new design, revised in order to improve comfort, safety, ergonomics and performance.
Manufactured in March on a dedicated assembly line and introduced this year, this crawler excavator is the first 8th generation model to have left the Liebherr-France SAS factories.