Earthmoving equipment - Reducing the burn
By Helen Wright14 April 2014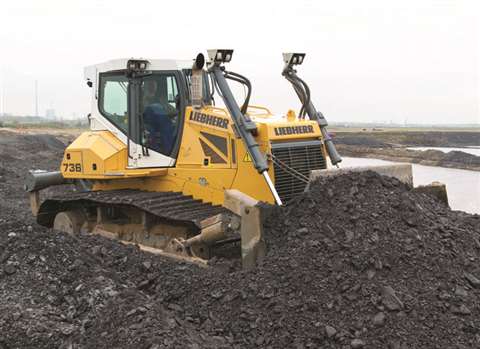 A lot has changed in the earthmoving sector over the last year with manufacturers developing new machines with engines that comply with strict new off-highway diesel exhaust emissions laws.
These new laws – known as Tier 4 Final in North America and Stage IV in Europe – came into force at the start of 2014, aiming to reduce the pollutants emitted by diesel-powered construction equipment to near-zero levels.
At the same time, the cost of ultra-low sulphur diesel, the type of fuel that Tier 4 Final engines have been developed for, is becoming more and more important to contractors. Margins remain tight, and manufacturers report that the issue of fuel consumption is cropping up time and again in conversations with customers.
Indeed, Liebherr said exchanges of views with many of its earthmoving customers during March's ConExpo-Con/Agg construction equipment exhibition confirmed this. It said higher construction machinery efficiency was already an increasingly important factor in purchase decisions for North American markets.
A natural focus for product development, therefore, has been to try to reduce the amount of diesel that construction machines are burning in the first place. And some significant savings are being reported on the latest Tier 4 Final-compliant earthmovers – savings that have the potential to make a real difference to the lifecycle cost of running a machine.
However, the obvious counter-argument to this is the fact that the latest, high tech, emissions-compliant machines also cost a lot more to buy in the first place. This purchase cost vs lifetime value calculation is one that contractors must weigh up themselves when deciding whether to purchase a new machine. But knowing exactly what is on offer, and the claims that the manufacturers are making, is a good place to start.
Dirt pushers
As far as tracked dozers are concerned, new Tier 4 Final machines include Komatsu America's D65-18 and D155AX-8 models, which come with a lot of extra technology on top of the new engines.
The D65-18 is available as standard (EX) or in low ground pressure configuration (PX), or as a wide track (WX) model. Operating weights range from 45,500 lbs (20.6 tonnes) to 49,700 lbs (22.5 tonnes) depending on the version. The larger D155AX-8 is an 89,300 lbs (40.5 tonne) machine.
The D65-18 is driven by a 217 hp (160 kW) Komatsu engine, while the D155AX-8 is powered by a 354 hp (260 kW) engine, both of which feature selective catalytic reduction (SCR) and exhaust gas recirculation (EGR) systems – technology that works to lower diesel exhaust pollution.
Komtrax remote monitoring technology also comes as standard on both dozers, together with a new Auto Idle Shutdown function and automatic shift transmission – a feature that is said to reduce fuel consumption by up to -10%.
Liebherr has also introduced a new Generation 6 PR 736 dozer, another Tier 4 Final-compliant earthmover this time in the 20 to 25 tonne operating weight category. Here as well, a number of new features have been integrated to boost fuel efficiency on top of the new engine and hydrostatic transmission.
For instance, the model features an electronically-regulated travel drive with an integral eco-function. This means that when the operator chooses between high-performance and maximum economy, the system automatically selects the optimal setting for economical operation of all travel-drive components.
Case's latest M-series dozers are also now going into full production – a five-model range comprising the 22 tonne class 2050M, 18 tonne class 1650M, 15 tonne class 1150M, 10 tonne class 850M and 9 tonne class 750M, with engine powers from 92 hp (69 kW) to 214 hp (160 kW).
The machines feature Tier 4 Final engines, using SCR to limit exhaust emissions. The company also said there were fuel savings of up to 14% to be had, compared to the previous models.
Loaders
JCB, meanwhile, has been keen to highlight its diesel particulate filter (DPF)-free earthmoving machines – a trend that it began during the Tier 4 Interim phase of emissions legislation. DPFs collect particulate matter from exhaust fumes and burn it off periodically, and can present extra cost and service implications for the end-user.
ConExpo saw JCB continue take the wraps off new wheeled loaders in the form of the 3.5 m3 bucket capacity JCB 457. This machine relies on a 193 kW MTU engine using SCR to meet the Tier 4 Final regulations, with no DPF.
JCB says the 457 boasts a 16% fuel saving compared to the previous model. And as with many of the other latest earthmovers, remote monitoring technology comes as standard – JCB's LiveLink telematics system is fitted.
Meanwhile, a new H-Series of wheeled loaders has been launched by Volvo – also Tier 4 Final-compliant, and also boasting hefty fuel consumption improvements. This L250H, which can carry buckets with capacities of between 2.7 m3 and 9.5 m3, was on show at Conexpo. It is equipped with Volvo's Optishift driveline and the manufacturer claims a -18% reduction in fuel consumption compared to previous models.
Another Tier 4 Final wheeled loader was also introduced by Case in the form of the 3.6 m3 bucket capacity 921F – a machine that also adheres to the strict new emissions laws without using a DPF. Instead, SCR technology has been used to comply. The 921F will be available in 2015.
And the latest Tier 4 Final wheeled loaders from Caterpillar are the 966M, 966M XE, 972M and 972M XE models, which have bucket capacities ranging from 2.48 m3 to 9.94 m3, as well as the 980M and 982M wheeled loaders, which can carry buckets with capacities of between 4.2 m3 and 14 m3.
The XE Advanced powertrain first introduced with the manufacturer's 966K XE wheeled loader has continued with the 966M XE and the 972M XE. The continuously variable hydrostatic/mechanic XE technology is said to result in +25% higher fuel efficiency on average compared to machines with traditional torque converters.
The powertrains on the 966M and 972M have also been improved with the addition of lock-up clutch torque converters standard. Caterpillar says these machines consume -10% less fuel on average compared to the 966K and 972K.
Excavators
A similar trend can be found in the latest excavators on the market, with Komatsu America's largest new Tier 4 Final model – the 50 tonne class PC490LC-11 – claiming a -7% decrease in fuel consumption compared to previous machines.
Its four new excavators range from the 5 tonne class PC55MR to the 50 tonne class PC490LC-11. Komatsu said fuel consumption on the largest model had been decreased by up to -7% compared to previous machines. All the machines use EGR and SCR technology to comply, as well as a DPF on the PC55MR, and a diesel oxidation catalyst (DOC) on the 9 tonne class PC88MR-10.
At the same time, Case unveiled the first model of its new Tier 4 Final-compliant D Series excavators – the 37 tonne class CX350D, which will be available in North America from early 2015. Fitted with EGR, SCR and DOC engine technologies, the machine is said to be +10% more fuel efficient than the previous model.
Caterpillar is also claiming sizeable fuel consumption savings with its new Tier 4 Final excavators – it claims to have seen savings of up to 13% with the large 92 tonne class 390F and 75 tonne class 374F models over the machines they replace.
Further down the weight categories is Caterpillar's 335F L compact radius excavator – a new 39 tonne class Tier 4 Final model that the manufacturer says delivers a 16% improvement over the model it replaces.
And new Tier 4 Final compliant excavators from Volvo come in the form of the E-Series, with the 36 to 43 tonne class EC380E on display at ConExpo. The manufacturer said this machine delivered high digging and breakout forces alongside reduced emissions and a +9% improvement in fuel efficiency.
Trucks and graders
Meanwhile, a number of Tier 4 Final-compliant articulated dump trucks (ADTs) have also been introduced to coincide with this year's emissions laws in North America and Europe, many of which were discussed in the haulers feature in the March 2014 issue of iC.
But Komatsu waited until the ConExpo to launch its latest design. The manufacturer showcased the 28 tonne payload HM300 ADT, a Tier 4 Final machine boasting a 242 kW Komatsu engine equipped with EGR and SCR aftertreatment.
As well as the new engine, the HM300 is equipped with a range of other technology. These include the K-ATOMiCS electronic transmission modulation system, Komtrax remote monitoring technology, a new auto idle shutdown function and Komatsu's Traction Control System.
Operators can also select between economy and power modes for different jobs, while a new operator identification system reports key information from multiple operators.
And as far as graders are concerned, Caterpillar has Tier 4 Final launches in this product group as well – the M Series 3, consisting of the 19 and 20 tonne class 12M3, 140M3, 160M3 models, and their all-wheel-drive (AWD) counterparts.
The manufacturer claims average fuel savings of up to +10% using the machines' Economy Mode, which reduces speed to allow the graders to work in a more efficient range. Caterpillar's Product Link and Vision Link telematics technology also come as standard, while options like Cat Grade Control Cross Slope and Cat AccuGrade help operators work more efficiently, productively and accurately.
John Deere has also updated its 12-model G-Series graders with new John Deere PowerTech engines to ensure that they now meet Tier 4 Final emissions standards. It highlighted the fact that its DPF cleaning process occurs automatically with no impact to machine operation, and with an up to 15,000 hour service interval.
It said it had ensured that integrating the Tier 4 Final engine had not affected visibility for the G Series, which range in operating weight from the 19 tonne class 670G/GP to the 21 tonne class 872G/GP. In addition, it integrated LED work lights to the new models, while its telematics technology – John Deere WorkSight – also comes as standard.
And another new grader has been released by Volvo, the Tier 4 Final-compliant G946C. This 17 tonne class machine features technology including load-sensing hydraulics and an all-wheel drive system with creep mode, which only engages the hydrostatically-powered front wheels for fine grading applications.
If required, the G946C can also be fitted with a third-party grade control system, using the Technology Ready Option. Volvo has developed a common interface and installation package to ensures high productivity and precision in fine grading applications, regardless of customer preference.
Advantages
It has clearly been a busy time for the earthmoving sector, and with fuel consumption savings of as much as +25% being claimed on some of the latest Tier 4 Final models, there are clear advantages to the latest engine and transmission technology for end-users.
However, now that the Tier 4 Final laws are in place, forcing all the sector's manufacturers to install new engines, it will be interesting to see where manufacturers invest their research and development funds next.
A trend seems to be for automating more and more functions and further integrating machine control and telematics systems, targeting further increases in productivity and equipment security.
Volvo, for instance, said one area of technological development that it is looking into is machine-to-machine and machine-to-infrastructure communication. This is also an area being emphasised by pure technology companies in the sector like Leica, Topcon and Trimble.
"One of the advanced engineering projects we're working on is wireless machine communication technology," said Peter Wallin, research coordinator at Volvo CE. "By increasing machine intelligence and making it possible for machines to 'talk' to each other we can reduce operational costs through improved fuel efficiency, while also increasing safety and maintaining productivity.
"So far we've looked at the quarry and aggregates segment and road construction – but this technology can be used in all the applications Volvo machines work in."