Earthmoving: Ground breaking inventions
By Joe Malone27 April 2016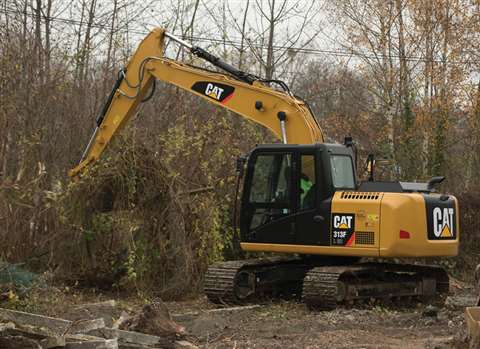 The last 12 months have been a good time for earthmoving equipment manufacturers to launch new machines, and update their existing equipment, as Bauma drew closer. Having the opportunity to see new designs and features first hand gives the manufactures the edge they crave.
New from Komatsu are the Dash-11 excavators and Dash-8 wheeled loaders, which feature Stage IV-compliant engines, and offer fuel savings over previous models.
For example, The WA470-8 wheeled loader is claimed to offer 8% lower fuel consumption the WA470-7. It also features a new auto-digging mode, a new E-light work mode and with Komatsu's redesigned digging bucket, which it claimed improved penetration and is said to be easier to fill.
Komatsu has also been a pioneer of intelligent machine control, which is a next generation machine guidance and control technology with the potential to greatly reduce fuel consumption and increase productivity. Bauma saw the company display the PC210LCi-10 excavator from this line, which was first presented at Bauma 2013, and then officially launched on the European market in November 2014.
Komatsu also presented its new D85EXi/PXi-18 dozer at Bauma – and again the 'i' indicates it is an intelligent machine control model. The system is fully integrated, so there was no need for operators to climb on the blade to install or remove GNSS antennas, no coiled cables to snag and no electrical connections to worry about at the start and end of each shift.
Meanwhile in the US, John Deere has introduced the 700K SmartGrade dozer, which features an integrated 3D-MC2 Grade Control System from Topcon. Like the Komatsu system, with GPS grade control technology also supplied by Topcon, this is fully integrated into the machine's cab, structures, and on-board software to deliver precise grading performance while eliminating vulnerable external masts and cables.
This removes the need to install equipment on a daily basis, reducing setup time. Eliminating external cables to the masts reduces breakage, and the removal of the masts from the blade eliminates vulnerability to damage and theft. The Auto SmartGrade feature allows the operator to adjust the system when moving the machine from one soil type to another, unlike an after-market system, which often requires the GPS manager to make a trip to the machine to recalibrate the system.
Machine dimensions are preloaded into the grade control monitor, reducing the time required to calibrate the dozer to about 30 minutes. In addition, the easy-to-use system is beneficial to new operators in that it can get them up and running quickly.
Haulers
There is plenty to talk about in the off-highway truck market, with key manufacturers seemingly taking a 'big is beautiful' mentality.
Bell is extending the availability of its 59 tonne articulated dump truck – the B60E – outside Africa for the first time. It was first introduced in 2013 as the B60D, and took the two-axle concept of a rigid truck, but developed it with a driven front axle and independent front and rear chassis.
Bell Equipment's product marketing manager, Tristan du Pisanie, said, "By combining the ADT concept as we know it with the single rear axle, we came up with a unique machine configuration – a 4x4 with full articulation steering and oscillation joint and that gives us the ability to keep all four driving wheels on the ground and fully utilise the traction that's available."
The B60D has been tested alongside rigid trucks in Africa, and Bell Equipment claimed that, with its all-wheel traction and retardation advantage, the ADT was able safely to continue working in adverse weather conditions, with no loss in production.
Meanwhile, Volvo unveiled a similar sized machine at Bauma, the 55 tonne capacity A60H articulated truck. The company promised that the high hauling capacity will be matched with high speeds. There will also be intelligent monitoring systems on board, such as MATRIS, CareTrack, and the Volvo On Board Weighing System, further optimising production and minimizing operational costs.
Meanwhile, the Volvo Care Cab promises to reduce fatigue and promote a productive work shift from each operator. With a centrally-positioned seat, superior steering, excellent suspension, low noise levels, climate control, and ample space and visibility, Volvo articulated haulers have a reputation for providing a comfortable and productive operator environment.
Doosan's DX140LC-5 14-tonne crawler excavator is another newly-launched machine this year, which the company says offers greatly improved performance, compared with the previous LC-3 Stage IIIB engined model. It backs up its claims by detailing a list of enhancements, including a 5% increase in engine power, 4% greater torque, a 10% increase in front lifting capacity and 18% more drawbar pull.
As well as 3% lower fuel consumption and reduced emissions from a Perkins 1204F engine, Doosan also added to the operator efficiency, with attachment controls operated from either the joystick or a two-way pedal.
Case meanwhile is updating its crawler excavator range with the new D series. In the medium range, the CX130D, CX160D and CX180D all feature Case's Stage IV "maintenance-free" technology without a DPF on the engine. At the heavy end of the range are the new CX490D and the CX500D, designed for mass excavation work and with an operating weight of over 50 tonnes.
The D series machines have Case's High Performance Hydraulics Control, for improved controllability and smoother operation – which the company said was especially noticeable with the two larger excavators in the series.
Improved cycle times are claimed with the new electronically-controlled hydraulic pumps and larger main valve, which are said to increase productivity and deliver greater lifting power.
All D series models feature Case's energy saving systems, including pump torque control, auto-idle and idle shutdown, as well as spool stroke control, boom economy control and swing relief control.
Advanced hydraulics
Moving across to Asia, Liugong has launched its Tier IV E-series excavators, from the 15 tonne class 915EIV to the 40 tonne 939EIV. The machines are all fully compliant with European engine emissions regulations and use an advanced hydraulic system, offering increased efficiency.
Liugong said customer costs are reduced through a combination of low fuel consumption and reliable machine performance.
The E-series machines carry high output torque Cummins engines and Cummins-patented turbochargers, which vary airflow to match engine and load demand, assisting performance.
Oil consumption on the E-series engine is reduced with the use of Liugong's own new-generation computer-aided Intelligent Power Control (IPC) system, which also integrates the mechanical, electrical and hydraulic systems, for enhanced efficiency and better fuel consumption.
All of Liugong's E-series excavators feature six selectable working modes – Power, Economy, Fine, Lifting, Breaker and Attachment – also assisting with fuel consumption.
In the new machines, maintenance is made easier, with easy access to oil, fuel and hydraulic filters, and cleaning at ground level of both the interior and exterior portions of the air filters,
In comparison with the D-series, the E-series cab space has been increased by 8.5%, with more height and more glass giving improved field of vision for the operator. In the cab, users can increase the internal pressure when the air conditioning is in use, to prevent dirt and other irritants entering.
Meanwhile Hitachi has launched its Zaxis-6 range of medium and large excavators. Its 50 tonne class ZX490LCH-6 is designed for use on large-scale construction projects and quarries. It includes two pumps and control valves to reduce fuel consumption, and the hydraulics help improve productivity, with its efficient swing, boom lowering, arm, and bucket roll-out, said Hitachi.
This new technology also lowers the emissions and reducing noise, with its diesel oxidation catalyst (DOC), urea mixing pipe, selective catalytic reduction (SCR) system and silencer. The excavator also has a boom reinforced with thicker plates, with robust components in its undercarriage, including the track link, master pin, idler pedestal and bracket.
Hitachi is also launching a larger medium ZX300LC-6 excavator, with similar technological advances and a new six-cylinder 186 kW Stage IV-compliant engine, featuring the highest engine output in its class.
Upgrading
JCB is upgrading its wheeled loader range, which will share the characteristics found in its 457 wheeled loading shovel to the new 427 and 437 models.
The key features of its new 427 and 437 wheeled loaders include JCB's CommandPlus Cab, which the company claims delivers class-leading comfort and visibility. They also feature its CommandPlus Control system.
The machines boasts a single-piece bonnet which helps provide easier access for service and maintenance, while it has a range of loader arms to suit various industry applications.
Both models are powered by the company's own Ecomax Tier 4 Final/Stage IV compliant diesel engines, delivering 133 KW in the 427 and 136 kW in the 437.
In line with JCB's overall emissions policy, both of these engines meet the latest emissions standards without the use of a DPF, helping to reduce operating costs.
Another company which has been busy is Hyundai. The company has launched its new HX and HW crawler and wheeled excavators.
The new HX235 LCR and HX145 LCR crawler excavators are fitted with a stage IV engine, as well at the HW140 and HW210 wheeled excavators.
The new machines include Hyundai's advanced around view monitoring system as well as increased productivity and fuel efficiency. The company also noted the machines have greater operator comfort, with a larger touchscreen monitor and more leg room.
The new 8-inch touchscreen monitor displays information which mirrors what you would see on your smart phone and is 30% larger than previous models. It's easy to read and the main view of the screen can be adjusted according to the preferences of the driver. The monitor also has Bluetooth, meaning it can be connected to a mobile phone.
The machines are fitted with eco gauge which helps with the economic operation of the machines. The gauge level and colour displays the engine torque and fuel efficiency level on the touchscreen monitor. The gauge also indicates the status of fuel consumption, such as average rate and the total amount of fuel consumed. The machines can offer a reduction in fuel consumption from 6 to 12% - depending on the type of operation – in comparison to Hyundai's 9A series of machines, said the company.
Finally in the excavator industry, the introduction of the 313F, 315F, 316F, and 318F completes Caterpillar's launch of its Tier 4 Final/EU Stage IV 11- to 90-tonne tracked excavators.
The new Cat 313F complements the 313F GC introduced in 2015. Both models are built to meet customer expectations for versatility, reliability, and performance. The primary difference between the two models is the level of efficiency, said Caterpillar, as the standard F will do more work per unit of fuel.
The 315F is a compact radius machine, which is perfect for space-restricted work like road jobs with lane closures and next to buildings or other structures you'd like to keep from harm's way. With a front swing radius of 2.27 m and a tail swing radius of 1530 mm, the machine can dig, swing, and dump within a working space of 3.8 m. When rotated 90° and working over the side, just 135 mm of counterweight extends beyond the track width, which allows trucks and jersey barriers to be positioned closer to the machine.
The 316F is said it be a versatile machine that can change its attachments quickly, while the 318F is competitively positioned against 18-ton models available from other manufacturers. It delivers more lift, breakout force, and production with larger bucket options than a 16-ton machine, yet it burns the same amount of fuel, said Caterpillar.
Loaders
In the loaders sector, Liebherr's new XPower wheeled loaders are described as a comprehensive, innovative machine concept with the new power-split, Stage IV/Tier 4 Final compatible XPower drivetrain at is heart.
Available across the range of large wheeled loaders from the L 550 to the L 586, the new models will be introduced this month.
Martin Gschwend, sales director at Liebherr-Werk Bischofshofen in Austria, said, "Innovations of this scale come once every 20 years at most, so this represents a significant milestone in the technological history of Liebherr wheeled loaders."
He said the XPower concept offered greater reliability and a longer lifespan than previous Liebherr wheeled loader generations.
"Each XPower wheeled loader is equipped with stronger axles than previous machine generations, partly being fitted with axles from the next model up in the earlier range."
He added that component layout had also been improved "to increase strength and reliability, and the safe and versatile use of the components".
In addition to the axles being reinforced, other core parts were said to have been strengthened, including larger bolt diameters and an optimised lever ratio designed to increase the lifespan of the lift arm.
In conclusion, as well as looking at the brute strength and durability of machines used in the earthmoving sector, manufacturers are also looking at ways to reduce fuel consumption and technologies which can increase productivity.