Earthmoving: Standing out from the crowd
By Katherine Weir28 March 2018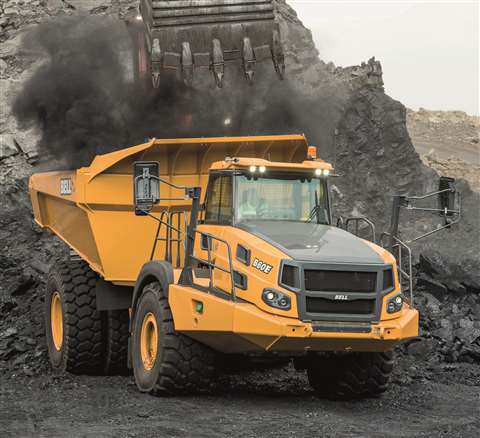 As essential pieces of jobsite machinery, the earthmoving equipment sector is one of the strongest in the construction industry. But with so many products to choose from, it is up to the manufacturer to set themselves apart from the competition and to catch the eye of buyers.
Manufacturer Bell Equipment has added to its E-Series truck range with the B40E, B45E, B50E and the 4x4 crossover B60E. The main design goal with these machines was improving on the lowest cost per tonne industry benchmark set by its D-series counterparts. The company said that comparative testing between the B40E and the B40D showed that, considering all variables, the B40E delivers up to 10% lower cost per tonne than the B40D.
Bell Equipment is 'particularly optimistic' about the 45 tonne B45E as it says there is increased global demand for this truck size. It has a bin volume of 25m³ and a powerful new engine, and wassaid by the company to have the potential of becoming the most popular model in the range due to its overall value proposition to customers.
In this new range, Bell has introduced an automatic hill hold where the brakes are automatically applied if the operator takes his foot off the accelerator pedal while driving up an incline, to prevent the truck from rolling backwards. When the accelerator is activated again, the brakes are released when there is enough engine torque to pull away smoothly.
South Korea-based Doosan Construction Equipment will be presenting a new version of its 30 tonne class DA30 articulated dump truck (ADT) at Intermat in Paris this April. Most of the changes are aimed at enhancing operator comfort and the controllability of the machine, with a new colour scheme and improvements to the driveline and electrical systems.
The company said that the most important change to the DA30 is the suspension, which is being upgraded to a hydro-gas self-levelling system to provide enhance performance and shock absorption for better driving comfort, especially when driven empty.
According to Doosan, in the new version of the DA30, there will also be lower maintenance costs involved as there are fewer different oil types in the driveline and increased intervals for transmission oil change.
The DA30 features an articulation hinge positioned behind the turning ring to provide equal weight distribution to the front axle even during maximum steer articulation. This, together with a free-swinging rear tandem bogie, ensures equal distribution of weight to each wheel and was said by the company to guarantee permanent six-wheel contact and drive for equal power distribution and good performance on difficult terrain.
There is no need for electrical aids such as traction control because of the forward turning point, the tandem bogie and the sloping rear frame. Doosan said this combination resulted in best-in-class rough and soft terrain capabilities.
Other news from Doosan at Intermat Paris 2018 will be the 52-tonne DX530LC-5 and 50-tonne DX490LC-5 crawler excavators, which will incorporate the company's D-ECOPOWER technology – an electronic pressure-controlled pump within a closed centre hydraulic system to accomplish increases of up to 26% in productivity and up to 12% fuel consumption improvements, depending on the mode selected – for the first time.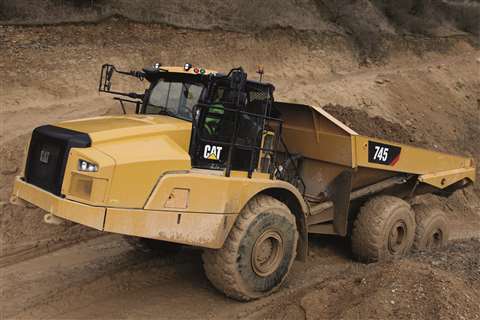 For US-based manufacturer Caterpillar, the new 745 articulated truck has a new cab design, advanced truck control features and a focus on driver comfort and productivity gains.
Introduced in 2017, the 41-tonne truck's cab design has been re-engineered inside and out using global operator feedback. The new external ROPS structure has bonded rear quarter glass that eliminates the structural pillar to give improvement in visibility from the cab. The quieter cab design lowers inside sound levels by 5dB at the operator's ear, the company said.
The 745 incorporates the new Cat Detect with Stability Assist system that audibly and visibly warns the operator if the tractor or trailer unit has reached an angle threshold where it is in risk of tipping over. Terrain-based throttle smoothing prevents the truck from surging when an operator is traveling over extremely rough terrain and is unable to keep steady pressure on the accelerator pedal.
Its powertrain is driven by the Cat C18 ACERT engine, rated at 375kW, which meets US EPA Tier 4 Final/EU Stage IV emissions standards. A new economy mode feature offers an average improvement in fuel consumption of 5% in applications where a truck is not required to operate at full productivity, the company said.
The lower portion of the front fenders is now made of a durable and flexible rubber sheet material to help decrease maintenance and repair costs on sites where mud packing around the fenders could damage the lower section.
Dumping and loading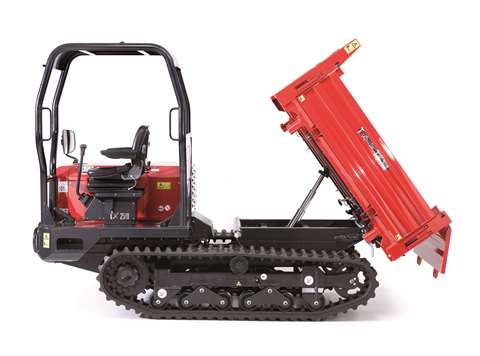 Tracked vehicle manufacturer Hinowa, based in Italy, has introduced the new Transporter TX2500 model with a three-way dumper bed. This new version of the machine now has an additional function that allows for tipping to be performed on three sides, with the automatic opening and closing of the sides.
The company said that the TX2500 can handle the most difficult and uneven terrain. It has a maximum capacity of 2,500kg, six rollers on each side (two fixed and four floating), a FOPS structure for operator protection, and a seat capable of rotating 180°. Other technical specifications include a load capacity of 1.36m³ and a weight of 2,700kg.
Special rubber tracks with mobile rollers allow the machine to reach a surprisingly high speed for its category of 11km/h. The TX2500 is the largest model in the Hinowa range and has been specifically designed for quickly and easily transporting heavy loads.
JCB has introduced a nine-machine, British-built site dumper range that will be backed by a two-year warranty. The models range from one to nine tonnes payload capacity and are all compliant with the latest safety regulations including ISO 5006:2017 and EN474 – test methods for determining and evaluating the operator's field of view on a rectangular boundary around the machine and on a 12m visibility test circle.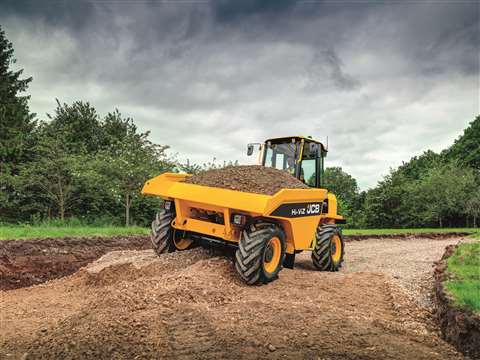 The line-up includes a one-tonne high-tip, three-tonne front and swivel tip (with a choice of transmissions), six-tonne front and swivel tip and a nine-tonne front tip model. JCB considers its new Hi-Viz seven-tonne model as the flagship of the range, which was said to take a ground-up look at site dumper design. Compared to a conventional six-tonne dumper when laden, the 7T-1 Hi-Viz model – with a low-slung chassis design – gives a 77% improvement on visibility.
By increasing the wheelbase, widening the wheel track and lowering the skip height, stability was improved in all directions.
Tim Burnhope, chief innovation and growth officer at JCB, said, "By deciding to design and manufacture our own range, we have taken the opportunity to innovate and to move the market forward to a new level of safety and productivity. We believe that the JCB site dumper range, led by its flagship Hi-Viz seven-tonne machine, offers a safer solution for customers."
In its wheeled loaders, Doosan recently announced a wide range of new safety and ergonomic features that are now available on its five large wheeled loaders - the DL300-5, DL350-5, DL420-5, DL450-5 and DL550-5 models.
Inside the cab there is a new ergonomic joystick control with a thumb wheel added for the auxiliary hydraulic line. The thumb wheel ensures that no additional lever is needed, providing the easiest combination of movements to manage the 3rd valve operations. FNR control has been relocated on the back of the joystick, via a three-position rocker switch, which was said to be more intuitive to use.
In terms of safety, additional convex mirrors have been installed on the lateral mirror frames. The wider angle and additional visibility provided by the mirrors along the side of the machine ensure safer manoeuvring of the wheeled loader on site and in the quarry.
Netherlands-based Tobroco is the manufacturer of choice for the family company of Uwe Witte with the Giant V425T X-TRA loader. Bought at the 2016 Bauma, Munich, exhibition, Witte was looking for a machine that combined lifting force, the possibility to work with a lot of different attachments and the ability to be transported on a car trailer.
The company – which offers garden and landscape work, various tasks in ground care and the maintenance of paths, roads and public open spaces – relies on the Giant V452T X-TRA combined with different attachments to do all kinds of tasks. Attachments like a bucket with top clamp, four-in-one bucket, stone fork, or pallet fork.
Uwe Witte said, "The wheeled loader replaces a lot of hard manual labour, which our employees would have to do themselves otherwise. It saves us a lot of time."
Making the grade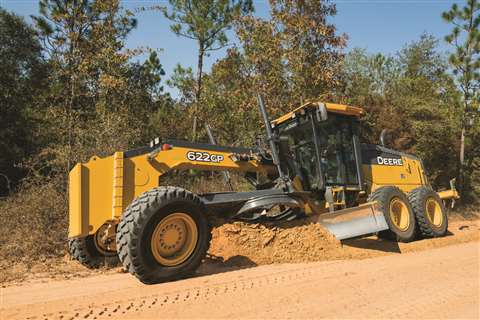 John Deere added to its G-Series motor grader line-up last year with the addition of two models, the 620G/GP and 622G/GP. The models were said by the company to be designed for cities, townships and contractors that prefer lighter and more fuel-efficient graders on the job.
The Illinois, US-based manufacturer has also added a dual joystick option on all Grade Pro (GP) models, along with ripper-stow automation, courtesy lighting, and a high-resolution reverse camera monitor.
Luke Kurth, product marketing manager for motor graders, construction and forestry at John Deere, said, "Our G-Series line-up is all about offering contractors and governmental customers the grader of choice, allowing them to choose the right machine for their application. Customers asked for a lighter and more fuel-efficient grader, and the 620G and 622G answer the call."
Both the 620G and 622G have the fuel-efficient Final Tier 4 6.8 litre John Deere diesel engine, and with eco mode this helps to optimise fuel usage, decreasing operating costs by an additional 5-10% compared to the larger 670G and 672G models, the company said.
A new joystick option was said to offer intuitive control for those who prefer this control over the standard antler rack. John Deere said that this option minimises hand motion during directional changes and gear shifting, as well as eliminating the need to twist for blade circle or articulation. All GP models come standard with automated cross-slope.
Caterpillar Paving Products released new utility compactors with rental in mind at the end of last year, with the addition of the CB2.5, CB2.7, CB2.9, and CC2.6. The new machines use a weight-based nomenclature that signifies its standard operating weight in metric tonnes, making it easy for customers to choose the machine that best fits their needs, the company said.
Covering the 2.5- to 2.9-tonne size class, typical applications for these compactors include town centres, streets, parking lots, driveways, patchwork and bike paths. Each one has a C1.5 engine that meets emissions equivalent to US EPA Tier 4 Interim, EU Stage IIIA, and China Stage III emissions standards. It gives 22.3kW of power and was said to perform effectively in the toughest conditions.
Toggle-type switches and a straight-forward analogue display make the operation simple for these compactors. Starting the machines is also made easier through the use of glow-plug technology – making this series an good fit for a rental fleet. Caterpillar said, "Durable components and the fuel-efficient engine maximize uptime and lower lifetime operating costs."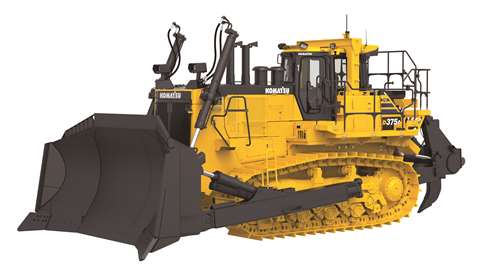 In July 2017, Komatsu Europe introduced the 73-tonne D375A-8 crawler dozer. With a robust main frame and track frame, along with 20% more power in reverse, the dozer provides faster reverse climbing speeds in downhill dozing and lower cycle times.
For fleet management and support, the latest KOMTRAX and KOMTRAX Plus telematics, and the Komatsu Care maintenance programme keep efficiency and uptime at a high level, the company said.
The D375A-8 has an operating weight of 72.9kg and a new Komatsu SAA6D140E-7 engine, exempt from current EU emissions regulations, but EU Stage V ready.
Komatsu said, "For greater efficiency during long pushes, the torque converter lockup clutch can be automatically engaged. Engine power is then sent directly to the transmission, increasing ground speed and machine efficiency, for less fuel consumption and faster cycle times."
The variable giant ripper was said to be ideal for digging through tough material. The auto downshift function, reverse slow mode or track shoe slip control mode are all available as options and can be quickly cancelled on the D375A-8. The K-Bogie undercarriage system increases the length of track on ground to improve machine stability and levelling performance, said Caterpillar.
Other features include the main frame – which enhances stiffness by 125% while increasing durability – engine output increase in reverse (reaching 578kW gross), and a variety of ripper shanks and points available.