Eathmoving Equipment: Game-changing advancements
By Andy Brown and Jenny Lescohier07 April 2020
Large wheeled loaders: Easier to operate and more efficient
John Deere's 664L hybrid wheeled loader has, as the name rather suggests, a hybrid-electric transmission system. Grant Van Tine, wheeled loader product marketing manager, John Deere, says that it was designed, "for increased efficiency and ease of operation." He also comments that it is powered by a John Deere 6.8L FT4 engine, for which the operator can select a constant engine speed, again making it as easy to operate as possible.
"Noise is less noticeable to bystanders, making the 644L Hybrid a good neighbour in residential areas," adds Van Tine. "The hybrid-electric transmission includes a three-speed power shift transmission with four speed ranges. Energy is recycled when the operator lets off the accelerator, changes direction, or drives downhill, reducing load on the engine and lowering fuel consumption."
Hitachi says that the company's ZW370-6 large wheeled loader was designed following extensive research to answer the needs of challenging working environments. Customer demands for reliable performance without compromising on fuel efficiency, increased productivity, and optimum comfort and safety, have all been considered.
The large wheeled loader is powered by a new Stage IV compliant engine for increased productivity and efficiency. It incorporates robust components, and the traction force of the ZW370-6 wheeled loader is said to ensure an efficient loading operation. The quick power switch increases engine output when more power is instantly required, or when driving uphill.
Customers can choose between two types of lift arm depending on the required application. The standard lift arm delivers a high breakout force, whereas the high lift arm is applicable when a greater dumping height is needed. Both can be controlled using the auto leveller.
Simultaneous movement of the lift arm and bucket helps to ensure a smooth digging operation. The bucket is prioritised after unloading so that the wheeled loader quickly returns to digging, helping to increase productivity.
Another example of the technology incorporated within the ZW370-6 is the selective catalytic reduction (SCR) system – designed to comply with the latest emission regulations and lessen the wheeled loader's impact on the environment. The SCR system injects urea into exhaust gas to reduce nitrogen oxide from emissions. No diesel particulate filter is required, which also reduces maintenance costs.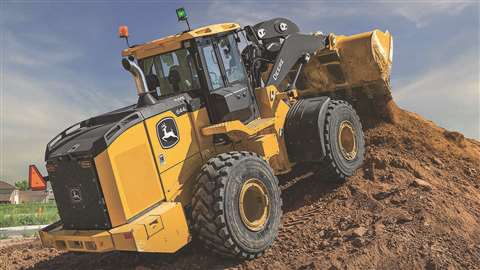 Electric drive
Another company innovating in the area of wheeled loaders is Caterpillar, with the company producing models equipped with an electric drive system. One example of this is Caterpillar's 988K XE, which saw the first units come off the production line at the beginning of 2018.
The wheeled loader is selling strongly in North America and Europe, with Germany in particular reported to be firmly onboard with electric drive. This technology is not new – Bjorn Westlund, Cat wheeled loader product expert, says the company have been working on this for a while, commenting, "At Caterpillar we started our electric drive journey more than 15 years ago, first dipping our foot in with the D70 electric drive dozer platform."
Westlund says the electric drive isn't about producing more power, but rather increasing efficiency, and the biggest measure of efficiency that the company use with loaders is tons per gallon.
"On average we have shown in face loading applications that an 988 XE can achieve upwards of 25% fuel savings without lowering the production," he comments. "The idea is that you may get more efficiency and maybe a little bit faster because, as with most electric drives, you have that immediate torque available."
The wheeled loader also has a new feature called virtual gears. With this the operator essentially has a speed limit setting: as long as they don't exceed the upper level they don't have to worry about changing gears because they will automatically get the maximum amount of torque allowed.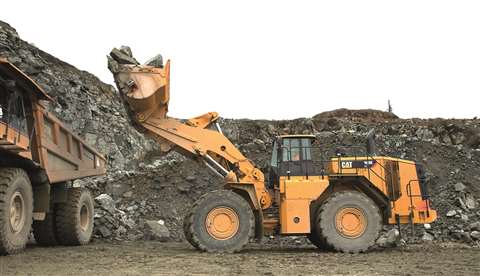 When it comes to the operator, Westlund says that with the 988XE compared to the 998K without electric drive, the only difference is the virtual gears and these actually make life easier for them. "It's a very smooth transition between the power shift to the XE, the only difference is those virtual gears, which actually take work away from the operator, it makes it easier.
"Overall, we've gotten really good feedback. It's immediate, responsive, very smooth, it's easier on the operators and there's less jerking and gear shifting, especially in directional shifts. At the end of the day, they say that they feel better getting out of an XE than they do a power shift."
Electric drive equipment has increased machine weight and its run out speed is slightly lower but, says Westlund, the fuel efficiency and less wear on components make electric drive an increasingly popular option.
"We've already had many of our customers come back and ask when our next bigger machine is going to come out. In fact, some of our customers don't even want to buy the powershifts anymore. They want to go directly with the electric drive technology. So we continue to develop that and are always looking for improvements."
Operator options
In order to make its wheeled loader and the operator as efficient as possible, JCB say they have two power modes on the JCB 457 wheeled loader. According to a JCB spokesperson, "The two power modes (Standard and Dynamic) allow the operator to choose whether they wish to achieve the best fuel efficiency per tonne of material moved (Standard mode), or maximum productivity (Dynamic mode) for increased output.
"Both of these modes cater to all industry sectors. Standard mode could be particularly effective in a level yard, bulk rehandling loose material, whereas Dynamic mode would be ideal for extraction duties in the quarrying sector and especially when there is challenging undulated ground conditions to counter while carrying a load of material."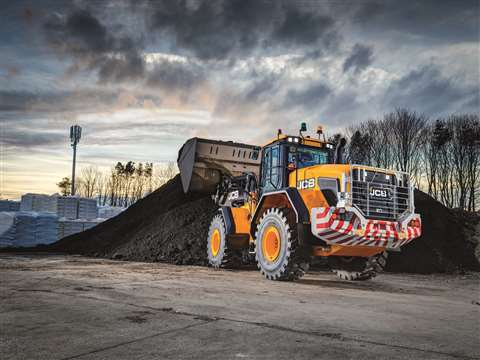 JCB added that new features had been included to meet the increased demand for operator comfort, such as the rear view camera, climate control, heated or cooled leather seat, in-cab multi-media port, cool box for keeping drinks and food cold and 360 degree lighting. All have been added to produce a more comfortable and productive operator environment.
Looking ahead, it is interesting to consider what the future development of large wheeled loads may bring about. John Deere's Grant Van Tine comments that the technological developments are – and will be – rooted in what customers need.
"The shortage of skilled, experienced equipment operators has driven development of wheeled loaders that are easier to operate, more efficient and more productive. Additionally, we continue to look for ways to reduce owning and operating costs to help contractors facing declining margins.
"The 644L Hybrid was designed with these issues in mind and we can expect to see further development to address these challenges and more in the future."
One thing is for certain – with the operator shortage and the importance of cost management not going away any time soon, this product will only continue to develop and evolve.
Sector analysis
The team from Off-Highway research shine a light on this market
The competitive landscape in the global wheeled loader market has changed significantly since the mid-2000s and the emergence of several large Chinese OEMs onto the world stage. The wheeled loader was historically the most widely available machine in China and, as demand exploded, the country's OEMs (Original Equipment Manufacturers) saw their volumes soar.
China is still the main market for its domestic OEMs, but the likes of LiuGong and XCMG are certainly international forces now, as are the Western owned or controlled Chinese brands such as SDLG and SEM.
Global demand is currently around 160,000 wheeled loaders per year (of all sizes) and China remains by far the largest market. It is two to three times the size of the next largest, the US.
Popular size classes vary from country to county but tend to be around 120-250HP (90-185kW). Smaller classes are popular in some markets – particularly Germany – but there is also competition from other equipment types such as skid steer, compact tracked and backhoe loaders, as well as telehandlers.
In emerging markets, much more cheaply built local agricultural equipment may also pose a challenge to highly engineered construction products. At the other end of the spectrum, the market tails off somewhat above 350 HP (260 kW) as products can morph into high value/low volume mining machines.
A different application
LiuGong's wheeled loaders adapted to transport hot steel slags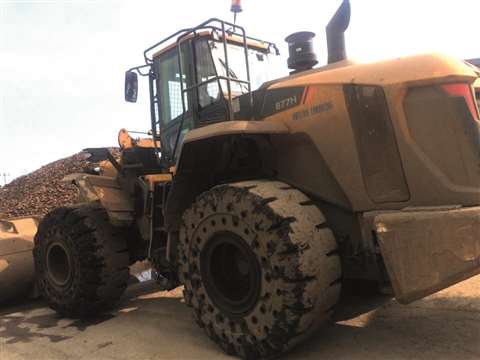 China-based LiuGong uses graphite in the lubricating shaft sleeve to extend the usability of 877H wheeled loaders so that the machine can transport hot steel slags (450-500°C). The wheeled loader also uses reinforced glass and steel to prevent the machine from over-heating and from hard impacts.
Other features and benefits are a new-generation enhanced front axle with stronger bearing capacity which ensures the machine's reliability, even under heavy loading conditions. The exposed rubber parts such as boom oil cylinder pipeline, bucket oil cylinder pipeline and front frame line are covered with heat insulation protective covers, which effectively avoid the accelerated aging of rubber pipe by the thermal radiation of steel slag.
The wheeled loader features an innovative steel-based solid embedded self-lubricating shaft sleeve, which is different from normal wheeled loaders of lubricant oil films; this is to prevent the lubricant being dried under high-temperature. At the same time, the embedded graphite can absorb the dirt and extends the shaft's life. Protective plates or barriers are installed at the machine body where it's at risk of impact to prevent oil leakage and eliminate the fire risk.
This model is said to be particularly popular in the Middle East, Asia Pacific and Russia.
Dozers: New technology offers operators greater productivity and accuracy in grading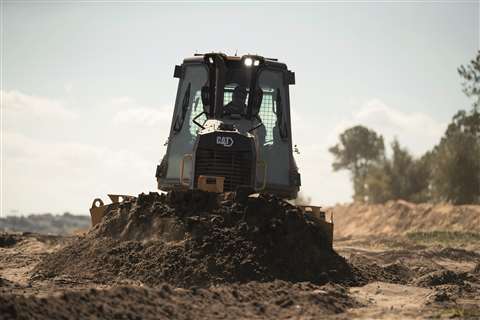 In as much as construction equipment can be personified, dozers are not glamourous machines. They're more like the draft horse in the stable – powerful, productive, straightforward in form and function.
However, with rapidly advancing technology, even these humble work horses are highly sophisticated and getting more so with every design iteration. Owners and operators are expecting more from every piece of equipment and dozers are no exception.
"This is especially true when looking at large site development and road building projects," explains Cory Brant, product consultant, crawler dozers, John Deere Construction & Forestry. "Since contractors are looking for versatility, they want a dozer that will mass excavate while achieving finish grades."
In response to this demand, John Deere developed the 950K Power-Angle-Tilt (PAT) Dozer a few years ago and has now redesigned the 850L machine.
"John Deere was the first manufacturer to offer a larger, PAT dozer like the 950K that has the capability to bridge the gap between mass excavation and finish work," Brant states.
"The 950K will fit into so many different customer segments providing the production capability of a large dozer with the versatility of a small finish dozer.
"The large, PAT blade provides the ability to control and windrow material allowing the operator to balance out cuts and fills faster than ever."
Levelling the playing field
Every facet of construction is struggling to attract and retain experienced operators. With that in mind, OEMs (Original Equipment Manufacturers) are working to provide features that simplify operation in order to retain skilled operators as well as enable less-skilled workers to be more productive.
To some degree or another, most OEMs are finding ways to automate key functions so that inexperience is taken out of the equation.
With that in mind, Komatsu introduced the second generation of its intelligent Machine Control (iMC), iMC 2.0, which is a suite of features that utilises advanced machine technology ‒ some of it patent-pending ‒ to increase dozer productivity.
Komatsu's largest intelligent hydrostatic transmission (HST) dozer, the D71PXi-24, made its global premier at ConExpo in Las Vegas, US. According to Derek Morris with Komatsu America Corp., the D71PXi-24 offers increased versatility and ease of operation.
"Customers say they want this size class dozer to be a 'Swiss army knife.' And with our patent-pending features that let you go from grass to grade, it delivers both high production and finesse," he says.
The suite of productivity features that comprise Komatsu's intelligent Machine Control 2.0 include: patent-pending proactive dozing control, which automatically cuts/strips from existing terrain like an experienced operator by measuring the terrain it tracks and using that track-level data to plan the next pass.
Also offered is the patent-pending lift layer control which automatically spreads fill over existing terrain in consistent lifts, with the press of one button. The dozer measures the terrain it tracks over and uses that data to plan the next pass for consistent layers and quality compaction. According to company literature, this doubles production and achieves consistent layers for quality compaction.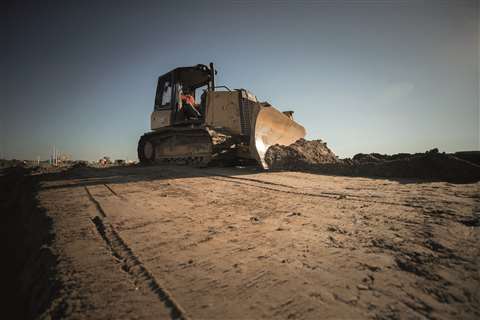 Tilt steering control automatically tilts the blade to maintain straight travel during rough dozing and reduces the need for operator steering input by up to 80%, the company says.
Quick surface creation creates a temporary design surface with one press of the button. When combined with other iMC 2.0 functions, Komatsu says operators can begin stripping or spreading using automatic without waiting for or needing a complex 3D model.
"This is a building block to more dozer automation down the road," Morris says. "Intelligent Machine Control 2.0 can be used 100% of the time to greatly increase return on investment and reduce time on the job. It increases quality control and cuts down on rework."
Staying on the theme of new technology, the new Cat D2 and D3 Next Generation small dozers (replacing the D4K2 and D5K2, respectively) feature standard Automatic Traction Control which no longer requires any interaction with the operator, as it did on previous models. It allows for greater productivity of each cycle by reducing track slip when the machine encounters maximum load.
Cat's Slope Indicate is said to improve operator confidence when working on slopes by providing slope of the chassis in the cross-slope direction without guessing. Stable Blade complements operator blade control input, allowing the operator to finish grade easier, quicker and with less effort, according to the company.
Available as part of the Cat attachment ready option (ARO) for easy scalability to Cat GRADE with 3D control systems, Slope Assist helps the operator to more easily achieve the desired blade mainfall slope (fore/aft) and cross slope (left/right) by automatically maintaining the operator's established blade grade angles.
The dozers' Power Pitch option enables the operator to control blade pitch (fore/aft) remotely from the operator's compartment to optimize blade pitch for blade loading, optimising machine productivity by up to 6%.
Also leveling the playing field is Deere's SmartGrade integrated mastless grade control system that provides less experienced operators the ability to be more productive while learning to be a better operator.
"This system also provides more accuracy and increased efficiency than conventional hand grading to grade stakes," Brant says. "Now, customers facing tighter margins need entry level operators to be able to get on grade quickly and efficiently without moving more material than necessary."
Brant says SmartGrade allows operators to reduce the number of finish passes and get the most out of each pass.
He adds, "This ultimately leads to better productivity and minimised undercarriage wear."
John Deere also offers the option for its Slope Control grade system that automatically positions the blade, constructing desired main falls and/or cross slopes. This system is upgradable to the John Deere SmartGrade grade control system, allowing customers to grow the technology with their business.
The John Deere 850L was engineered for productivity and durability. By increasing engine size, power, torque, and overall machine weight, Brant says it's able to push larger loads and grade even faster. Other enhancements to this machine include an operator focused cab, additional technology features and improved hose and harness routings.
The newest products to the John Deere crawler line up are the 700L and 750L Dozers. Similar to the 850L, these dozers are fitted with larger, more comfortable operator stations that give operators an improved view of the blade and work site.
Visibility and versatility
Dressta's new TD-16N was designed to set a new benchmark for visibility, says Gary Major, executive director of industrial design with LiuGong/Dressta, "We set out to create the best visibility in class – I think we've achieved that."
The dozer features a mid-cab design over a mid-mounted automatic, dual path hydrostatic drive train. It comes with a standard six-way angle blade and is compatible with 2D and 3D grade control systems.
The TD-16N is built for versatility with an undercarriage design which utilises a single-track gauge for all track shoe widths. This allows the dozer to be reconfigured at any point in its life, from standard to LGP undercarriage, by simply changing the track shoes and the blade.
The hope is this will increase resale values by allowing future owners to reconfigure the machine to match their specific needs.
Operator safety was another priority during design. According to Major, "Every operator out there has a story about falling off the tracks… this is the first machine where you don't have to get onto the tracks."
The R&D team designed non-slip steps at the rear of the machine, totally negating the need to step onto the tracks. Complete with safety handrails, these steps allow easy access to and from the cab with three points of contact maintained at all times. Secondly, all access points for daily checks, maintenance and fueling are reachable from ground level.
Future focus
Like it's other earthmoving brethren, the humble dozer is poised to see unprecedented technological advancements in the future, including remote control. For example, Caterpillar already offers Cat Command for Dozing in Construction, offering line of sight control with a console or operation from a remote station. As Caterpillar notes in its literature, it's a safer way to operate.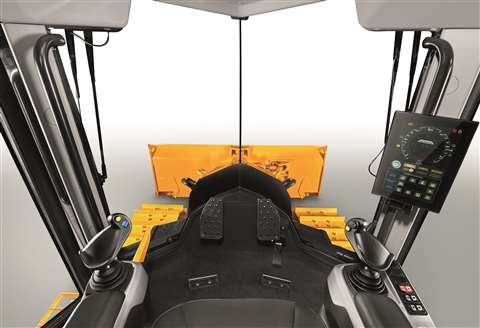 Brant at John Deere explains the benefits of Remote Display Access, commenting that it will, "make it easier and faster for support teams to view the operator's screen remotely to troubleshoot and diagnose the SmartGrade system. Changing site plans and revisions to surface models can cause headaches for customers that need to get updated files to each grade control machine on the project. The John Deere SmartGrade Wireless Data Transfer system will make this task easier by allowing files to be sent to specific machines without the need to physically be on site.
"Remote Display Access will provide a level of support for grade control units that customers haven't seen before."
Remote operation and display access are more technological progressions for a machine that is on its way to becoming as technologically advanced as other types of construction equipment.
Leica furthers dozer digitisation
Machine control solution simplifies grading process

Leica Geosystems, a Hexagon company, introduced its Leica Ready machine control kits will now be available for a new generation of Liebherr dozers, one of the world's largest manufacturers of construction machinery.
The Liebherr Dozer PR736 Generation 8 will now be supported with a new cable kit for the Leica iCON iGD4SP, iGD2 and iGD3 machine control solutions for dozer grading. Furthering the digitalisation of construction and connecting more machines onsite for seamless workflows, the new technology enables the dozer to interface within a 3D environment.
"This new integration of technologies results in improved efficiencies and productivity for the construction professional," said Kris Maas, Leica Geosystems Machine Control director of product management. "Working with Liebherr, we are honoured to bring solutions to these professionals around the world."
The Leica iCON dozer systems open new dimensions in earthmoving and fine grading. Bringing the design surfaces and alignments inside the cab, there is no longer a need for stringlines, stakes or hubs.
Leica iCON iGD4SP Dual GNSS improves accuracies when working in demanding environments, such as steep slopes and spreading base material in preparation for concrete or asphalt. Combining technology for speed and precision with the dual GNSS antenna solution allows for the machine to operate at high speed while the blade is angled to efficiently control material from pass to pass.
The big picture
An overview of the dozers market from Off-Highway Research
Dozers are typically associated with greenfield construction of primary infrastructure, such as road, rail and airports. They therefore typically tend to be used in emerging economies where the emphasis is on new build infrastructure and completion of national networks, rather than mature economies where construction tends towards repairing and maintaining what is already there.
Paradoxically, the biggest market in the world for dozers (and graders) is also the most mature economy, the US. This reflects the fact that it is a sparse country, and that outside city centres construction tends to be low rise over a large area – sprawling would be an unkind way of putting it. This means there is on-going demand for construction equipment that can level and sculpt plots of land.
Putting the US aside, the other major markets are what might be expected – large emerging economies with major infrastructure investment programmes. China tops the list. India is next when it comes to graders, but dozers do not enjoy huge popularity.
Trucks: Today's articulated and rigid haulers are built to increase operator confidence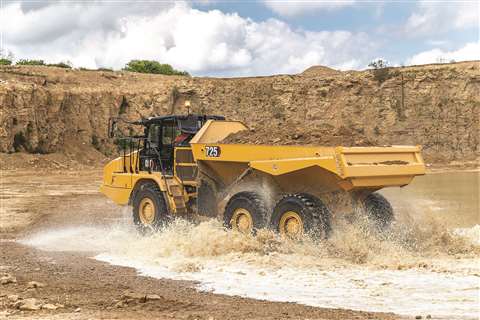 For the inexperienced equipment operator, a truck is entry-level because of its relative simplicity compared to machines like excavators. Because of this, OEMs are working to make truck operation as foolproof as possible through the use of automated systems.
ADT sees automation
Caterpillar, for example, recently introduced the 725 articulated truck built for improved performance with 50% less operator input. The new 24 tonne payload truck is designed for customers engaging in heavy and general construction, mining, quarry and aggregates, landfill, waste and industrial applications.
"It's challenging to find equipment operators today," says Scott Thomas, product application specialist, Caterpillar. "An articulated truck is really simple to operate, so that's where a lot of new operators get started.
"What we've done with the 725 is take a lot of that technology ‒ all of the things that make the truck safe, efficient and productive – and made it automatic, so the operator doesn't have to do anything to take advantage of those features."
For example, Automatic Retarder Control (which modulates the brakes of a truck) is now fully automated and manages retarding through a combination of hydraulic retarder, gear selection and supplemental application of the service brakes.
In addition, Advanced Automatic Traction Control removes all manual traction control decisions from the operator and automatically changes the differential lock engagement level on-the-go to continuously maintain traction. Cat says this results in improved cycle times, productivity and reduced tire wear.
"You don't have to train as much," Thomas adds. "There's no operator intervention, no need to manipulate these systems. If you have an inexperienced operator, they don't have to worry about whether they have the right switch on."
Cat Detect with Stability Assist is another technological advancement that helps operators feel more confident.
"These trucks are designed to keep all six wheels on the ground, but if they do get into a precarious situation while driving, Stability Assist will sound an audible alarm, letting that operator know they shouldn't be driving on a slope, for example."
He continues, "If the operator is in an unsafe condition while dumping, they'll get an audible alarm and a visual pop up on the display that warns of an unsafe angle and, if not corrected, will ultimately prevent the operator from raising the bed.
"Again, the operator doesn't have to do anything. This is on all our trucks. It's all behind the scenes, there's no turning it on or turning it off," Thomas says. "Operators are safer when they don't have to interact with a lot of systems, they can concentrate on what they are doing."
He adds that the 725 has 20% more visibility than the previous model.
"It's important to see better because operators are working in tight quarters around a lot of other pieces of equipment, and there are laborers on the ground," he says.
In addition to being safer, thanks to automated systems, Thomas says the 725 is also easier to operate.
"An articulated truck gets loaded by an excavator and goes from point A to point B," he explains. "When they get to point B, most of the time the operator needs to back up after the dump, so their hand has to come off the steering wheel to get into reverse. In the past, we would have to go through many motions to achieve this function.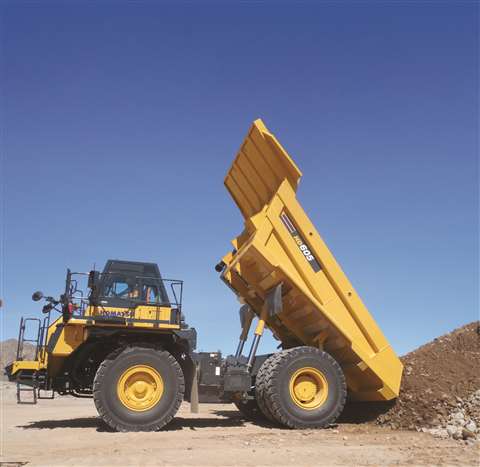 "Now we put it all on one control module. Everything that operator needs to interact with is in one spot. It's fingertip control, you don't have to move anywhere else," Thomas says.
When it comes to dumping, that can be automatic too.
"The stability assistant screen will pop up on the display and let you know if you're in the right position," Thomas explains. "There's a graphic with two green boxes. If you're outside the green, it's not going to raise the bed. It works if you're manually dumping too. Anytime you go to raise that bed, the stability screen will come on."
The new 725 powertrain includes the Cat CX31 six-speed transmission with features to deliver smoother shifting, up to 8% greater acceleration and increased speed on grade.
Standard Cat Product Link technology connects the machine wirelessly to the office, allowing managers to monitor operating data such as location, hours, fuel use, productivity and idle time.
Comfort (and cost) are king
Doosan Infracore North America has a new version of its Doosan DA30-5 including numerous updates to performance, operator comfort, controllability of the machine, ease of maintenance and fuel efficiency.
The DA30-5 ADT, which is rated in the 30-metric-ton size class, features a new front suspension which has been updated to a hydro-gas, self-levelling system to provide improved performance and greater shock absorption. According to the company, when combined, these suspension system features allow for better driving comfort, especially when the truck is being driven while empty on a construction jobsite or at a mining operation.
From a technical standpoint, the truck's hydro-gas cylinders are connected to pressure accumulators, and the accumulators and hydraulic system replace the previous shock absorbers and a rubber spring. The suspension of the updated DA30-5 includes a self-levelling feature and the ability to change the characteristics by adjusting the pressure.
Doosan also redesigned its DA30-5 cab interior to provide better ergonomics and more operator comfort. New features include updates to the truck's vehicle control unit (VCU) to include more robust hardware; better processors; more input channels for customised functions or further technology developments; and high-quality, automotive-style connectors.
The truck's new monitor in the cab has bigger indicators for easier reading, Doosan says. User-friendly graphics and icons can be controlled by buttons on the display panel, and the panel now has capability to display multiple camera views for increased visibility around the ADT. Operators can toggle through the menu to access additional information such as machine status, service and settings.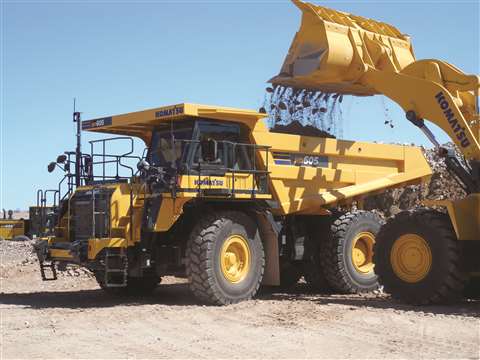 Additional new features of the DA30-5 cab include new air vents for the floor to improve air flow and circulation, a USB charger, a new bracket on the right-hand side for a CB radio, electrically adjustable mirrors and a new brake pedal.
Updates to the DA30-5 also provide lower operating costs for owners as there are fewer service points with fewer oil types in the driveline and increased intervals for transmission oil changes, Doosan claims.
A new cab tilting system enables service technicians to lift and close the cab in just a few minutes. The truck is no longer built with rubber springs in the suspension, and there are only four rubber components in the entire front and rear suspension.
Doosan promotes its trucks as being among the most fuel efficient in the industry. The company says this is accomplished with the combination of features including the Scania diesel engine and a ZF transmission, improving the transfer of power from the engine to the wheels for outstanding traction. When this is coupled with the enhanced rear differential system, which reduces engine rpm and further increases machine durability, customers are promised an improved cost per ton carried.
Built for consistency
Komatsu America's two newest rigid off-highway trucks, the HD465-8 and HD605-8 combine increased horsepower and a host of automated features like the Komatsu Traction Control System (KTCS) to provide improved productivity and cycle times. These models have payload capacities of 55 metric tons/61 U.S. (short) and 63 metric tons/69.4 U.S. (short), respectively.
Both feature a Komatsu SAA6D170E-7 engine that has increased to 540 kW/724 Net HP and reduced fuel consumption for the HD465-8 by up to 7%, and the HD605-8 by up to 12%, compared to their predecessors.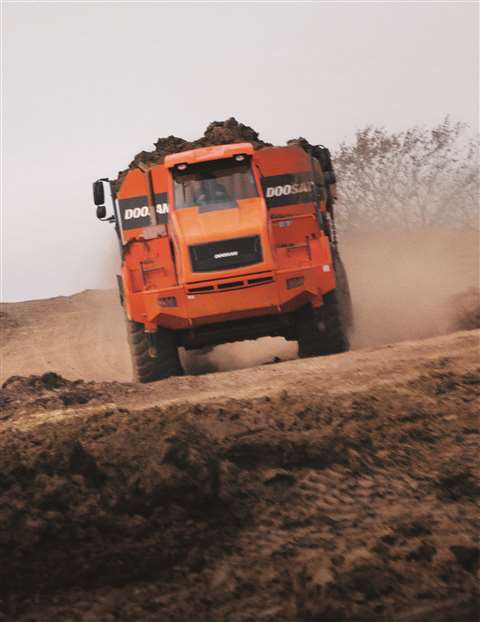 Komatsu's rigid truck line is designed for climbing power, coupled with optimum traction and controllability for high production cycles, say Sebastian Witkowski, Komatsu.
With McPherson Strut type independent suspension in the front and Hydro-pneumatic Suspension in the rear, Komatsu's rigid trucks are maneuverable and control over rough terrain and uneven road surfaces.
Updates to the Doosan DA30-5 include fewer service points with fewer oil types in the driveline and increased intervals for transmission oil changes
In addition to travel performance, the McPherson strut type suspension allows for good access between the truck wheel and the frame, for better access for daily checks and serviceability.
For HD465-8 and HD605-8 machines, Komatsu Traction Control System (KTCS) is standard. KTCS automatically applies independent brake assemblies to achieve optimum traction in soft or wet ground conditions. Because the system operates without the need for differential lock-up, steering performance is not compromised, Witkowski says.
Also standard for both truck models is the 7-inch, LCD colour monitor, dedicated rearview monitor, fast-fill fuel system, an engine compartment light, and a premium heated and ventilated operator's seat with air suspension.
"Because we have operators of all skill levels using these trucks, the most important thing is achieving consistent performance for productive cycle times," says Witkowski.
"We achieve this by automating critical systems such as our traction control system, which is fully automatic; there's no operator input needed. It brings consistent performance to every job site."
Both trucks also come as standard with a seven-speed transmission with Komatsu Advanced Transmission with Optimum Modulation Control System (K-ATOMiCS) which automatically adjusts shifting performance according to demand for a more comfortable ride and reduced material spillage.
Witkowski notes that all Komatsu trucks feature remote telematics. With Komatsu's KOMTRAX and the monitor panel, operators receive critical information for easy monitoring and key data for production management.
It also provides machine metrics, including KDPF status, fuel consumption, plus performance information collected and sorted by operator ID.
"Similarly, it also gives us important usage metrics. Komtrax can provide a wealth of machine utilisation data, particularly payload data… which can give us critical insights into what conditions and applications our trucks are being used in," Witkowski adds. "We can learn a lot from this data, including where we need to go in the future."
Volvo's 100 ton rigid hauler
R100E designed for lower operating costs and greater productivity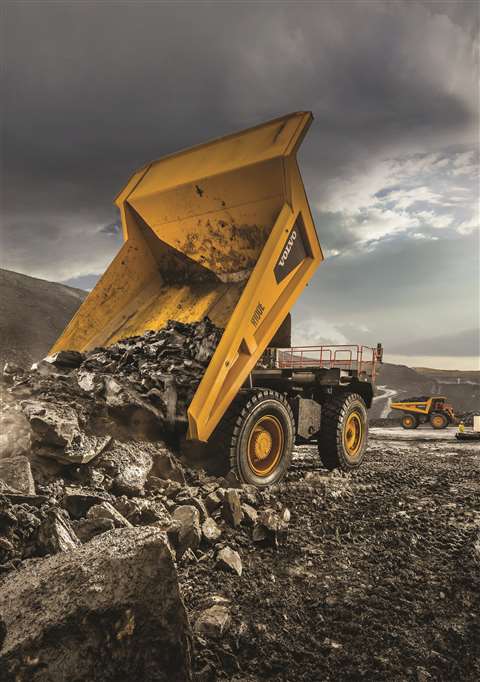 The new R100E rigid hauler from Volvo CE promises to drive down operating costs for customers by boosting productivity, uptime and operator comfort, the company says.
The R100E is powered by a 783 kW/1075 hp Tier 4 Final engine, with a combined drivetrain to provide high torque capabilities, maximum pulling performance and rimpull for optimum travel times.
Drivetrain control and machine movement are supplied by the new Volvo Dynamic Shift Control, which automatically tailors the transmission shift-points depending on the worksite and operational inputs.
According to Volvo, customers can expect to spend less per haul with the R100E, featuring a 60.4 m3 (79 yd3) capacity V-shaped body for optimum load retention and minimal material carry-back. The load profile is designed to allow the operator to meet a consistent average target payload, while the body-tipping system is engineered for fast cycle times. The Tier 4 Final R100E includes a manually activated ECO Mode for long distance hauls and high-speed applications.
Intelligent monitoring systems, such as the On-Board Weighing (OBW) option, ensures the machine moves the maximum safe payload to further optimize production and minimise operational costs. It does this by using exterior-mounted pressure sensors to monitor and relay machine statistics to the operator's on-board display.
Volvo has worked to make accessing daily service check and routine maintenance quick and easy with anti-slip anti-slip steps and secure walkways, while all service points are strategically grouped and located within reach from the ground and service platform. The direct rim-mounted wheel design promotes safe and quick installation and removal.
A changing market
The team from Off-Highway outline the evolution of this segment
The global market for dump trucks is undergoing some slow but fundamental changes. Demand has historically been split between off-road rigid and articulated framed trucks. The emergence of 50 and even 60 tonne capacity ADTs has had an impact on the market for rigid trucks of this size. Although more expensive, they can be used in more difficult ground conditions and can therefore effectively offer more uptime and lower running costs for the site if there is no need to maintain a haul road.
At the other end of the spectrum, rigid off-highway trucks are also under pressure from adapted on-highway vehicles, often referred to as wide body trucks. It has always been the case that if ground conditions allowed, on-highway trucks have been used off-road in construction and quarrying. However, a limiting factor was their size, which was usually dictated by the maximum on-road gross vehicle weight.
However, fitting larger bodies to on-highway trucks is now seeing vehicles of 60 tonne capacity or more coming onto the market, particularly in emerging country construction, mining and quarrying applications. Although these vehicles can't offer the same durability or off-road capabilities as genuine off-highway haulers, their low cost is often decisive.
As a result, the global market for rigid haulers is at a low ebb of 2,000-3,000 units per year worldwide, compared to 4,000-6,000 per year in the 2000s. The ADT market is also below the levels seen in the 2000s, but not by as much and with promise of growth to come in the future.
Large excavators: Productivity is key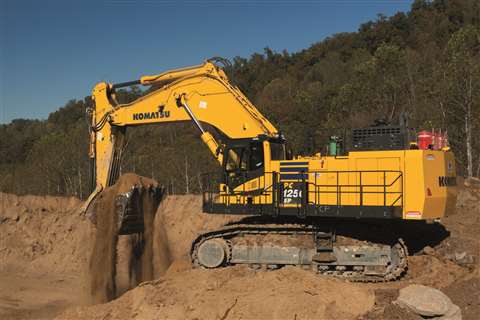 Excavators are the most popular form of construction equipment in the world, with the global market for crawler excavators in excess of 300,000 units per year (for all sizes). In short, crawler excavators are popular in all corners of the world. This feature is focused specifically at large excavators for earthmoving – although of course some of these impressive machines can also be used for other applications related to construction.
With machines so sizeable, and expensive, it is even more vital than ever that large excavators achieve a high level of production performance paired with an adequate total cost of ownership (TCO). A vital criteria for this segment of excavators are therefore fast cycle times, high productivity rates and excellent serviceability – machine uptime is crucial in these applications.
Another major factor – and potential headache for contractors and owners – is transportation. Moving such large machines between sites may not be regular occurrence, but can still need to happen. Hyundai CE says its 90-ton (81 tonne) HX900L has pre-installed features which help to facilitate transport. The easy-to-lift-off counterweight comes with integrated lifting eyes and the track frames can be slided in or fully dismounted.
Some of the technological highlights on the large excavator are said by the manufacturer to be an IPC mode (Intelligent Power Control) that optimises pump flow by analysing operators' joystick control pattern. A pump summation for breaker operation (high flow at low engine speed to reduce fuel consumption) and an Input Signal means a constant exact pump control through improvement of variable engine.
Peter Sebold, product manager at Hyundai Construction Equipment Europe, said, "Following changes in infrastructure and building construction, there are new challenges along the way, such as in building height or reach for demolition sites and construction waste handling.
"We can see a trend towards bigger size of special machinery. Hyundai CE, amongst other manufacturers, firmly believes that the market will continue to ask for large construction machinery."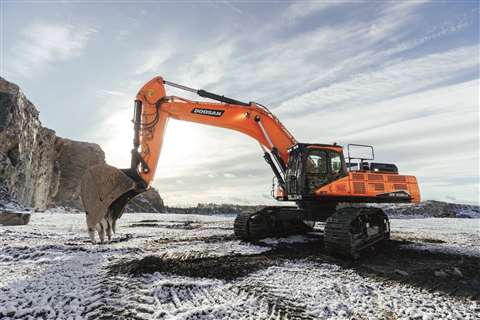 In March this year Doosan launched the new DX490LC-7 and DX530LC-7 Stage V 50 tonne crawler excavators. According to Doosan these new 50 tonne excavators offer the strength and productivity needed for heavy-duty work such as large-scale earthmoving, moving rock, pulling down buildings, secondary breaking, loading haulers and pipeline projects found on quarrying and mining, highway, aggregate, demolition, utility and general construction projects.
To meet Stage V engine emission regulations, the excavators are powered by a new Scania DC13 Stage V compliant diesel engine, providing a higher power output of 294 kW (394 HP).
Due to new technology, maintenance of the diesel particulate filter (DPF) has been greatly reduced, with a six times longer automatic regeneration interval (60hours) and an ash cleaning interval that is twice as long compared with the previous DPF in the DX-3 generation.
There are now four power modes available on both machines. This has been done to simplify the operation of the new excavators compared to the more complex choice of eight power modes and SPC combinations in the previous generation machines.
Next generation
Liebherr unveiled its new Generation 8 crawler excavators at Bauma Munich, with the US launch for several models occurring at ConExpo. While some of this range does not fit into the category of large excavators, the bigger models in the range do.
Thomas Haas, head of product management for earthmoving, Liebherr, comments that the demands of operators have changed and that this is something the company was aware of when designing the next generation crawler excavators.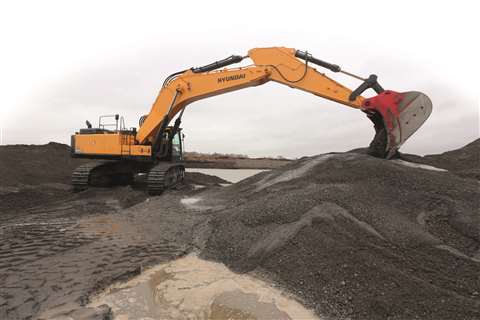 "The operators become younger and younger. This is the PlayStation generation now, and this is why we make these machines to be much more comfortable," said Haas. "The operator can, via the touchscreen, influence the behaviour settings of the machine. He can, in a certain range, set the priority between boom and swing movement.
"According to what he prefers and needs he can make his own adjustment on the machine, on the touch screen for the stick movement, for the swing brake. This is really an evolution of the operators; the demand is much more complex than it has been in the past."
An interesting new feature on the Generation 8 excavators is what Haas refers to as 'rental mode' due to an analogy with a rental car; the first time you get behind the wheel of a rental car that you have never driven before the controls looks familiar but different at the same time. You have the option of driving off without properly knowing what all the controls do, or stopping and reading the manual before setting off.
With excavators having what could be described as complex controls for someone not familiar with them – and with each brand having a slightly different set up – step forward 'rental mode'.
Haas explains, "We paid attention to feedback, especially from the US, that our machine settings can be a bit complex because there's so many. So we give the possibility to the customer to select on the machine regular software, a human machine interface with all of the possibilities, or to select another mode where many of these functions are hidden.
"The operator does not see these functions; he can operate an excavator as he did for the last 20 or 30 years. This is our response to the two categories of operators. However, when a customer gets familiar with the machine or a long-term rental, then they can just choose to go and open the full application."
Liebherr showed off some of its excavators at ConExpo; also at the Las Vegas show was Komatsu with the largest excavator on the Komatsu indoor booth, the PC1250SP-11.
High volume earthmoving
Kurt Moncini, senior product manager, Komatsu America, says the machine has a broad range of applications, commenting, "We go from high volume earthmoving and mining to very specialised applications. It's a very big construction excavator but, at the same time, it's also a somewhat small mining excavator."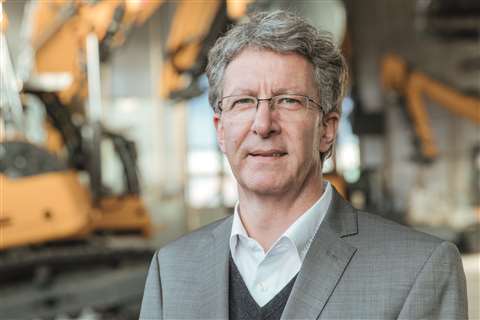 Moncini comments that there is a "global appetite" for the machine and, when asked about which of the machine's many new features he thinks is most important, highlights the improved visibility – absolutely essential for excavators of this size.
"One of our focuses as a company is helping increase situational awareness. If I'm going to back up, I want to make sure I have the ability to see what's around me. I can pick any one of the four cameras and I can have an individual camera view on the right. If I want to go full screen, I can go full screen on any one of the individual four cameras. So we're working on situational awareness."
Across the construction industry the lack of skilled operators has been making them more important than ever, with many reporting that their influence over the decision-making process regarding buying equipment is only increasing. This is something that Moncini acknowledges has been taken into consideration with the PC1250SP-11.
"You'll probably find a lot of customers will take input from operators. That's their office; they sit in that office eight to ten hours a day. Our focus is on cab mounts, vibration, operator comfort, climate control, sound visibility and controls.
"It is absolutely correct to say that if I sit in that cab I want to be in a machine that is comfortable and I want to be able to go home feeling more or less the same way I came to work."
Regardless of the size of the equipment, operator visibility and comfort are still key.
Excavator is hot stuff
Case CX750D tackles tough lava extraction project in Germany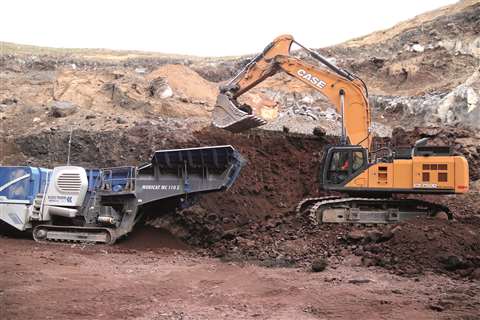 A 75-ton (68 tonne) Case CX750D from the company's latest D-Series range of excavators is being put to work by AG für Steinindustrie in a lava trench in Germany.
The machine has been serving the company at the Ochtendung lava plant, located southeast of Kruft in the Fresserhöfe mining region. AG für Steinindustrie has conducted mining, processing and shipping operations there since the 1970s. The company's specific operation is to mine lava from the Tönchesberg, one of the volcanic cinder cones that gives the volcanic area of eastern Eifel its distinctive landscape.
The CX750D is used for the direct extraction of raw materials in the lower part of the mines. Volcanic clinker and lava sands are present naturally as loose rock and are separated directly from the mine wall using the machine. After this, the material is loaded onto dump trucks or broken down on site with a mobile crusher to a size that allows for easy processing.
The extreme abrasiveness of the lava material demands high performance from the bucket and arm. In addition, the mining area is crisscrossed with numerous basalt deposits, which, for safety reasons, must be washed away repeatedly in the course of the excavation process.
For this reason, AG für Steinindustrie opted to purchase the Mass Excavator (ME) version of the CASE CX750D, which – with a maximum breakaway force of some 366 kN, a larger bucket cylinder and optimised kinematics – is said to be suited for tough extraction jobs. The fixtures are also designed for extreme loads, with a reinforced HD boom, a shortened 3.02 m HD arm and an armoured 4.00 m3 rock bucke