Echo Barrier and United Rentals in exclusive agreement
By Helen Wright09 August 2016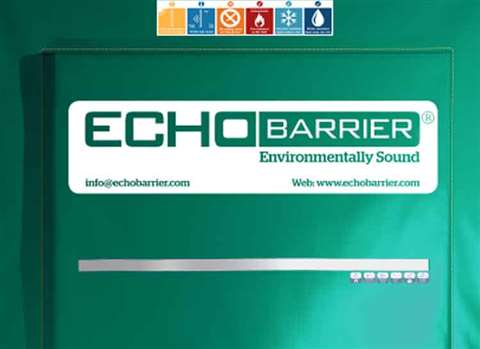 United Rentals, the largest rental company in the world, has signed an exclusive agreement with Echo Barrier to distribute its noise control equipment in the US and Canada.
United Rentals, which boasts a network of over 880 locations and 3300 classes of equipment, said it would offer Echo Barrier's acoustic barrier products, including the Echo H2 Acoustic Noise Barrier, Echo H3 FR Barrier and H2O Acoustic Enclosure, as well as noise reduction accessories.
Echo Barrier's system has been purpose-designed both for rapid deployment to provide both short-term mitigation and long-term noise control. Echo Barriers are said to be durable, quick to install and completely weather resistant.
United Rentals said its footprint throughout the US and Canada would make Echo Barrier products available to customers and industries where noise mitigation is often needed: construction sites, renovations, schools, hospitals, event venues and transportation corridors, among others.
It said the H2 and H3 Acoustic Noise Barriers would be rolled out together with other noise reduction solutions over the coming year.