Economical offshore turbine installation
By Christian Shelton20 October 2017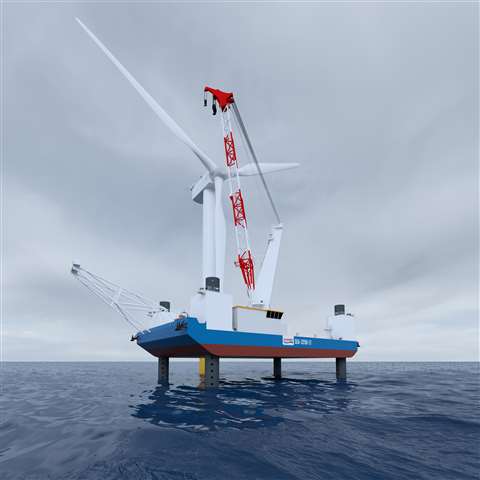 Following the launch of its jack-up equipment for the installation of offshore wind turbines specifically for the US market earlier in 2017, Netherlands-based mobile offshore unit design and engineering company GustoMSC has now launched what it describes as "an economical alternative": the SEA-3250-LT installation jack-up barge.
According to GustoMSC, the SEA-3250-LT is a dedicated low capital expenditure wind turbine installation solution for the emerging US offshore wind market. The jack-up system has been pared down, with features such as large accommodation and own propulsion being omitted, in order to reduce construction costs, weight, and construction time.
The SEA-3250-LT utilises a lightweight hull construction in order to maximise variable load capacity and GustoMSC stated that it can carry up to two of the largest turbines currently available. GustoMSC said the jack-up's relatively simple non-propelled design meets the required technical capabilities for wind turbine installation in the US for a minimum investment, thus reducing risk for companies working in this developing market.
The design comprises a GustoMSC hydraulic 'pin in hole' jacking system capable of the large number of jacking moves required for offshore wind turbine installation. An 882 sht (800 tonne) pedestal crane, fitted with a boom of approximately 328 ft (100 m), enables the installation of the latest generation of 8 to 9.5 MW turbines and foundations.
In the case of foundations exceeding the capabilities of the crane, the unit can serve as a Jones Act compliant feeder solution to a larger foreign vessel. The SEA-3250-LT is designed to operate in the typical environmental conditions of the US NE-coast and in water depths of up to 148 ft (45 m).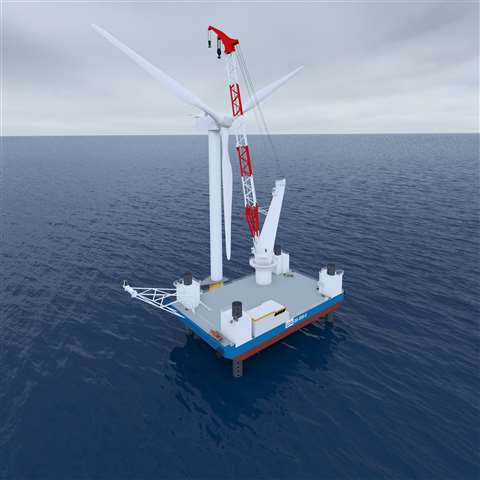 The SEA-3250-LT's large payload and large free deck area make it a versatile unit, GustoMSC claimed, suitable for work in in the civil construction, oil and gas, decommissioning and maintenance fields, alongside wind farm installation work. Furthermore, the jack-up can be upgraded with a full accommodation block and its own propulsion. This versatility and the flexibility to adapt to future demands reduces the investment risk to a minimum, GustoMSC said.