EDA confirms convention programme
The European Demolition Association (EDA) has confirmed the final speaker programme for its 2018 convention, which takes place in Vienna, Austria, next week.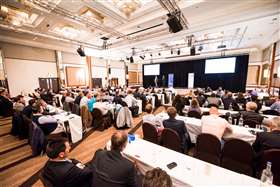 The conference, on Friday June 8, is the centerpiece of an event that also includes a welcome cocktail reception, gala dinner and the opportunity to see the sights of the host city.
It will be officially opened by EDA president William Sinclair and chaired by Andreas Pocha, head of the German Demolition Association.
The programme is:
Business intelligence about European DDR (demolition, decontamination and recycling) activities Martin Seban, IHS Markit
City-wide monitoring of demolished buildings and material quantities based on satellite images and GIS models Fritz Kleemann, Tuwein
Case story: Extreme demolition in the heart of Munich Johann Ettengruber and Michael Appel, Ettengrubber
European Construction Sector Observatory: Trends of the construction industry in Europe Olga Mala, PWC
IAEA considerations on decommissioning (focus on decontamination, dismantling and demolition) of nuclear facilities Vladimir Michal, IAEA
Case story: Dismantling technologies in nuclear power plants Jakob Walchetseder, Braun
Identification of materials (including hazardous substances) prior to demolition. The new Austrian regulation Martin Car, BRV
Development of a Safety Manual for demolition operations, practical materials and better communication Michael Casbon, ERM
Case story: Decontamination and demolition of petrochemical plants in South Africa Joe Brinkmann, Jet Demolition
Bringing the industry together, the experience of the French Demolition Association
Nathanael Cornet Philippe, SNED
Case story: Engineering analysis and demolition modeling for the GA Dome, Atlanta Mahesh Raju Bailakanavar, Thornton Tomasett

More details of the convention are at www.europeandemolition.org