EDA industry report now available
The European Demolition Association (EDA) has published its third annual European demolition industry report.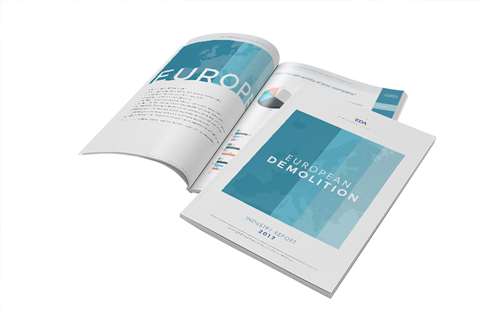 The purpose of the report is to have a global European Union (EU) view combined with a national view of the countries directly related to the EDA, to help industry stakeholders develop their knowledge of the business at home and abroad.
The information analysed is collected directly from demolition contractors across Europe with a methodology established by the statistics working group of EDA, led by Andreas Pocha, general manager of the Deutscher Abbruchverband (DA, German Demolition Association).
The European Demolition Industry Report 2017 includes detailed information about trends in the demolition industry in 2015 and2016, forecasts and specific information about:
Company and activity
Volume of business
Evolution of the demolition activities
Investment in demolition machinery, equipment and consumables
Evolution of the workforce
Business prospects
All the information is analysed at a European level and country-by-country, and the information is published in English and the national language of each country.
In addition, the 2017 report includes for each country, a comparative graph with the information collected in previous editions in order to show the trends for each topic analysed since 2015.
The European Demolition Industry Report 2017 costs €200, and can be requested at http://www.europeandemolition.org/industryreport
It is also available from the European Demolition Association at www.europeandemolition.org or e-mail: info@ddrexpo.org