Edge Innovate to debut waste shredders
By Steve Ducker27 February 2020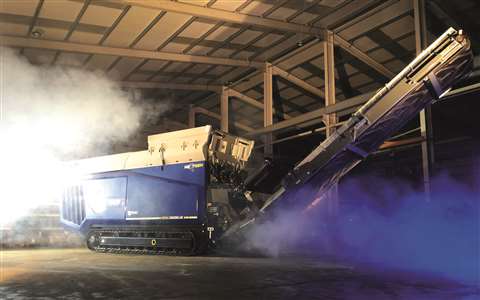 Edge Innovate is set to debut two new high capacity waste shredders – the VS420 and HS750 - at ConExpo 2020. They will be accompanied by the TRT622 tracked mounted trommel and the newly designed TS100 track stacker.
The company describes the HS750 is a totally new concept to the shredder world, which offers operators a high capacity, horizontal slow speed shredder that combines impressive throughput, the ability to withstand difficult to shred materials and superior resistance to non-shreddables.
A 1066 mm (42 in) diameter compression top feed roll aids in the delivery of material to a solid steel downturn rotor which has been designed to absorb heavy impacts and deliver high throughput. Potential for rotor overload or material bridging is reduced via an intelligent material management system that ensures the efficient delivery of material to the chamber. If a blockage occurs, the feeder, top feed roll and rotor can be reversed via the radio remote.
The HS750 is powered via a Tier 4 Final/Stage IV Caterpillar C18 engine providing 750HP (560Kw).
EDGE has taken decades of designing, manufacturing and commissioning of industrial waste shredders to create the VS420. Described as the company's next generation shredder, it is a high capacity, high torque twin shaft shredder that is ideal for the processing of a large array of materials including construction and demolition waste, municipal solid waste and biomass.
At the heart of the VS420 are twin, 2 m (6 ft 6 in) long synchronised, high torque shredder shafts which can be customised to suit a customer's exact application and desired product piece size. According to Edge, the twin shaft design provides exceptional material intake, ensures less wear, promotes self-cleaning and prevents material wrapping even in the toughest of applications.