Egyptian shipbuilder purchases two Grove cranes
By Christian Shelton18 April 2017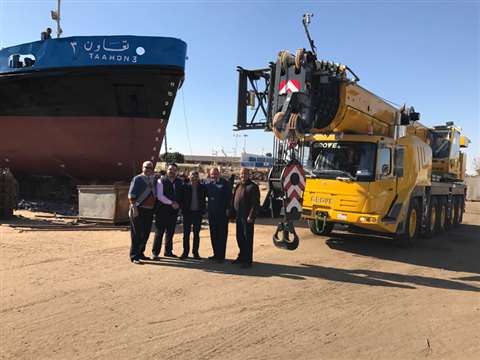 Suez Shipyard Company has purchased two new Grove all terrain cranes, a Grove GMK5130-2 and a GMK4080-1, through Orascom Trading, the Manitowoc dealer for Egypt. These new additions mean the facility now has seven mobile cranes, with the latest deliveries being the company's first Manitowoc-made units. According to Manitowoc, the Egyptian shipbuilder is one of the most celebrated in the region, with its facilities boasting the largest floating dock in the Middle East, as well as its oldest graving dock.
Manitowoc said the two new cranes will boost Suez Shipyard's in-house fleet and reduce its reliance on rental cranes. Essam Dabash, chairman of Suez Shipyard, was among a delegation from the company that travelled to the Manitowoc factory in Wilhelmshaven, Germany, to collect the cranes. He said that while Manitowoc already has a good reputation in Egypt, seeing the company's factory - and especially the Product Verification Center (PVC) - gave him true confidence in the cranes it produces, Manitowoc reports. The PVC provides component-level and full-vehicle testing to verify designs and durability early in product development processes. Manitowoc said this enables it to launch new models faster, as well as reduce warranty and field issues.
"The tour of Wilhelmshaven and the PVC was eye opening and we could understand the capabilities of Manitowoc and its determination to build first-class machines," said Essam Dabash. "Efficiency is essential to our own operations so we wanted to buy cranes that have excellent customer support and to which our operators will easily adapt. With these new Grove cranes we are confident on both these points."
Suez Shipyard Company will use the GMK5130-2 around its floating dock for general maintenance duties. The 130 t capacity crane is a successor to the popular GMK5130-1 and is powered by an eight-cylinder, turbo-charged Mercedes-Benz OM 502 LA engine. It also has an improved cab over its predecessor that includes an ability to hydraulically tilt up to 20°. The Twin-Lock boom extends from 12.9 m to 60 m in six sections and its maximum tip height is 92 m when working with jib extensions.
The company will use the GMK4080-1 to support general maintenance duties and lifting tasks around the yard's various workshops. The 80 t capacity, four-axle all-terrain crane features a 290 kW Mercedes engine that provides smooth and consistent power both on- and off-road. The machine is equipped with a 51 m, six-section Twin-Lock boom that can be extended to 82 m through the addition of jib sections.
Waleed Raouf, Manitowoc's regional sales manager for mobile and crawler cranes, was delighted to deliver the first Grove cranes to such a prestigious Middle Eastern industrial facility."Suez Shipyard Company is a world-class operation, so we are very proud to supply the first Grove cranes to the company," he is reported to have said. "We hope these are the first of many, and I'm sure these two additions will bring tremendous efficiency to its maintenance operations and day-to-day activities."
Based in Egypt, Suez Shipyard Company was established in 1862 and specializes in shipbuilding and repair. Located at the southern mouth of the Suez Canal, the company has built a wide range of ships, including bulk and general cargo vessels, as well as LPG carriers and offshore rigs.