Eiffage wins €100M Brussels HQ contract
By Joe Sargent26 August 2020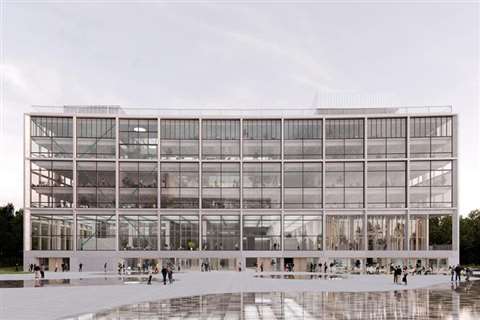 A consortium of contractors comprising French Eiffage (through Valens, Eiffage's Belgian subsidiary), Brussels-based firm Besix and In Advance, has attained the contract to build the Wallonia-Brussels Federation public service broadcaster RTBF's new headquarters in Schaerbeek, north-east of Brussels.
The contract, according to Eiffage is worth almost €100 million, of which the company says its share is 40%.
The new 40,000-square-metre building is to be named Media Square and will become the new base for RTBF's employees.
RTBF has commissioned the new building to meet its changing operational needs, work patterns and ensure improved energy performance.
The architects, MDW Architectures and V+, have designed a building to have slightly curved facades which they say will give it a singular identity.
The focus will be made on expanses of glazing and Media Square will include a patio, indoor gardens and terraces
This project forms part of the drive to completely overhaul a 20-hectare site where is located RTBF's current headquarters. Media Square will have a central position in the Mediapark.brusells district.
Works are now said to be under way, with delivery scheduled for 2024.