Eight STS cranes in four days for Fagioli
By Alex Dahm19 October 2015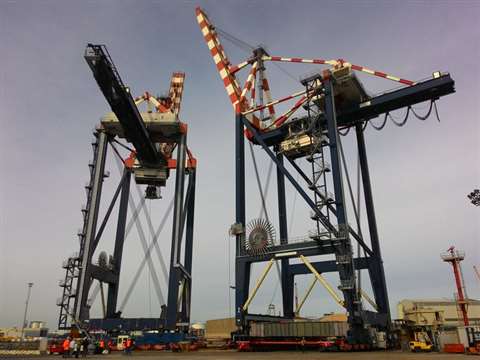 International heavy transport and lifting specialist Fagioli relocated eight ship to shore container cranes in four days using self propelled modular transporter (SPMT) and barges.
Over the long weekend from 9 to 12 October the STS cranes were moved by the Italian company at sites in Italy, Morocco and Spain. In Italy two STS cranes, each weighing 800 tonnes, were transported on Fagioli SPMT and a barge from Vado Ligure to Livorno industrial port. At Livorno container terminal Fagioli executed the load out onto an ocean barge of two more 800 tonne STS cranes.
In Morocco a pair of coal ship unloaders, similar to STS cranes and weighing 1,000 tonnes each, were relocated using a Fagioli barge and SPMT at the Jorf Lasfar coal terminal.
In Spain a pair of STS cranes each weighing 700 tonnes were transported and relocated using a Fagioli barge and SPMT from Valencia to the Huelva container terminal.