El-Bjorn showcases new equipment and technology
By Helen Wright09 June 2011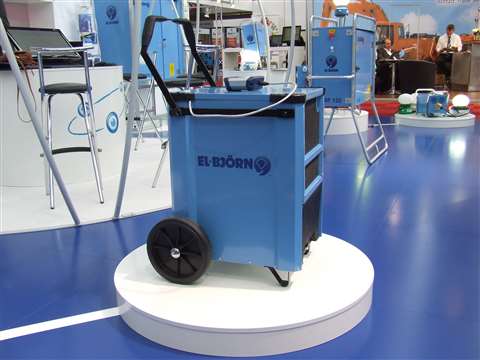 Swedish power distribution, lighting and climate control manufacturer El-Bjorn showcased its new e3 technology at the International Rental Exhibition (IRE) - a system which can control power usage on construction sites remotely and calculate efficiency improvements.
The e3 system connects up to El-Bjorn's temporary electricity power distribution centres via wireless technology. It measures energy consumption and offers contractors better control over factors such as lighting and heating.
El-Bjorn CEO Lars-Owe Kron said a great deal of energy consumption on construction sites is unnecessary.
"No-one controls the total energy consumption. Lighting, heating and construction fans are permanently left on, just because someone forgets, or cannot be bothered to turn them off," he said.
El-Bjorn compared two construction sites - one using e3 technology, and one without the system - and found that the contractor could save up to 50% on energy costs over a three-month period using the new technology.
"The greatest saving will be made when everyone within a construction site is fully aware that consumption at each individual power outlet can be measured and controlled," Mr Kron said.
The company also introduced a new dehumidifier at IRE - the A65, which is capable of circulating 600 m3 of air per hour. Designed for heavy-duty use, the A65 has a powerful, high capacity fan for fast drying, but its compact size and light weight make it easy to transport and stack.
It is also quick and easy to check whether the machine is operating fully after it has been rented out. El-Bjorn's service box is compatible with the A65, and can give a status reading within 15 minutes, allowing users to check functions and find any faults.