Elavation adds Snorkel bi-energy scissors to fleet
By Lindsey Anderson16 August 2017
Milton Keynes, UK-based rental company, Elavation Ltd., has added two Snorkel S3970BE bi-energy compact rough terrain scissor lifts to their fleet.
The Snorkel S3970BE is a compact scissor lift that can lift up to 350kg to a working height of 13.9m. The bi-energy system means the lift can be operated on either its diesel engine for outdoor rough terrain work or its DC electric for working indoors or to meet jobsite regulations on noise and emissions. The units are fitted with high-grip, non-marking tires as standard.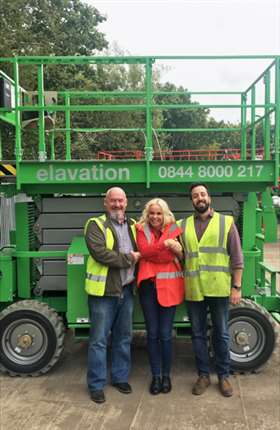 The two lifts, which are painted in Elavation's green livery, were recently handed over by Linda Betts, sales director for Snorkel UK, to company owners Mani Gonalez and Barry Brady.
"The versatility of the true bi-energy functions on the Snorkel S3970BE scissor lift made it a must have for our fleet. We are really getting four machines in one," said Mani Gonalez, director at Elavation. "The self-levelling outriggers, long battery life, white non-marking tires, capacity to drive at full height, plus a fantastic diesel drive train and ultra-low emissions when on battery power, means that we have a machine that we can offer to all trades.
"The ethos that Barry and I have been promoting in recent times means that we have highly utilized, multi-function lifts at the highest specification. As such, the Snorkel S3970BE is a perfect fit for our fleet. This ethos enables us to target a wider range of customers across the region with new work at height solutions. We've had a great year so far, and we are looking forward to building upon this success in 2018."
Andrew Fishburn, managing director at Snorkel UK, said, "We would like to thank Mani and Barry for their continued trust in Snorkel UK. The Snorkel bi-energy scissor lifts are a fantastic product for Elavation's business model, as they can be utilized on almost any job, by any trade."