Electric and hybrid: Sparking a new era
By Joe Sargent14 August 2019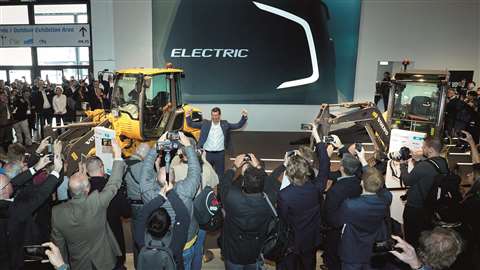 With emissions regulations continuing to tighten across the globe, electric and hybrid machines offer the potential to answer most, if not all, of the questions being posed. Both options have their own benefits, and manufacturers across the world are increasingly recognising the potential of these power trains. However, some in the industry still need convincing that investment in this area will yield positive results.
Creating an electric machine has long been part of UK-based manufacturer JCB's plans. The company has been promoting its concept machine, the 19C-1E mini excavator, to the construction industry for around two years.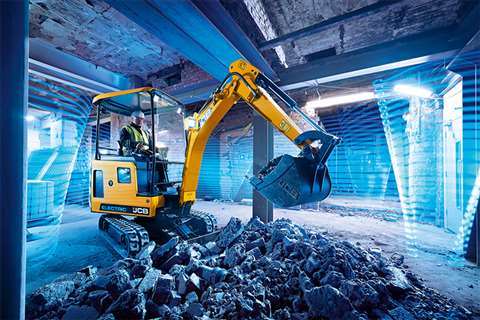 In June 2019, the Original Equipment Manufacturer (OEM) announced that production was beginning on the machine and it was being brought to the market. The 19C-1E is in the 1.9 tonne class and utilises automotive battery technology.
Director of Advanced Engineering at JCB Research, Bob Womersley, said, "The machine performance is exactly the same as the conventional diesel machine, just with a different power source, and at five times quieter it has less impact on the operator and those nearby."
JCB electric excavator 19C-1E

The excavator comes with a choice of three or four lithium-ion battery packs, providing a 15-20kWh storage capacity (said to be enough for a full working shift), load-sensing hydraulic system, a battery management system ensuring full-shift availability and an on-board charger with 110V input for 12-hour recharging capability.
The machine is initially equipped with both 110V and 230V charging, while a fast-charge option will soon be available. The 230V 16A supply requires an eight-hour charge time from empty, while the 110V supply would require a 12-hour charge time. Womersley said that even after 2,000 full charge and discharge cycles (expected to take over ten years) the batteries would still have over 85% of their capacity left.
Using a 48V electrical system, an electric motor delivers instant torque, to power the machine's Bosch Rexroth load-sensing hydraulic system. This delivers the same digging performance as the standard 19C-1.
When asked where purchasers will see the biggest impact using these machines, Womersley said, "It gives them new working opportunities in applications where zero local emissions and low noise are critical attributes."
Also following the electric current, Volvo Construction Equipment (Volvo CE) unveiled two zero-emission machines at Bauma – the ECR25 excavator and L25 wheeled loader – as part of the company's new range of compact electric machines.
Volvo President, Melker Jernberg, knows the electric market has some way to go before it fully develops. With the introduction of these two models, Jernberg said, "What we are doing is looking to create this market. We are taking this decision for other reasons than purely looking at an excel sheet and the numbers. We really believe in this.
"We can look at the numbers, but at some point we need to decide that this is the right time to act and we believe that the technology is now mature enough to do this. We believe a market will be able to be created."
Volvo's new electric range aims to deliver zero exhaust emissions, lower noise levels, reduced energy costs, improved efficiency and less maintenance requirements, compared with its conventional counterparts.
To make the ECR25 and L25 electric, the combustion engines have been replaced with lithium-ion batteries. These batteries store enough electric energy to power the machines for around eight hours. Both the ECR25 and L25 have onboard chargers that enable overnight charging via a regular household plug socket.
Volvo CE said a number of machines will be used and tested by customers in pilot projects before production begins in mid-2020.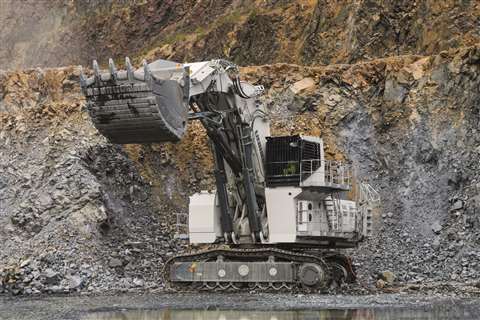 Whilst it is more common for electric and hybrid engines to be used to power smaller machines, Liebherr has developed an electrically-driven mining excavator with an operating weight of 205 tonnes. The R 9200 E was designed to meet the potential demands of the future mining industry. The R 9200 E is said to achieve cycle times under 20 seconds with a capacity at 1.8 tonnes/m3 of 12.50 m3 material in every pass.
The motor replacing a traditional diesel variant for the machine, is a 3 phase AC Squirrel cage motor with an engine rating of 850 KW at 1800 rpm.
Planning for future growth
Bobcat E10e mini excavator
From such a large electric excavator to one of the smallest; the Bobcat E10e mini excavator has been optimised for work in harsh environments, according to the company.
Jarry Fiser, mini-excavator product line director for Doosan Bobcat EMEA, said, "We found that for indoor demolition and indoor renovation, the E10 is the right size. Therefore, our E10 diesel was designed. Then, of course, the move to zero emissions was the logical next step."
With a width of 72cm, the new E10e can easily pass through standard doors, making it an ideal option for indoor applications. Fiser said, "It would have been a lot easier to accommodate all this technology inside a 2 tonne to 3.5 tonne machine, but we said let's try to squeeze this to the limit, then we'll already have a plan for how to grow. And we will."
Electrification offers a lot of benefits, but it must contend with the power of diesel, which has been a tried and trusted source of power for over a hundred years. Cummins has been producing engines during this remarkable time frame and it's clear that the company intends to cater for the future, developing a large portfolio of different solutions to cater for the future .
Julie Furber, vice president of electrical power at Cummins, said, "I think this is going to take a while to play out because people are used to diesel power trains being what you power equipment with.
"However, I think that as we go forward there will be a place for internal combustion engines, natural gas as well and I think that hybrids, electric and fuel cells will all have their place."
Cummins presented a converted Hyundai excavator at Bauma Munich. Powered by Cummins BM4.4E flexible battery modules (4.4 kWh each), the prototype is designed to support a full work shift and charges in under three hours.
The excavator contains eight BM4.4E modules connected in a series configuration to provide a total energy of 35 kWh. Mounted near the base of the excavator, the Cummins-designed and built battery modules utilise Li-ion technology to achieve a higher energy density and proprietary control technology to maintain the battery's state-of-charge for a longer zero-emission range.
When asked about the challenges a machine like this faces before being accepted by the industry, Steve Nendick, marketing communications director at Cummins, said, "The use of electrified power is influenced by factors such as regulation, price of batteries and their component materials, power holding capacity and availability of charging infrastructure. So, it is not necessarily practical for every application right now."
Regarding electrification and hybridisation, Rolls Royce has stated that it is currently focused on marine, rail and powergen applications. The company said that it is working on pre-studies and see possible applications in, for example, port facilities and underground mining.
In the future, it is the opinion of the company that there will be very few systems around without an electric drive component. In much the same way as it is happening in the automotive sector, there will be greater electrification of construction equipment in the future.
Parallel hybrid advantages
Engine manufacturer Kohler makes the distinction between hybrid in series and hybrid in parallel: a hybrid system in series converts chemical energy into mechanical energy, which is converted into electrical energy.
A parallel hybrid system can deliver mechanical energy, coming from chemical energy, at the same time as it delivers electrical energy, from a previously-charged battery pack. This offers the advantage of using two types of energy simultaneously, mechanical and electrical.
Kohler's range of K-HEM hybrid units is based on the concept of a parallel hybrid system; enabling manufacturers to fit K-HEM units onto the hydraulic system of their applications.
According to the company, hybrid solutions not only save OEMs the complexity of post-processing systems and add extra power, but also offer a range of further possibilities.
For instance, endothermic engines can be replaced by hybrid solutions without installation problems. K-HEM units are said to have the same integration with the hydraulic system or with the mechanical transmission as a diesel engine. Otherwise, the application can be re-engineered in order to make it more efficient: the current generated by the electric motor can run a series of actuators and lead to improved machine performance.
Kubota believes equipment manufacturers will progressively become less reliant on any single power source, and that the engines themselves will need to further develop in areas of fuel efficiency, power density and adaptability.
The company has developed a Micro-Hybrid system, offering opportunities for OEMs to exploit advances in product design flexibility, optimisation and efficiencies derived from 'downsizing,' while maintaining the overall machine performance and productivity.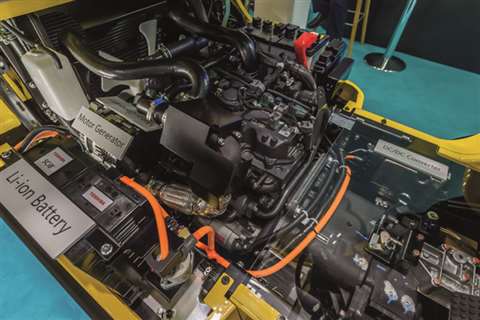 The micro-hybrid system supports the engine by delivering an additional electrical power boost of up to 10kW. According to the company, the immediate torque available offers an efficiency boost at the most crucial time; while recuperating and recharging its battery pack when not initiated.
This means that, for example, a 3-cylinder Micro-Hybrid equipped engine can achieve similar levels of performance to a conventional 4-cylinder engine and avoid the necessity to overcompensate by installing a larger capacity engine.
Daniel Grant, marketing manager of Kubota business unit engine Europe, said, "We believe in providing a proven power source solution for our customer needs and that there will not be just one power source in the future.
"It is clear that the trend towards down-sizing is increasing, as the need for greater fuel efficiency, durability and total cost of ownership becomes the market focus. A Micro-Hybrid system, which provides power assistance instantaneously is a genuine technological innovation that can make a real difference to our customer's current and future needs."
With construction equipment so varied in both sizes and applications, it makes sense that the engines of the future will come in a variety of sizes and with different power sources to fit the specific needs of specific equipment and job sites.
Perkins' Concept hybrids

Three hybrid concept engines from engine manufacturer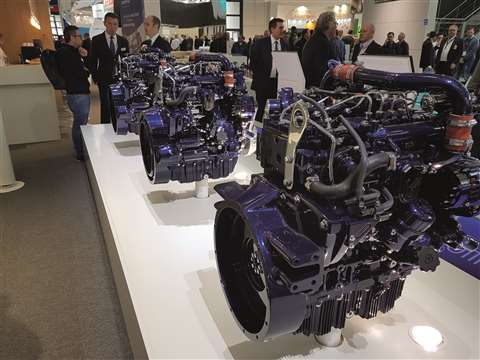 Perkins has produced three hybrid concept engines: the hybrid-electric, the hybrid-mechanical and the hybrid-hydraulic variants.
Paul Dixon, Perkins' product introduction manager, said, "The electrical hybrid is more suited to applications where you need prolonged assistance to help the diesel power system.
"The hydraulic hybrid is great for highly transient applications, as it gives a real punch of power when customers require it, and is also very beneficial for downsizing engines, and therefore improving fuel economy.
"The hydraulic hybrid is a great example of a hybrid device that can assist the engine to meet customer needs. It can take energy into its storage very quickly and provide energy back very quickly."
David Nicoll, Perkins' marketing and dealer operations director, commented, "The mechanical hybrid has a second flywheel on the engine and that flywheel is gathering power from the engine and storing it, so it can provide a 40% boost in power.
"Now what might be an example of that in a working environment? Well, we were talking to a customer in Scandinavia, and they build machines in a forestry application. When the blade engages with the tree, that's when the engine really needs all of its power.
"That mechanical flywheel only provides a ten-second power boost. But, in that application, you don't even need ten seconds to get through the tree. So, we get a 40% power boost to cut the tree, and it only takes ten seconds to recharge."