Electric Scissors: In demand
By Euan Youdale13 January 2017
A PB S131-E1GES
Electric scissors are the lifeblood of the access equipment industry. On average they dominate rental companies' fleets and in China, for example, the percentage of scissors in any given fleet is likely to grow from around a standard 80% to around 90% in the near future.
Rental companies are always looking at ways to add value to their fleets and make life easier for their customers and themselves.
As for manufacturers, they have the same thought processes, with commonality of components, ease of use and exceptional service all being major factors. Holland Lift, known for its big units, has been moving into modular production with its latest range. It is also notable for its hybrid solutions, which are helping its machines find wider audiences and providing its customers with greater scope in the work place.
Describing the modular range, Eline Oudenbroek, managing director of Holland Lift explains, "After several discussions with our customers about the desired adjustments of our Q-135 EL18 and Q-135 EL 24, we developed and introduced the Q-modular line in 2016.
"Both the Q-135 EL 18 as well as the Q-135 EL 24 were transformed and integrated into one machine: the HL-160 E20."
This HL-modular line can be extended with several options. The base model is HL-160 E20 2WD which has an extra scissor, the HL-190 E20.
Then 4-wheel drive oscillating axles and levelling jacks can be mounted, resulting in a machine which can be rented to a range of jobs while the core remains the same.
Telematics have also become more important and are talked about as inevitable and crucial element of the sector, particularly as business, and the access sector becomes more global "We will implement more and more the modular principle in our line. The user will see a more standardised product throughout the product range that they are familiar with," adds Oudenbroek.
PB Lifttechnik, which also produces big scissors, has been expanding its ranges in the electric sector, launching the compact PB S06-7ECS in 2016. It has a 0.76 m width, electro-direct drive, proportional control, 5.6m working height, 240 kg lift capacity and automatic pothole protection.
"We are dealing with the current trend of the hybrid drive, but in most cases, even after discussions with our customers, the electric drive with its power is perfect for the most purposes," says Arne Dirckink-Holmfeld, PB Lifttechnik's export manager. Another new product is the 22.3 m working height PB S225-24ES 4x4, designed as an emission-free electro-hydraulic drive, with a powerful 750 kg lift capacity, automatic outrigger system and differential lock.
Big requests
Next up is the new PBS06-7ECS, with its classic steering, indoor/outdoor approval at full height and automatic pothole protection, and is an upgrade of its existing PB S06-7EC.
As another example of the move towards electric, the new PB S225-24ES 4x4 is the emission-free electric equivalent of its PB S225-24DS 4x4 - with almost the same features.
"From our point of view the trend is towards working platforms with higher working heights and a lot of lift capacity. The current market has exactly this demand for our TOP 24 series because they meet these demands. Mostly as an electro-version because these machines bring the plus of zero emission for the indoor use," says Dirckink-Holmfeld.
Snorkel too is adding capacity. It launched a new family of four slab scissor lifts in 2015, adding two additional higher capacity models in 2016. The range of six models includes the S3215E, S3219E, S3220E, S3226E, S4726E and S4732E.
The electric slab scissor range was the first to be redesigned following the acquisition of Snorkel by Xtreme Manufacturing in 2013. Snorkel says the lifts benefit from years of rental experience, notably from Don Ahern, owner of Xtreme and one of North America's biggest rental companies Ahern Rentals.
The new design incorporates many features, and demonstrates the direction that manufacturers are taking. It includes significantly upsized kingpins to reduce the risk of damage, and upsized scissor arm pins to deliver a more robust scissor stack for a stable working platform.
Twin side doors make it easy to access components, even when parked side-by-side, and the design means that all components in the chassis swing outside of the lift for fast and easy maintenance and servicing, while saloon-door style entry gates provide easy access to the platform.
"A common control system with other Snorkel lifts and on-board diagnostics make light work of troubleshooting, and eliminate the need for additional external diagnostic devices."
The company adds, "Floor loadings allowed on modern construction sites will drive a requirement for lighter units whilst maintaining the required working height.
There is always the request for higher working capacities and as battery technology continues to develop and the newer batter technologies become more affordable, these will be seen in this product family in the future.
"Commonality between scissor models and key service parts that a rental company typically would own and the commonality of control systems is a must in reducing stocked parts and service training demands."
On the subject of bigger machines, Skyjack launched its tallest DC electric scissor the SJIII 4740 DC in February last year during The Rental Show, in the US. "It is designed to meet the increased demand for higher scissors for industrial and commercial applications," says Malcolm Early, vice president marketing.
The SJIII 4740 has a working height of 45.5 ft (13.8 m), an overall capacity of 500 pounds (227 kg) and a width of 47 in (1.19 m). The steering system in the SJIII 4740 offers the operator 21 in (0.54 m) turning radius. The machine is equipped with variable speed front wheel hydraulic drive for 25% gradeability, a 3 ft (0.9 m) rollout extension deck and is wind rated for two people.
The SJIII 4740 also has specific design changes. An electric, one-location emergency lowering system; clevis style steering that's front wheel drive; dual level maintenance bars and welded cross-member bracing.
Some of these changes were to support a wider, heavier machine while others were improvements from our other models. "The SJIII 4740 in its own right is a manifestation of the demand for greater platform heights. In addition we have really been focusing on the overall cost of ownership for the rental companies. This, along with added technology, allows the customer to get diagnostic/performance and cost data back that allows them to plan their fleet better and get a much better overview of their machines than they had before, Explains Mr Early.
Rental focus
And when it comes to the rental industry specifically Mr Early adds, "This for the most part comes down to minimising down time. That means robust products fit for the rigours of the rental industry, careful consideration of quick and easy maintenance practices and the reduction in the cost of ownership. One other area is the need for accessory products that make specific tasks less onerous."
Another example of models designed to provide extra lift is the Genie GS-4047, with a maximum working height of 13.75 m (45 ft), and is still compact enough to fit through a standard double door. This combination of lift height, narrow footprint and full drive at height capability was extremely popular with customers in Europe before it was introduced in North America last year, says Zachary Gilmor, Genie associate product manager, Terex AWP.
"Our customers are always requesting the ability to lift more weight, to greater heights, within a smaller footprint." With a 550 pound capacity, the GS-4047 gets workers to a height recently reserved for much larger RT class machines.
Beyond customer requests in North America, the upcoming revisions to ANSI standards will bring changes to nearly every model. "These changes bring with them significant new features such as platform load sense systems, as well as smaller alterations like toeguards on platform entrances," says Gilmor.
And further to reliability and quality, customers' demands are always increasing in after sales. "This equipment is used hard in the field. Ease of service, knowledgeable support teams and quick parts availability are also critical after the sale," adds Gilmor.
The Genie slab scissor production in Coventry was ended at the end of 2016. This decision was made after Terex reviewed its global manufacturing footprint with the intent of optimising production to become a simpler and more focused organization that executes to win in the marketplace.
With the above strategy in mind, at the end of 2016 Terex AWP moved the Coventry production to its two existing Genie scissor lift manufacturing factories in Changzhou, China and Redmond, Washington state, US.
Customers will continue to be served by the company's distribution centre in Roosendaal, The Netherlands, which will facilitate responsive delivery, regardless of manufacturing location.
Haulotte's latest products were launched in 2015, notably the optimum 8, with 8 m working height. Features developed for user benefits include the Jobs kits – with panel carrier and pipe cradle. They also have the ability to go through standard doors with fixed guard rails. Of common importance is the ability to work indoors and outdoors with this AC machine, rated for CE, CSA, AUS regulations and oncoming ANSI standards.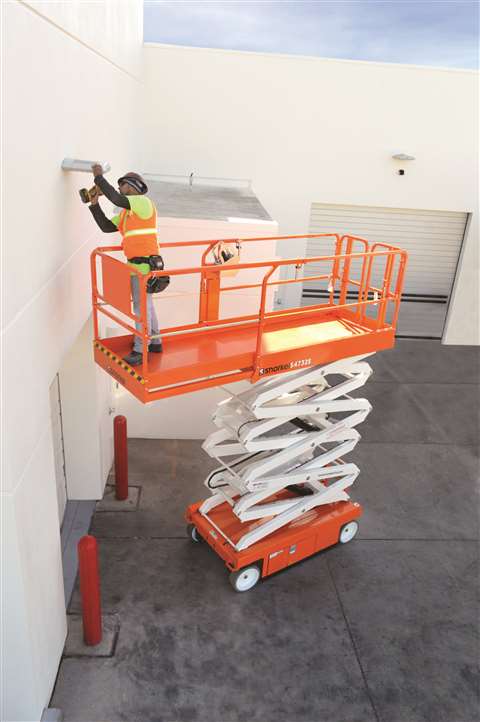 Diagnostics focus
The all important diagnostics, developments of which are now becoming as standard in our industry as working heights and pothole protection, is catered for by the Activ'Screen with a screen indicating all alerts and faults, in code and full text. "It helps the user to give relevant information to technicians over the phone for a quick assistance to reduce downtime," says Marjolaine Degrange, at Haulotte. The 2.8 mph AC driving system was also a new development for the machine.
"An advanced diagnostic and calibration system helps rental companies in their daily life on worksites and maintenance," says Degrange.
Nevertheless, commonality of parts between machines are a rental company's major request. "To easily mount and dismount their fleet with accessories adapted to their customers' applications."
JLG's newest scissor lift, the 1932R, was introduced at the Rental Show in the US in February last year. The 1932R features advanced service access via all-steel swing-out component trays. A serviceable platform and ground controls provide technicians the ability to repair these components rather than having to replace them.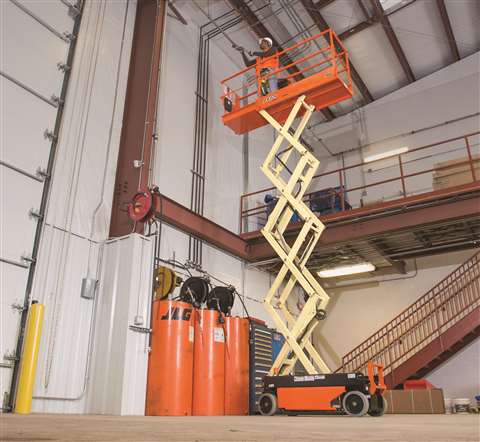 Better service
As Paul Kreutzwiser, global category director – aerial work platforms, JLG Industries explains, features that are new or have changed from previous electric scissor models are the improved serviceability and low maintenance, while the active pothole protection system was also improved compared to previous models, as JLG's ES Series of electric scissor lifts feature mechanised pothole protection.
Serviceability of the 1932R is improved via more electrical components that feature diagnostic capabilities – for example, a battery charger with a fault code display panel also includes a USB port, allowing an owner to download battery charge history.
The battery charger itself troubleshoots and diagnoses issues, too. An optional MDI (multi-functional digital indicator) display on the ground control panel produces fault codes, which can be interpreted using the machine's service manual. The fault-code putout saves time diagnosing the issue, and allows a technician to get right to work fixing the problem. The JLG Mobile Analyzer is also a tool to produce fault codes (available on all JLG equipment). Meanwhile, the 1932R features only 83 parts in its pothole protection system, close to 50% less than competitive products, says the manufacturer. While some competitive models use multiple switches and multiple plungers, the 1932R uses a single switch and a single plunger, resulting in lower cost when they need to be replaced.
The pothole protection system boosts reliability, as it is mounted to the frame instead of the doors, allowing the system to still work if the doors are out of alignment.
A new platform extension also contributes to the lift's reliability, as it is designed to shed debris, keeping deployment smooth and effective throughout the life of the machine. Meanwhile, the machine's all-steel platform, steel component doors, and thicker rubber tires help provide durability.
"Low total cost of ownership – and factors influencing total cost of ownership, such as serviceability, reliability, and durability – are all areas of focus for rental companies," says Kreutzwiser.