Electric wheel loader launch from Kramer
By Euan Youdale24 October 2016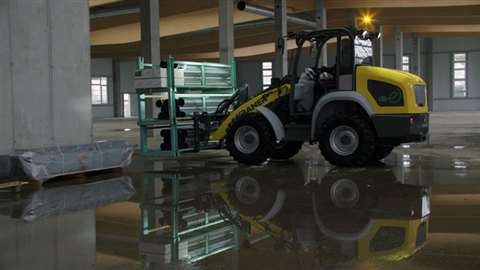 Kramer has launched the first fully electric wheeled loader, with all-wheel steering.
The 5055e is suited to working inside buildings, inner-city construction sites or in tunnels thanks to its zero emissions and low noise.
With a 0.55 m³ bucket capacity and payload of 1,750kg, the 5055e has off-road capability and ease of operation equal to the diesel-powered version, said the manufacturer.
Two electric motors are used; one for operating the hydraulics and one for the drive. Depending on the application, power is automatically provided by the respective motor, helping to minimise energy consumption.
The electric motor is powered using lead acid accumulators or lead fleece accumulators with the battery charger integrated in the latter, providing easy charging capabilities via a standard 230 V power socket. Depending on the application and utilisation of the machine, a single charge lasts up to five hours of operation.
According to the company, the 5055e is cost-effective with significantly lower maintenance costs meaning the initial higher price can quickly be recouped. Charging time for the machine is between four and eight hours depending on the battery option chosen.
"We are pleased that we can offer our customers an emission-free and environmentally friendly machine. We are certain that this product will make an important contribution to preserving resources and increasing the efficiency of our customers," says Karl Friedrich Hauri, Kramer managing director.