Elite Access Rental launches with Platform Basket
By Euan Youdale18 September 2020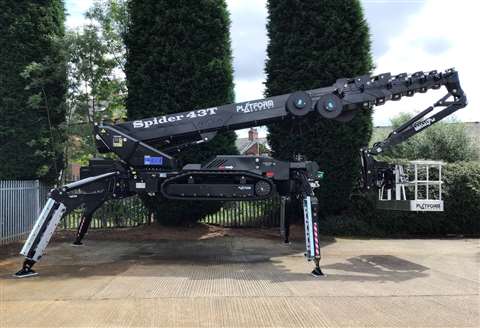 Newly-formed UK access rental specialist Elite Access Rentals has taken delivery of the first Platform Basket Spider 43T Hybrid in the country from distributor Promax Access.
Based in Bradford, UK, Elite Access Rentals is a joint venture between Jonathan Hawksworth of property and facilities maintenance company Clearview Services Group and Adam Gallagher of spider lift rental company Tracked Access Platforms. Looking to bring together their combined experience of the truck and spider lift markets, the new company opted for the Spider 43T Hybrid spider lift to kick start its new venture.
The 43T offers 43.2m working height, an outreach of 17.3mand a maximum 330kg cage capacity, rated for up to three operatives plus tools. Its compact dimensions and unique chassis design offers reduced ground pressure, while it has a multi-position stabiliser system and the ability to overcome height differences of up to 1.8m.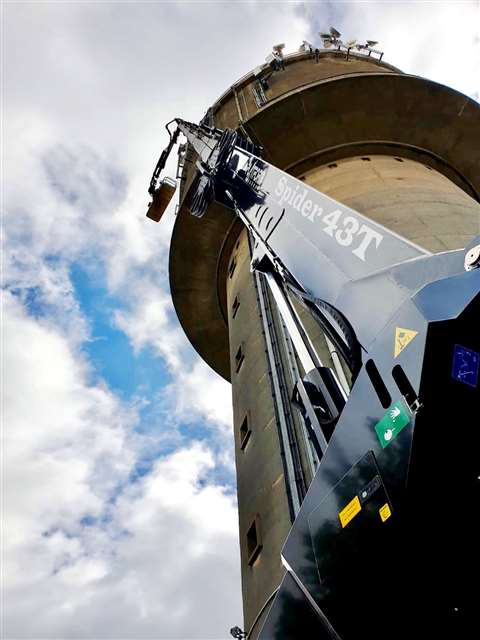 Hawksworth, said, "We wanted to start our new venture with a bang and from everything we have seen so far we are confident the new 43T will deliver! It ticks all the boxes and hopefully it will open a lot of doors when it comes to telecom and power line work as well as building maintenance applications."
The 43T Hybrid complies with the latest emission standards with its Tier 5 Kutoba diesel engine, while its secondary Lithium-ion battery power supply is also available. It available for hire throughout the UK.
Gallagher, added: "We are both delighted and excited to be the first to offer this product in the UK. It comes fully loaded with all the latest and greatest features and benefits which our customers from across a range of industries will appreciate."
An advantageous feature of the 43T is its ability to load and unload itself from the back of a trailer. Supplied by Platform Basket's UK distributor, Promax Access, the company will also be on hand to provide support and service if required. Its managing director, Shaun Day, said, "[This model] offers all the benefits and operating features of a larger truck mounted platform but with the versatility and flexibility of a compact tracked chassis to access, set-up and operate on difficult locations."
The new unit has been supplied with a 350kg winch for safely handling heavy or bulky items for a range of applications such as glazing or telecom antenna installations. Its striking black livery will also make it ideal for the TV and Media industry when used for carrying out filming and lighting requirements.