ELS expands low level range
By Euan Youdale16 April 2020
Turkey-based ELS Lift has extended its range of low level access scissor lifts with the Junior 4.5.
The 4.5m working height new model adds to the existing 5.5m working height Junior 5.5, with both offering 240kg basket capacity. The compact models are designed to provide provides easy access through standard doors and to elevators. The Junior 4.5 has a platform length of 1.07m and width 0.59m.
Both models' high capacity batteries, provide long working times, while fast assembly and disassembly makes transportation of the machines easier, in addition to saving time.
The company addeed that a third, alternative model in the range, the Junior 5.5 SP, is the lightest machine in its class, weighing 660kg. It offers a proportional joystick, automatic saloon doors and removable guardrails for space-saving during transport.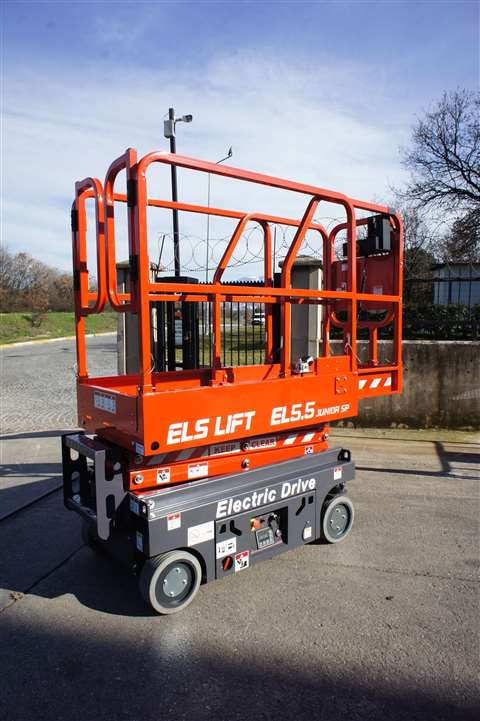 A diagnostic display shows error codes, charge percentage, working hours, with fast solutions provided. With the unit's smart charger, charging cycles are recorded, and its full electric battery system equals a zero emission product. Thanks to the tool tray, there is no need to move the platform while working.
Büşra Örs, communications specialist at ELS, explained the increase in more compact, enclosed work areas and sensitive ground conditions had increased the trend towards low level access equipment. "With this new trend, light personnel lifting platforms have become more and more popular in the aerial work platform sector. Compared to other machines in this category, and unlike some bigger machines, these Light machines can work in narrow spaces and they can be transported easily, therefore, they are preferred in a lot of sectors."
Some of those sectors include general construction and contracting, storage facilities, logistics and shopping centres, civic centres, hospitals, and business environments.
See the Low Level Access feature.