EMR to dismantle and recycle US Navy ship
The USS Charles F Adams has concluded her final voyage to Brownsville, Texas for dismantling and recycling by International Shipbreaking, part of EMR Metal Recycling.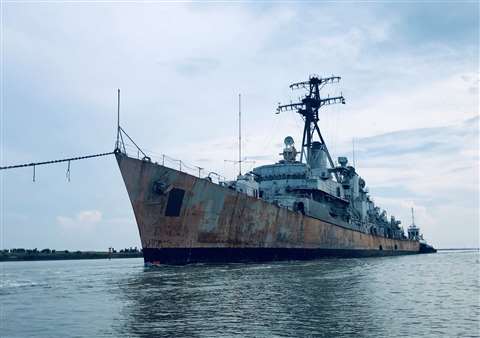 International Shipbreaking is one of the world's largest green ship recycling companies and its three specialist facilities located the USA have recycled over 400 ships and marine structures.
A total of 98% of all materials removed from the Charles F Adams will be recycled.
Senior manager Chris Green said: "It is with great pride that we welcome the USS Adams on her final journey. We have a long history of dismantling military vessels in a respectful and compliant manner and have invested heavily to build a world class 'green' ship recycling facility in Brownsville, Texas.
"This is one of many US Navy contracts we have been awarded and extensive preparations have been made to ensure we are able to safely tow, dismantle and recycle the USS Charles F. Adams."
The USS Adams recycling contract, which requires complete demilitarisation of the entire ship, is set for completion in 2021.