Energy recovery system for RTG
By Christian Shelton03 April 2018
Transiidikeskuse, an Estonian stevedoring service provider with a container terminal located in Muuga Harbour, part of the Port of Tallinn on the Baltic Sea, and ultracapacitor manufacturer, Skeleton Technologies, have equipped a rubber tyre gantry (RTG) crane with a graphene ultracapacitor-powered kinetic energy recovery system (KERS) that they claim reduces the RTG's fuel consumption and CO2 emissions by 34%.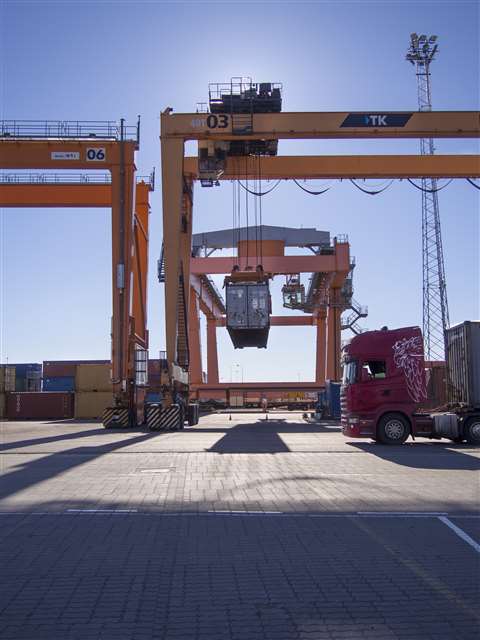 According to Skeleton, it has successfully used the technology in motorsport and for heavy-duty vehicles but this is the first time it has used it for lifting applications. Called the Muuga Crane KERS solution, it recuperates energy while the crane is lowering the cargo and reuses the same energy for lifting.
Taavi Madiberk, CEO at Skeleton Technologies, commented, "Skeleton's ultracapacitors have a charge time of fewer than three seconds, an efficiency of over 95%, and 20 years of life, making them ideal for KERS applications. I am very pleased to see that our team has managed to transfer their know-how on KERS from motorsport and heavy-duty vehicles sectors to port cranes and achieve outstanding fuel savings."
Skeleton Technologies believes that with the trend towards sustainable, environmentally-friendly and low carbon emissions crane and port logistics equipment, energy efficiency and recuperation will become increasingly important in harbour-side installations worldwide.
"From a technological point of view, we belong to the absolute top in our field and energy efficiency has always been an important part of our business," added Joel Tammeka, director of engineering at Transiidikeskuse. "For servicing vessels, we use the most advanced equipment and loading technologies. Implementing high-tech graphene ultracapacitor technology to provide energy savings fits well with our strategy."