Energy sector: using less
By Alex Dahm and Graham Anderson03 August 2020
Energy sector work is facing uncertain times as capital expenditure is cut. As with other markets the coronavirus Covid-19 has had a deep negative impact on the oil and gas industry, compounded by the collapse in the price of oil. Alex Dahm and Graham Anderson report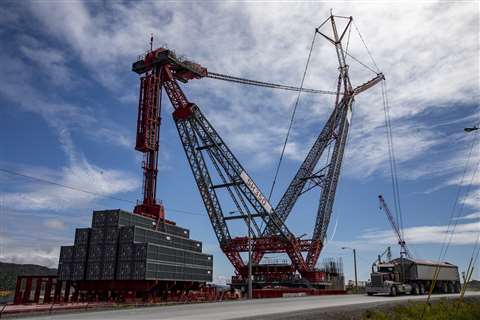 Oil and gas energy sector work is facing uncertain times as capital expenditure is cut. As with other markets the coronavirus Covid-19 has had a deep negative impact on the oil and gas industry, compounded by the collapse in the price of oil. Alex Dahm and Graham Anderson report.
Workloads in the energy markets face an uncertain short-term future in the wake of the latest oil price crash and the ongoing coronavirus crisis, with the impact likely to be felt throughout supply chains, including by heavy lift and transport companies.
Fraser McKay, head of upstream analysis for the global consultancy Wood Mackenzie, said that sustained crude oil prices of below US$40 a barrel (bbl) would trigger a wave of brutal cost-cutting in the industry.
McKay said, "Discretionary spend would be slashed, including buybacks and exploration. Unsanctioned and conventional projects will also be delayed, and in-fill, maintenance and other spend categories scaled back."
At the time of writing in March the price of Brent Crude stood at $35.44, down from $58.80 on 20 February. By April Brent Crude had fallen further, to $20 a barrel.
Wood Mackenzie's analysts argue that the multiple layers of this crash mean it is not the same as previous downturns. The dispute between Saudi Arabia and Russia raised the spectre of unrestrained production and the potential for a dramatic, negative impact on the US shale sector.
Then there is the plunge in global demand caused by the corona virus and the increasingly extreme measures being introduced in an attempt to contain it.
All this is being played out against a backdrop of growing environmental concerns driving the development of renewables at the expense of traditional fossil fuels. There are some who argue that lower oil prices might slow the expansion of renewable energy projects in the short term – but most believe that the long-term direction of travel will remain unchanged.
As one observer put it, "This time round lower oil prices might not result in higher demand due to the pressures to decarbonise."
The uncertainty quickly prompted a number of firms to slash expenditure. Within days of the price drop in March, Occidental said it would cut capital spending in 2020 by around one third, or $1.7 billion, while Marathon Oil announced its capital spending budget for this year would be reduced by 20 per cent to $1.9 billion.
Reuters reported that Chevron is looking to reduce its capital spending and "is reviewing alternatives." In Canada, Cenovus Energy announced it is reducing its 2020 capital spending by approximately 32 %. It is also deferring final investment decisions on major growth projects.
By the following week, Saudi Aramco said it would follow suit. Announcing its 2019 results in Dharan, Saudi Arabia, the company said that capital expenditure would fall from $32.8 billion in 2019 to between $25 billion and $30 billion in 2020 "in light of current market conditions and recent commodity price volatility."
Aramco added that capital expenditure for 2021 and beyond is currently under review.
Wood Mackenzie's Tom Ellacott – he is senior vice president for corporate upstream – said, "The price collapse could be the trigger for a new phase of deep industry restructuring – one that rivals the changes seen in the late-1990s.
"This is not the first time we've seen a price war – the last was as recently as 2015-16. But this time oil demand is also weak as the coronavirus outbreak depresses global economic growth. The macro-economic backdrop is completely uncharted waters for oil and gas companies."
Ellacott added, "At current activity levels, we estimate that many companies need an average Brent price of $53 bbl to break even in 2020."
To underline the depth of the concerns, BP said the coronavirus outbreak could cut global oil demand growth by 40 % this year – and that was before the recent price crash.
One industry insider told ICST, "Back in 2014 Goldman Sachs research showed that a larger number of projects would not be viable at $60 a barrel; the oil price is now almost half that."
Among all the bad news, however, there are a few reasons for guarded optimism, assuming the coronavirus crisis is eventually brought under control. Workloads in refining, LNG are for the moment all holding up.
Working together
A timely call was made from the heart of the heavy lift and transport industry when Fabio Belli, Fagioli CEO, made the keynote presentation at KHL's 2019 World Crane and Transport Summit. Belli suggested heavy lift and transport contractors should consider joint ventures and other risk-mitigation strategies in response to more difficult market conditions in the sector.
He said the lifting and transport sector should consider following the example of major EPC contractors, who have responded to lower capital investment in oil and gas – 40 % down from the peak in 2014 – by creating joint ventures for major projects and by focusing more on project breakeven point and speed of execution.
Belli reported rental prices for cranes and SPMT and payments for loadouts are 30 to 40 % lower than in 2014.
He said lifting and transport companies should consider joint ventures, mergers and acquisitions and asset sharing as means to improve profitability and reduce costs and risks. "EPC contractors are spreading the risk", said Belli, "We have to do the same. We have to think about physically joining companies. I think that is the right thing to do.
"We have to step back from ego and co-operate. Step back and look to the sustainability of this business."
Belli added that the industry should reinforce HSE practices to strengthen execution of projects and de-risk projects by having very well qualified lump sum contracts.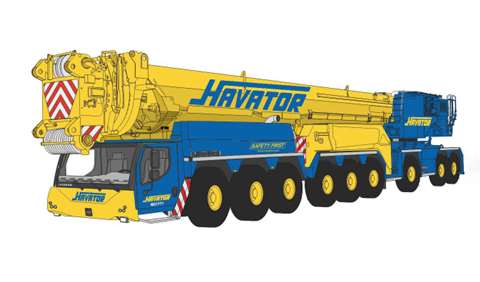 The work
Many crane and transport companies rely heavily on work from the oil and gas sector. Major investments are required to keep an up to date fleet of the latest and safest equipment to do the best job. Nordic crane and transport company Havator has recently heavily committed to new equipment. Chief among this is a new LTM 1750-9.1 wheeled mobile telescopic crane from Liebherr. It lifts 750 tonnes and has a 52 metre boom extendable with lattice sections and jibs to give a lifting height of 154 metres.
Commenting on the new crane Matti Ruuska, sales manager at Havator Finland's projects unit, said, "Demand for this type of machinery has grown. We will use our newest acquisition, for example, in infrastructure projects. Also, as it requires a much smaller assembly area than, for example, a lattice boom crane." This last point being especially beneficial for maintenance work in refineries where limited space and obstructions are the norm.
Talking of investments, Mammoet, already the world's largest heavy lift and transport company, made one of the biggest investments in the sector of recent times – its acquisition of ALE, announced in 2019. With the acquisition came ALE's fleet of super heavy lift cranes. Not least of which is the 5,000 tonne capacity SK350.
Most recently, the SK350 has been carrying out lifts on a major oil and gas expansion project in Canada. The design of the crane, which is different from Mammoet's own PTC cranes, enabled it to continue operating in the area's high wind speeds and across a live construction site.
The West White Rose Project requires installation of an offshore platform consisting of a concrete gravity structure (CGS) with integrated topsides. The CGS is 145 metres high and has a total combined weight of 200,000 tonnes. The work is taking place in Argentia, Newfoundland.
The work involves lifting components weighing up to 221 tonnes and with dimensions up to 36 x 36 metres. It is a complicated job as the lifts cross a live construction site and must negotiate obstructions, including other cranes.
As erected the SK350 can lift to more than 200 metres of outreach. It allows the crane to pick large and heavy modules from points around the site and lift them into position – without repositioning the crane. A load can be lifted, the crane rotated 180 degrees and then the load placed up to half a kilometre away from their original position, the company says.
Tower cranes were originally chosen for the job but high winds cancelled that option because waiting for low enough wind speed would have risked unacceptable project delays, Mammoet says. SK350 can continue operating in wind up to 72 km/h. The SK350 was configured for this site with 125 metre main mast, 95 metre jib and 612 tonne capacity auxiliary winch. The first oil from the West White Rose project is expected in 2022.
While its largest crane, the 5,000 tonne capacity SGC250, is engaged on a long-term nuclear plant construction project in the UK, Sarens has been busy elsewhere and with a wide range of other types of equipment from its fleet.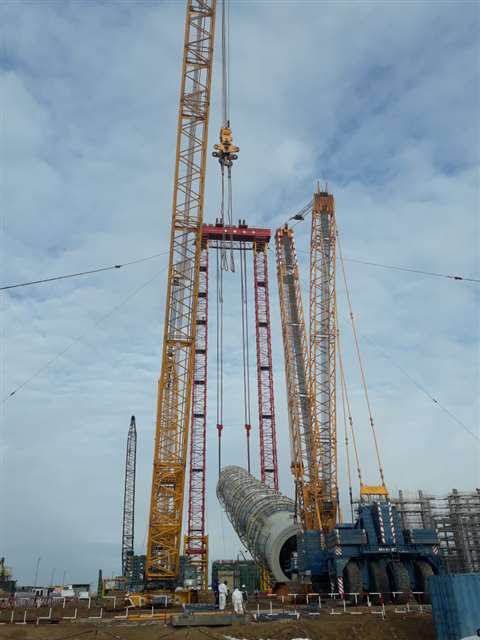 An example from earlier this year was a commission for Sarens by China National Chemical Engineering Co (CNCEC) to lift a 1,050 tonne splitter column at a new gas-chemical complex in Atyrau, Kazakhstan. A modular lifting tower with strand jacks was used for the main lift and Sarens used a 750 tonne capacity Liebherr LR 1750 crawler for the tailing operation.
Sarens transported the crane from its yard 45 km away (see a video of the transport here: https://www.youtube.com/watch?v=_ykARIVul7w) and had the crane ready to lift in 14 days with a crew of eight people. Space on site was limited and snow added a further challenge.
Tailing weight was 530 tonnes for the 105 metre long by about 10 metre diameter vessel. A partial lift was made before the splitter had to be held for two days, after which the final part of the lift had to be completed in 30 hours. It was done in half that time, Sarens said.
Making moves outside its home market of China is heavy lifting and transport contractor Sinopec Heavy Lifting & Transportation (SLT). It is a subsidiary of China's Sinopec Group which is the world largest refining company by capacity.
It goes equally large with its cranes as owner of the XGC88000, a 4,000 tonne capacity lattice boom crawler claimed as the largest in the world. Maximum load moment rating is given as 88,000 tonne-metres. SLT said it jointly developed the crane with manufacturer XCMG.
Oil refining, petrochemical and coal chemical industries are its natural habitat.
First application of the XGC88000 was in 2013, since when it has lifted 150 pieces of equipment, many in the 800 to 1,000 tonne weight range, for a total of 120,000 tonnes. The company claims records for the heaviest and highest load lifted, at 2,155 tonnes to 118 metres.
October 2019 saw the XGC88000 make its first lift outside China. It was in Saudi Arabia for SABIC, working under EPC contractor Samsung Engineering at the Unite EOEG III project construction site in Jubail Industrial City.
The XGC88000 hoisted a 1,926 tonne washing tower, the heaviest piece of equipment in the project, in a lift that took less than five hours. It then lifted two 1,312 tonne reactors before moving on to the GAS-P9 air separation project for the National Industrial Gases Company (NIGC), also in Saudi Arabia. After that it was moved to Oman, lifting at the Duqm Refinery for EPC contractor TR.
Following the success of these projects SLT says it is keen to participate in more international projects. Wang Guohua, vice president of Sinopec Engineering Group and the GM of SEG Heavy Lifting, said, "With its world-leading lift capacity, the XGC88000 is well equipped for energy construction projects in the oil, chemical and coal chemical industries. It has already demonstrated its capabilities in multiple key projects within China, and we are confident that the world's largest crawler crane will continue to achieve success in the international market."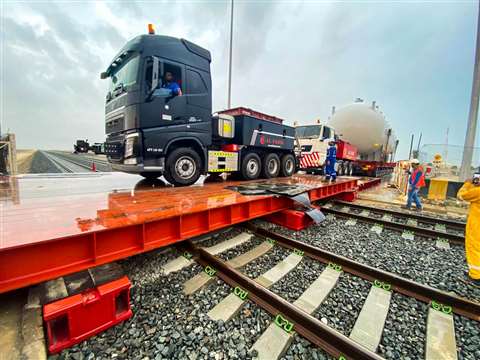 Al Faris moves and lifts
Large crawler cranes also played a part in a project to transport 19 refinery vessels over a distance of 150 km as part of a crude-oil production facility expansion project in Abu Dhabi, United Arab Emirates.
Al Faris moved the vessels on its Goldhofer type PST and THP hydraulic multi-axle and self propelled trailers in stages over three months. In addition to the transporters, Al Faris used its Liebherr 1,000 tonne, 600 tonne and 400 tonne lattice boom crawler cranes to offload the vessels inside the plant. The project will increase production capacity from 420,000 barrels to 450,000 barrels of oil a day.
Road surveys, planning, technical support documentation, authority permissions, execution plans and schedules were prepared by Al Faris in-house. It helped smooth out the process and minimise delays, the company said.
The vessels were made by different manufacturers so Al Faris collected them from the various locations and transported them to Hamriyah and Jebel Ali Port. They were then received at Mussafah port, transported overland and off loaded at site. Challenges included close proximity to a live plant so specialized techniques, equipment and experienced staff were all required.
The 19 vessels were as follows: first stage separator, 293 tonnes, 32x7.5x8 metres (LWH); dewatering separators, 252 and 157 tonnes; slug catcher, 210 tonnes; hydrogen sulphide stripper column, 141 tonnes; second stage separator, 130 tonnes.
Abu Dhabi National Oil Company (ADNOC) gas pipelines buried around 2 metres below ground had to be crossed. To achieve a load of less than 8 tonnes per axle a maximum combination of 68 axle lines was used to cross with the heaviest load of 293 tonnes. It was maintained with all necessary permits as well as approvals from the Department of Transport (DoT) and Abu Dhabi Municipality (ADM), the company said.
Another challenge was to cross the Etihad rail. Following an engineering study Al Faris proposed to design and fabricate a temporary steel bridge. It was analysed for its load distribution and approved by Etihad railway technical team and other stakeholders. A constrained time frame of 6 hours was granted for bridge installation, four vessels crossing and then removal of the bridge.
Additional challenges were roads with inclines, both up and down, crossing beneath electric power lines with restricted height, negotiating small roundabouts, turnings and other bottle necks.