Energy storage for rental
By Thomas Allen10 December 2020
Cross-rental has been an essential element of Off Grid Energy's business model. The company's Technical Director Danny Jones talks to International Rental News about the important role rental is playing in getting its energy storage products accepted by the market.
When it comes to introducing a new and potentially disruptive type of equipment to the construction industry, rental can help to break the ice. This is certainly the case with UK-based battery energy storage manufacturer Off Grid Energy.
In 2010, the UK government introduced a feed-in tariff scheme to incentivise people to install solar panels and wind turbines by offering to pay them for feeding excess renewable energy into the national grid. Off Grid Energy saw an opportunity to provide energy storage units to people who were not connected to the grid and wanted to store excess electricity from renewable sources.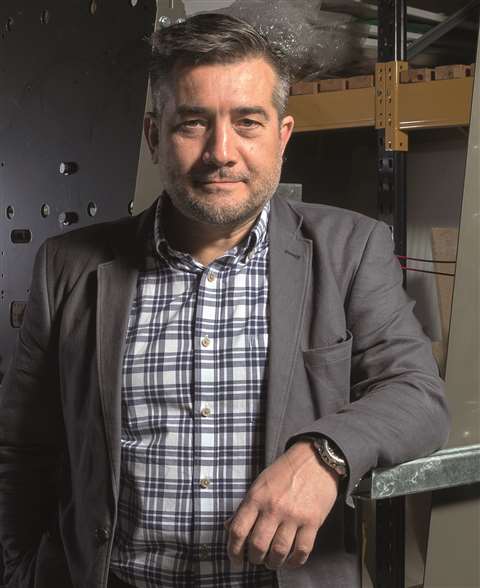 Danny Jones, Technical Director, Off Grid Energy.
"We started supplying bespoke solutions to individuals like farmers, putting batteries, control gear and a management system all into a single box," says Danny Jones, the company's Technical Director. "This evolved into the factory-built, ready-to-go solution we call Gridtogo."
Jones is steeped in knowledge about batteries, having spent 25 years working with micro hybrid power generation systems for marine, automotive and fixed off-grid applications, first as UK manager at Mastervolt and then as UK manager at Victron Energy.
He is also former Chairman of the British Marine Electronics Association.
Off Grid Energy then recognised that its technology could be applied to the temporary power world for construction and events. Gridtogo could be paired with a diesel generator to create a hybrid setup.
Disruptive technology
"It's classic disruptive technology," says Jones. "It's a technology that helps to reduce fuel consumption, but genset renters make money from selling fuel and renting their existing units. They're also nervous about what the new technology is and how to maintain it."
So it was out of necessity that Off Grid Energy entered the re-rental market by establishing Hybrid Power Hire in 2017.
"Our 'push-pull' marketing strategy is based on promoting our technology to the end users, such as construction companies, event organises and electricity companies, or influencers, such as government, local authorities and industry bodies," says Jones. "This aims to create demand because our technology feeds into their sustainability agendas.
"We then take that demand to the rental companies who are experts in delivering hire. They have the infrastructure, the capacity and the relationships – all things we cannot expect to be able to re-create without enormous investment."
The intention is not to compete with but to support rental companies, so Hybrid Power Hire only offers re-rental, rather than renting directly to end users. When the rental companies' customers request hybrid solutions, "this then encourages the rental companies to look to us to deliver the equipment and the expertise," says Jones.
He also mentioned that this feeds into the trend for rental companies to provide solutions rather than just equipment, since this hybrid offering is more complex than simply supplying a genset.
Cross-hire model
"The cross-hire model means that all of this is transparent, we do not undercut our rental customers, our technology gets out to the end users and we can make sure our expertise is properly deployed where it is needed. We have the technology and the know-how, the rental companies have the infrastructure, relationships and the rental expertise."
He adds, "We can concentrate on what we do well, and our rental partners can concentrate on what they do well."
Jones also points out that, in the future, rental companies may wish to invest in their own fleets of energy storage assets. If Hybrid Power Hire were seen as a competitor, rental firms would be less inclined to work with Off Grid Energy as a supplier.
60% of Off Grid Energy's output ends up in cross-rental. Of the remaining 40% that is capital sales, 40% is sold to rental companies, and that proportion is growing, according to Jones.
"When deciding on rental rates, Hybrid Power Hire has to take into account not only the cost of the asset but also the costs that could be saved by using the asset," says Jones. "In addition, the rates must make it possible for the rental companies to whom we re-rent to make a profit themselves."
Regarding the benefits to customers, the cost savings come primarily from the fact that less fuel is used, according to Jones. But he also emphasises the benefit of being able to bid for project tenders that require sustainable solutions, which is becoming increasingly common.
Jones highlights the distinction between air pollution and CO2 emissions; while CO2 is a greenhouse gas, it is not an air pollutant, whereas noxious gases such as NOx and SOx are pollutants that worsen air quality. Off Grid Energy's solutions reduce both, as well as cutting noise emissions.
Important benefit
Another important benefit is that Off Grid Energy's units lengthen the lifespan of the generators with which they are paired.
Not only are they run for shorter periods – and therefore require less frequent maintenance – but the problem of wet stacking is also overcome.
Running gensets at low loads is a common problem since energy demands fluctuate on construction sites, and this can be damaging to the engine. What is more, this has become even more problematic with the introduction of Stage V emissions regulations because aftertreatment systems clog up at low temperatures, causing further damage to the engine.
With the hybrid system, a genset can be run at a high temperature to charge the batteries and then switched off.
In addition to this, energy from the battery system can be used to supplement that supplied by the generator to deal with peaks in power demand. This means a smaller generator can be used, further enhancing efficiency and reducing costs.
The Gridtogo units can be paired up with multiple sources of energy simultaneously, including renewables such as solar photovoltaics, wind and hydrogen.
What about the residual value of the Gridtogo units? Jones says it is difficult to know the residual values because the technology is relatively new, and the lifespan of the batteries depends on how they are used.
Off Grid Energy, originally called Electro Technique before being renamed in 2010, will be celebrating its 20th anniversary next year. The company says it is entering a phase of significant growth, as concern about climate change prompts new regulations and legislation, such as Stage V and Low Emission Zones, that are driving the shift towards sustainable practices.
Export markets
Although the company's focus is on the UK, where Jones says it is selling to the top 20 UK rental companies, Off Grid Energy is also selling its products into the US, EU and Australian markets.
"The American market is huge. The scale is much bigger," says Jones, adding that the company ultimately hopes to set up manufacturing in North America. "At present, our partner there is with the dealer Alliance North America (ANA), headquartered in California."
Before the emergence of the Covid-19 pandemic, an unnamed North American company placed a $5.5 million order with Off Grid Energy.
In Europe, one of the company's first export orders was from Loxam Netherlands in 2014. "Now, we're about to start supplying Boels," says Jones.
He also says Australia has "woken up" to sustainable solutions. The company's partner there is Green Power Solutions (GPS).
Off Grid Energy's sustainable offering could be a recipe for sustained growth.
BOX STORY
Gridtogo proves its worth
UK-based rental company Speedy Hire recently worked with Off Grid Energy to provide a bespoke temporary site power solution to contractor Galliford Try Infrastructure for a highway improvement scheme in Leicester. Two diesel generators were each linked to an energy storage unit.
Compared to a standard generator setup, the hybrid method was said to have reduced fuel consumption by more than 35,000 litres and cut CO2 emissions at least 94 tonnes since the power sources went live on the A46/A5630 works in September, 2019.
Two diesel generators were each linked to a Gridtogo energy storage unit.
It was also said to have saved the contractor more than £6,000 over that period.
Jonathan Scripps, Major Account Manager at Speedy, said, "Efficient solutions like this, if installed across all construction sites, will play a major role in reducing the overall emissions from the industry."
The A46/A5630 scheme led by Galliford Try Infrastructure for Leicestershire County Council involves improvements of a major connection between the A46, the Leicester local highway network, and a new area of housing in north Leicester.
BOX STORY
On the move
Off Grid Energy and Hybrid Power Hire are in the process of moving to new premises in Rugby, UK – a move that has been delayed by the Covid-19 pandemic.
Jones says the new 2,800m2 facility offers the capacity for the company to meet its growth expectations.
It is divided into two units, which will help to keep the manufacturing and rental operations separate while remaining under one roof.
"The building has solar energy, so Off Grid Energy will be able to charge its new units with solar power," says Jones.
BOX STORY
Next generation
Off Grid Energy has just launched its third-generation product line, called Gridtogo Ingenium.
It comprises three models – the SX, MX and LX – with power outputs ranging from 30 to 45kVA.
Based on Off Grid Energy's learnings over the years, these units are designed to be more powerful and resilient. They have stress-tested enclosures and simplified operator controls.
The units feature smart management technology with remote access for monitoring and control, and they are solar photovoltaic-ready.
Due to its multifunctional design, the new line was said to be adaptable to a range of applications and market sectors. And as a modular solution, a number of units can be connected together for larger-scale projects.