EnerMech takes majority stake in MInteg
By Christian Shelton11 January 2018
Engineering services group EnerMech has taken a majority stake in Aberdeen-based maintenance, inspection and integrity specialist MInteg.
MInteg provides a range of specialist maintenance, integrity and inspection services to the oil and gas, renewables, utilities and other major process industries, and offers full IRATA-certified rope access capability.
EnerMech said the investment, for an undisclosed sum, was part of an ongoing strategy to broaden its range of engineering services and to optimise support for late-life hydrocarbon assets by safely reducing costs and improving asset integrity.
MInteg founder Colin Smith and maintenance and integrity specialists John Bruce and Patrick Gallagher – who recently joined MInteg from operator Apache North Sea – have relocated to EnerMech's Aberdeen headquarters and the business will continue to trade under the MInteg brand. MInteg currently have 45 staff and it is expected the workforce will double by the end of 2018.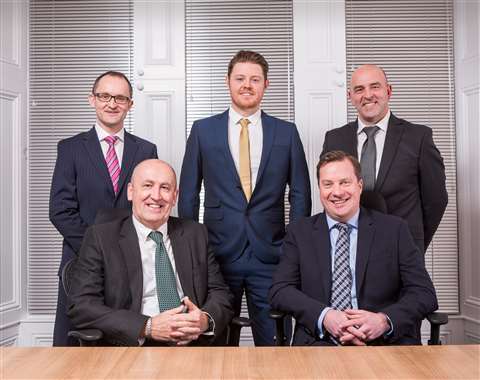 From left to right: Standing: MInteg directors Patrick Gallagher, Colin R. Smith and John Bruce
Seated: EnerMech's CEO Doug Duguid and integrated maintenance and integrity director Stuart Smith
EnerMech chief executive officer, Doug Duguid, said, "MInteg is a highly complementary business to our existing service lines and their skillset broadens out the capability of the integrated services we can offer to the energy, utilities and infrastructure sectors.
"Customers have indicated they would welcome an inspection and integrity offering as well as a wider maintenance offering which encompasses rotating machinery and the MInteg management team are one of the most experienced in the industry in this regard. With a focus on minimising costs for our clients while creating more cohesive and co-operative business models, this acquisition is consistent with our ambition to be recognised as the prominent provider of integrated services."
This is the second acquisition EnerMech has made in 2017 and follows on from the purchase in January of EPS Group which provides electrical and instrumentation services in Australia and the US.
EnerMech now has 3000 employees operating from 40 bases located throughout the UK, Europe, Africa, Asia, Australia, the Middle East and Caspian and the US. The company's 2016 turnover was £263 million which it expects to increase to £360 million in 2017 and show global profits of around £42 million.