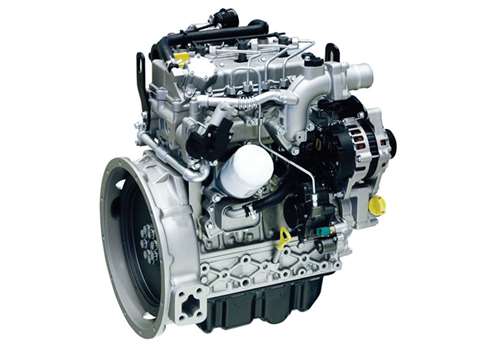 Legislation on exhaust emissions has been focusing the minds of diesel engine manufacturers for years, and 2014 will be remembered for regulation landmarks, with Stage IV coming into force in Europe and the equivalent US Tier 4 Final and Japanese Stage 4.
Although this is the end of the road for now, a further Stage V is in the works for implementation around 2019. This is likely to regulate engines with power outputs not covered by the current standards, as well as tightening the requirements on particulate matter (PM) emissions.
PM has been the focus of the last two rounds of emissions reduction along with nitrous oxide (NOx). The current levels being achieved put the concentrations of pollutants emerging from exhaust pipes around the same level as the ambient air in many cities. In fact, many engine manufacturers will say – only half jokingly – that their engines now act as air cleaners in some places.
However, legislators feel there is still more to do. Research shows that it is the extremely fine particles – those many times smaller than the thickness of a human hair – that cause the most health issues, and it is these that will be regulated. Current laws place limits on the weight of particles that can be emitted, but in future this is likely to shift to a mechanism that will control the number of fine particles, possibly by some sort of count per unit of mass.
But that is a concern for the future. In terms of the new engines coming onto the market and being installed in construction machines, the focus right now remains on Tier 4 Final/Stage IV.
Engine development
Bobcat is introducing its own-brand Stage IV engines. The construction equipment manufacturer announced in June that it had begun the transition to meet the new emissions regulations for machines greater than 37 kW.
According to Bobcat, this has resulted in significant changes to engine design, added components and special service requirements, with the incorporation of non-DPF (diesel particulate filter) Stage IIIB/Stage-compliant Bobcat branded engines in selected Bobcat machines.
It said non-DPF technology had been chosen as a customer-preferred solution that minimises long-term Stage IIIB/Stage IV parts and maintenance expenses. Engines with a non-DPF system have a simpler design, need less mounting space, have no risk of thermal damage and do not require ash cleaning, it said, adding that non-DPF engines also had fewer service needs and offered better fuel economy.
Bobcat is part of the Doosan group, and the new non-DPF engines are being built in conjunction with Doosan Infracore Engine Business Group. They will be added to selected Bobcat machines in 2015.
There will be three engine models – the D18, D24 and D34, ranging from 1.8 to 3.4 litre displacement, for machines ranging from 37 kW to 74 kW. The engines will be used in 500, 600, 700 and 800 platform Bobcat loaders.
The new Doosan engines have undergone 140,000 hours of testing to ensure their reliability. According to Doosan, these new compact diesel engines will offer high power output with a high low-end torque. All three models are powered to improve fuel efficiency while reducing noise, emissions and vibration.
The Doosan Infracore Engine Business Group said it had produced over 1.5 million engines since 1976, and these are used worldwide in compact and heavy construction equipment, commercial and military vehicles, generators and ships.
Bobcat also engaged the engine expertise of global engineering leaders, Ricardo, FEV and SWRI, who together brought nearly 200 years of combined experience in engine design and development to the table.
Automotive manufacturer Scania announced that its industrial engines were ready for EU Stage IV in early 2014. Its new engine range has been developed with EGR (exhaust gas recirculation) and SCR (selective catalytic reduction) technology. Scania has also opted for a non-DPF engine, which reduces the unit's footprint.
Available in 9-litre, 13-litre and 16-litre capacities, the new Scania engines all have the same installation dimensions. Scania said its new engines offered high uptime, generous torque at low revs, good fuel economy and prompt engine response.
All three engines feature the same cylinder design, and share the same cylinder heads, replaceable liners and many of the moving parts, designed to make them easy to repair and maintain.
The DC09, DC13 and DC16 engines will be used in agriculture, mining and material handling equipment as well as construction machines.
Field testing
Cummins has recently completed a two-year field test programme on its Stage IV engines, logging 140,000 hours.
The manufacturer has put 70 machines to test, working under tough duty cycles and extreme temperatures, to provide an insight into engine performance ahead of the manufacturer entering into full production.
Tests were carried out on wheeled loaders and excavators, as well as specialised equipment such as a snow groomer working at high altitude in the Alps, a container handler working long hours in a port, and a rock drill working on a mine site in very dusty, abrasive conditions. Equipment was operated in the high humidity of Florida and the extreme cold of a Canadian winter.
The results, according to Cummins, are that engine calibrations and operating characteristics achieve high fuel economy and better torque delivery. According to the field test, the new Stage IV engines offer +10% lower fuel consumption compared with that of their predecessors.
Jennifer Rumsey, vice president, engineering, Cummins Engine Business, said, "With a very wide range of machine types working at challenging on-site locations, Cummins application engineers were able to build up the most comprehensive mapping of equipment duty cycles, load factors and operating conditions we have ever created.
"This meant that from the start of the near-zero emissions regulations on January 1, 2014, Cummins could ensure that our engines entered production as proven platforms, ready to provide the most dependable performance under the toughest conditions they might encounter," added Rumsey.
The field test also looked at minimising Diesel Exhaust Fluid (DEF) consumption by using a more effective spray pattern technique to encourage better decomposition of the fluid. Cummins results show that DEF is typically dosed at 3% to 4% of diesel by volume.
Initially focused on the QSB6.7, QSL9 and QSX15 6-cylinder engine range across the 130 kW to 503 kW power range, the field-test programme then expanded to incorporate the new heavy-duty QSG12 and compact QSF2.8. Field-testing is also underway with the 4-cylinder QSF3.8 and QSB4.5 engines.
Stage IV engines
Deutz has also unveiled its latest Stage IV engines. The newly-developed TCD 2.9 L4 features ultra-compact dimensions for installation in tight spaces. Externally-cooled EGR and a high-pressure common-rail system result in maximum performance with minimal emissions. According to Deutz, the engine sets class standards with a peak output of 55.4 kW and torque of 300 Nm.
The turbocharged straight four-cylinder TCD 3.6 L4 covers the range up to 90 kW at Stage IIIB emissions level and develops maximum torque of 480 Nm. At Stage IV, it attains maximum output of 97 kW at maximum torque of 500 Nm, elevating the four-cylinder power pack to a class that is normally served by engines of much greater displacement. The engine is also available without an intercooler at outputs below 56 kW.
In addition, the TCD 3.6 permits 100% power take-off both front and back, and also features two auxiliary power take-offs with total torque of up to 310 Nm.
The straight four and six-cylinder TCD 4.1 and TCD 6.1 engines are suited to medium- and heavy-duty application. The TCD 4.1 covers the range up to 115 kW, developing a maximum torque of 610 Nm, while the TCD 6.1 is available at higher outputs up to 180 kW and maximum torque of 1,000 Nm.
The TCD 7.8 is Deutz's most powerful mid-class engine with a maximum output of 250 kW and top torque of 1,400 Nm. It claims to offer -3% to -5% lower fuel consumption compared with its predecessor.
The six-cylinder TCD 12.0 delivers maximum output of 390 kW and maximum torque of 2,130 Nm, while the eight-cylinder TCD 16.0 rounds out the Deutz line-up with 520 kW and top torque of 2,890 Nm.
For EU emission level Stage IV, the 4- to 8-litre TCD 4.1, 6.1 and 7.8 engines come equipped with a DVERT particle filter and SCR.
Power unit
Also from Germany, the new Hatz 4H50TIC open power unit (OPU) has been in the market since January.
The new water-cooled 55 kW Hatz 4H50TIC is available as a ready-to-install OPU. All the parts required for the operation of the engine are included, such as a radiator and intercooler, and associated installation hardware. All parts are installed in the factory during the production process. This means the customer needs only to connect the tank, pre-filter and pump as well as air filter, battery and control box.
According to Hatz, the OPU can be used with a wide range of applications, including hydraulic lifts, hydraulic power units, forestry machinery, drill rigs and stationary applications such as pumps and generators.
The cooling is adapted to a temperature range of up to 46° C. Different radiators with other temperature ranges are possible depending on requirements.
The 4H50TIC as an OPU meets Stage IIIB emissions regulations in the EU without the use of a DPF, although Hatz said a detachable DPF could be provided. It can be removed for cleaning, which Hatz said resulted in lower operating costs compared to closed particle filter systems. It said manual cleaning was considerably less expensive than replacing the complete system.
The engine features two-valve technology in conjunction with a camshaft in block and maintenance-free hydraulic lifters, creating low internal friction values. In addition, a generously sized oil pan and filter allow a service interval of 500 hours. Hatz said the engine also set new standards in its class in terms of power-to-weight ratio and fuel efficiency.
In July, the 4H50TIC diesel engine, when equipped with the optional DPF, received the certificate of conformity with the Ordinance on Air Pollution Control (OAPC) of the Federal Office for the Environment (FOEN) in Switzerland.
By fulfilling the strict OAPC requirements, it can now be used in machinery in Switzerland. Since 2009, new construction machinery in Switzerland with an output of 18 kW or more has had to keep to a particle number limit or alternatively be equipped with a certified particulate filter system.
While it met the strict requirements of Stage IIIB and Tier 4 Final
without the use of a particle filter, for underground use, tunnel construction and in emission-sensitive metropolitan areas with their local requirements, Hatz said that a DPF was often mandatory.
Revised engine
John Deere has launched a new 6.8 litre generator drive genset engine, with a key power node of 250 kVA.
According to John Deere, the engine offers an exceptionally high power density combined with outstanding fuel efficiency, all in a smaller engine than normally required to power a 250 kVA generator.
The 250 kVA engine is available as a bare engine or as a power unit that includes a factory-mounted cooling package and air filter. The 250 kVA also offers switchable speeds of 1,500 and 1,800 rpm, which means that the same engine can be used in 50 Hz or 60 Hz applications.
For end-users, a generator set with a 6.8L 250 kVA engine can be very compact, reducing footprint and installation costs. The engine also boasts exceptional load acceptance and low fuel consumption, while optional crank case ventilation keeps the canopy environment clean. The engine's electronic controls can be synchronised to work with multiple generators.
In EU countries, the new, non-certified 250 kVA prime/
275 kVA stand-by power engine is suitable for stationary generator sets.
The Series 1600 engine from MTU, part of Rolls Royce Power Systems, is now being used in a marine genset.
The genset is based on the 6-cylinder Series 1600 inline engine delivering up to 323 kW output and compliant with IMO Tier II and EPA Tier 3 regulations.
The marine engine version is configured for onboard power generation. MTU said the new genset set a new standard in low running costs, with maintenance intervals considerably longer than average, and specific fuel consumption under 205 g/kWh at full continuous power.