Engines and components: Turning the key
By Joe Sargent31 October 2019
After a strong year of construction equipment sales, it is the task of engine manufacturers around the world to continue to be the driving force of machinery. Joe Sargent writes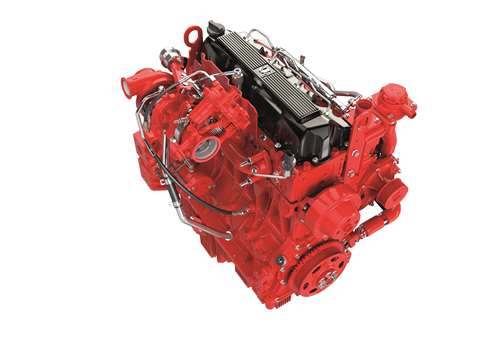 Across the construction sector, original equipment manufacturers (OEMs) are striving to develop machines that are cleaner, more reliable and deliver higher productivity than ever before.
The ways in which OEMs achieve these advancements often comes down to the latest engine technology and how it can deliver greater power density than previous generations.
US-based engine manufacturer Cummins has been working on its Performance Series range of engines ready for the Stage V engine regulations imposed in Europe. These engines, the company says, can deliver on average 10% more power and 20% more torque across the 75-321kW range when compared to their Stage IV predecessors.
Steve Nendick, off-highway marketing communications director at Cummins, said that the benefits these engines offer OEMs are, "Easier packaging of smaller engines into their machine, reduced component complexity and less engine weight, in turn allowing lighter chassis designs. Benefits to operators include increased reliability, reduced fuel costs and less emissions."
Cummins Performance Series range offers engines from 3.8 to 15L displacement and 75-503kW.
The 4-cylinder F3.8 and B4.5 Performance Series engines have achieved increases in power and torque. The F3.8 moves up to 173hp (129kW) and the 4.5 to 200hp (150kW). This level of power density gives manufacturers the opportunity to improve machine capability and offers more value to their customers. Alternatively, there is potential to downsize the engine to one of lower displacement, reducing costs while preserving the productivity of existing machines.
Regulations
The timeline for Stage V emissions regulations in construction were split into two power brackets. Smaller engines (those up to and below 56kW) were required to meet EU regulations in January 2019. The next step is to raise the standards of engines between 56kW and 129kW to Stage V by January 2020 and, of course, there are different emissions regulations for other regions around the world.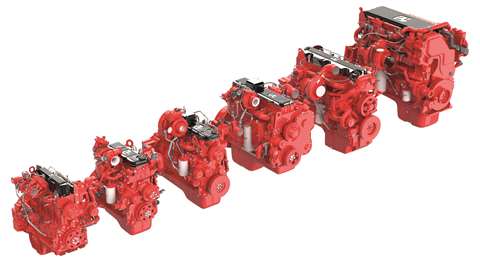 Since regulations began, advancements in engine design, fuel injection and exhaust aftertreatment technology have all contributed towards a total reduction in NOx (nitrogen oxides) of 96% and particulate matter (PM) of 97%.
Ultra-low emission zones in major cities, such as London and Paris, are already impacting on-road commercial and passenger vehicles. However, the imposing nature of tighter regulations for construction equipment is also taking hold.
Despite the beginnings of electrification for construction within cities, Nendick says, "Ultra-clean diesel will continue to be the go-to power source for the construction sector, for the foreseeable future at least.
"Currently, only diesel power can match the intense duty cycles of most construction equipment, while Stage V means compliant machines operate with ultra-low emissions, clean enough even for the most stringent emissions standards.
"Hybridisation and full-electrified drivelines for construction applications are in their infancy, but they are emerging as feasible power solutions for the construction sector, particularly in lighter duty equipment. Cummins is at the forefront of developing these technologies – at Bauma 2019 we showcased an all-electric mini excavator prototype, suitable for urban environments."
Another company that firmly believes in diesel is Perkins, an engine manufacturer for nearly 90 years. Oliver Lythgoe, Perkin's product concept marketing, explained how EU emissions regulations have shaped the engines of today.
He said, "One perception is that all the investment has gone into emissions and it hasn't really turned into customer value, but I don't think that's true, because some of the things you do for emissions create a lot of customer benefits.
"When you have to make a much better fuel system, then you end up getting a more powerful new engine."
It is certainly true to say that diesel engines have benefitted from becoming more fuel efficient and right now they are still the most cost-effective method of powering a machine.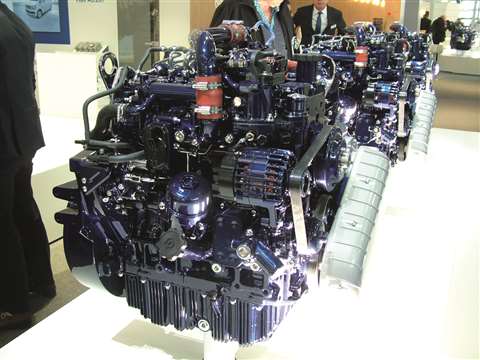 It seems there is a consensus at Perkins that complete electric power is a long way off. Lythgoe added, "Fully electric is deeply problematic to do quickly because the batteries are extremely expensive. They are very big so they don't fit in machines easily and, in many cases, there's nowhere to recharge."
The company unveiled concept hybrids at Bauma, but Lythgoe highlights that there's another, completely different path, which the company has also been experimenting with – using fuel sources that aren't derived from fossil fuels. The idea is that these fuel types will be able to run in much the same way as current diesel systems do, while recycling carbon molecules.
New model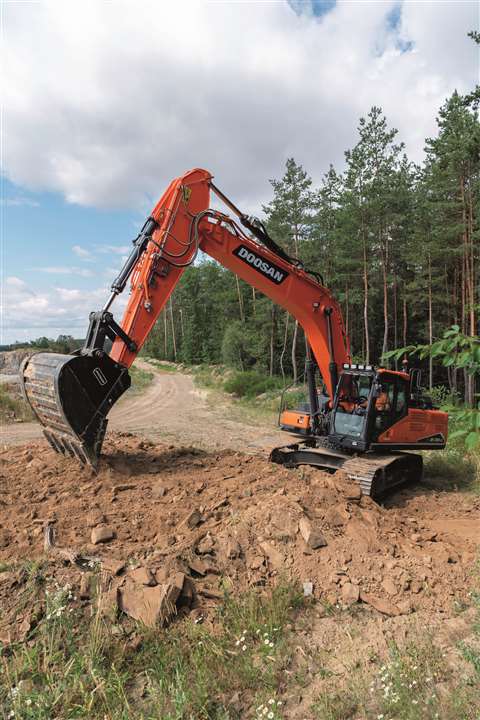 Doosan Infracore, based in South Korea, recently announced the production of its latest Stage V excavator. On board the machine a method that negates the requirement for exhaust gas recirculation has been implemented.
Stephane Dieu, Doosan Heavy Excavator product manager explained, "The exhaust gas goes first through the diesel oxidation catalyst to remove CO (Carbon monoxide) and HC (Hydro carbon) by catalysation, with the CO and HC being converted into CO2 (carbon dioxide).
"After that, you have the DPF (diesel particulate filter), to trap the particulates, then the gas goes to a mixing chamber where the adblue is injected, and a chemical reaction takes place in the catalyst converter to transform Nitrogen oxide to Nitrogen.
"After the combustion, you have CO, HC, NOX and particulates and after the aftertreatment system, we have CO2 + N2 + H2O."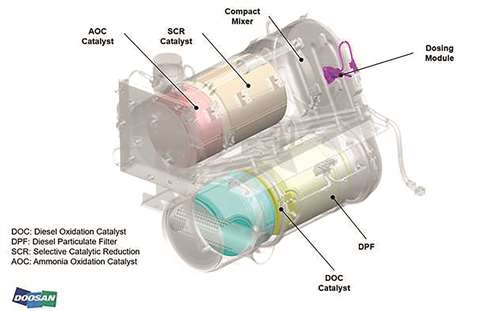 Doosan announced it has joined forces with PT Boma Bisma Indra (BBI), an Indonesian state-owned engine manufacturer, to secure an overseas engine production base for emerging economies in South-East Asia, including Indonesia.
Part of the Indonesian National Engine Manufacturing Project being promoted by the Indonesian government, the contract calls for Doosan Infracore and BBI to co-operate developing BBI engines over the next 13 years. As well as the Indonesian market, the two companies have also agreed to join forces in the Southeast Asian engine market.
Of course, it's not just large pieces of construction equipment that require engine power.
US-based Briggs and Stratton develop power generation solutions for small, handheld items of machinery. One of the company's sub-divisions is Vanguard, which is focused on delivering engines with reduced vibration to benefit operators.
Hand-arm-vibration (HAV) exposure is a rising concern within the construction industry. Operators being exposed to excessive and unhealthy vibration for extended periods of time is a concern for industry contractors and rental companies alike.
Paul Bramhall, senior marketing manager for Briggs & Stratton, said, "The 200 engine is a ground-up design boasting many performance advantages, one of which being 15% less vibration. This not only offers improved operator comfort and well-being, but can also result in greater operator and equipment productivity."
Vanguard has also been working on a new range that intends to maximise return on investment (ROI).
Mike Logan, product manager at Briggs and Stratton, said, "We understand that rental dealers have an increased focus on ROI for their fleets, so we're helping dealers understand how an engine choice can influence positive ROI for equipment.
"We developed the new single-cylinder engines around key areas of performance critical to improving overall productivity, including starting, maintenance intervals, service and support, and total cost of ownership."
The company's new line will span from 5-14hp (3.73-10.4kW) to meet power requirements for a wide range of global commercial applications.
Improved performance
Caterpillar's new C13B engine has been designed to meet both Stage V and Tier 4 final emission standards. The six-cylinder engine combines upgraded air, electrical and aftertreatment systems to produce a range of powers from 456 to 576hp (340 to 430kW) and up to 2640Nm of torque out of a package that is said to be 30% lighter at these performance levels compared to previous models.
Jeff Moore, product manager for 7.2-18L engines, said increased performance is accentuated with transparent aftertreatment regeneration to maximise uptime and improvements in fuel consumption. The C13B is targeted at off-highway OEMs in all industrial sectors.
The C13B can be configured in a number of set-ups to provide OEMs the flexibility to reduce the cost of installation. Engine mounted aftertreatment (EMAT) and Industrial Power Unit (IPU) configurations alongside remote mounted aftertreatment are also possible.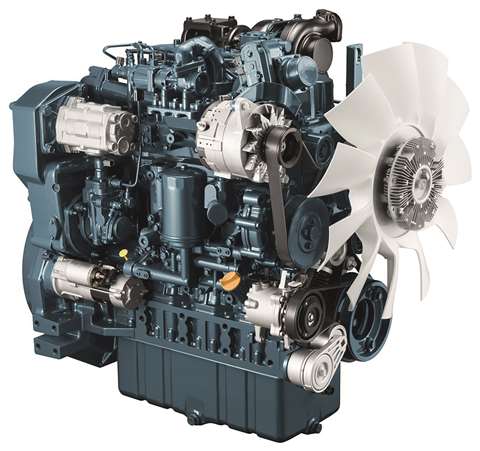 Elsewhere, mass production on Kubota's new 09 series of engines will begin during early 2020. The newly designed V5009, a 4-cylinder 157kW engine, is said to have become Kubota's leading product for various applications, including wheeled loaders, rollers and compactors, compressors and pumps.
Daniel Grant, marketing manager Kubota Business Unit Engine Europe, said, "The V5009 engine will be used by customers who would normally be looking for an engine with the power output of a six or seven litre engine, but want to save on sizing. This means that customers will get a lot of power for their application, without having to compromise on space for installation."
The V5009 engine was not only built under 'downsizing' aspects but also to ensure it would comply with the strict exhaust emission regulations within the US and Europe, as well as with the upcoming Chinese off-road emission regulations.
Liebherr Components has secured a deal with Chinese manufacturer Guangxi Yuchai Machinery group Co. (Yuchai) – an engine manufacturer for road vehicles, gen-sets, and maritime and industrial applications – for the delivery of common rail fuel injection systems to be used in Yuchai gen-set engines.
The agreement, initially signed at the end of 2018, represents a first for Liebherr Components in China and a milestone in such an important market.
The deal with Yuchai is based on the supply of Liebherr's CRS 11.2 and CRS 11.5 common rail system for gen-set engines of the 6TD and 6C series with a maximum power output of up to 730 and
1,470kW and a cylinder capacity of 19.6 and 39.6L, respectively.
Riccardo Delai, head of sales for Fuel Injection Equipment at Liebherr Components, explained that this co-operation started with gen-set applications following discussions about screening chances for future collaboration between the two companies.
The agreement is expected to be extended in the future to cover several other off-road engine applications; the companies plan to further develop the fuel injection systems for both engine series in marine configurations and to adapt the 6TD series for off-highway machinery.
Liebherr's range for common rail fuel injection components is available for engines ranging from 95 to 290kW output power per cylinder. The latest product in the range is the 2500-bar common rail system that was exhibited at Bauma Munich; this is a compact fuel injection system developed originally for on-road heavy-duty trucks, that is also expected to find applications in off-road vehicles.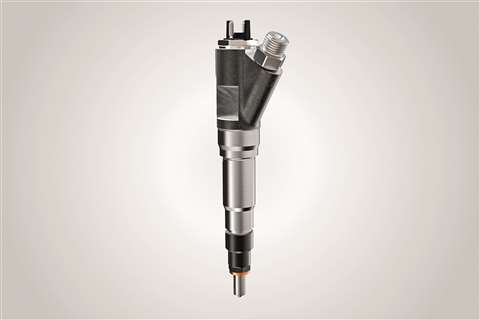 According to Delai, the agreement with Yuchai is founded on the know-how Liebherr has in three main areas: machines, engines and fuel injection solutions, something that is, "Unique in our industry," according to Delai.
Finally, it was recently announced that joint venture partners Sany and Deutz AG have signed an agreement with representatives of the government of Changsha, China, to build a factory to produce high-performance engines in the province of Hunan.
The province of Hunan is said to be contributing several tens of millions of US dollars in additional funding to the project.
Six emissions standards engines and will be built at the new plant. Preparations for the joint venture to start production are said to be progressing well, with construction work on the production plant on track to be completed at the end of 2020 and production scheduled to start in 2021.
Diesel Progress Award winners
International Construction's sister magazine presents industry awards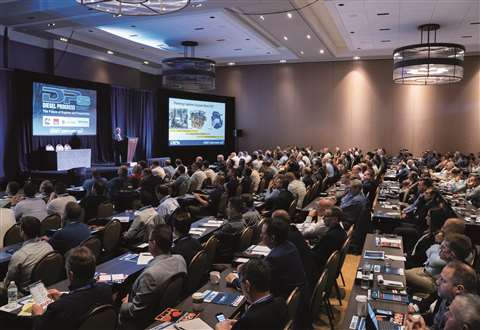 Seven engine manufacturers and distributors were the winners at the inaugural Diesel Progress Awards held in Kentucky, US. The winners were:
Achievement of the year: Hatz (for E1 electronic control and new level of technology in single-cylinder diesel engines)
Engine of the year > 175 hp: Caterpillar (3512E engine with dynamic gas blending)
Engine of the year < 175 hp: Kohler (K-HEM energy modules)
Employer of the year: Volvo Penta of the Americas
Electrification newsmaker of the year: Briggs & Stratton's Vanguard and Argo (joint development of battery-powered autonomous vehicle)
Electrification application of the year: John Deere (for 644K & 944K wheeled loaders)
Engine distributor of the year: Anderson Industrial Engines
Bonfiglioli's electric drives
Italian manufacturer of special components delivers new drive method
A fully electric solution from Bonfiglioli looks set to replace conventional axial piston hydraulic units in excavators. The Italian manufacturer has launched the 701TE and 701CE slew and track drives for mini excavators in the 2 to 3-ton range.
Andrea Torcelli, Bonfiglioli's chief technology officer, said that this wholly proprietary electric solution improves a machine's efficiency, extends maintenance intervals and therefore maximises total cost of ownership.
The motors are designed to fit the space available for the slew and track system, minimising the requirements and modifications to the frame and the entire system, thereby delivering high power density.
As well as the more obvious benefits of electrification, an increasing focus in the use of Internet of Things (IoT) is being developed.
When using electric components, the data available is more accurate. According to Bonfiglioli, it is possible to measure in real time a series of data coming from the mechatronic chain, such as the current, torque, power, speed, vibration or temperature, and process them into information that can be used to make decisions.
Cutting costs, boosting efficiency
Increasingly in modern engines it's important to use high quality fuels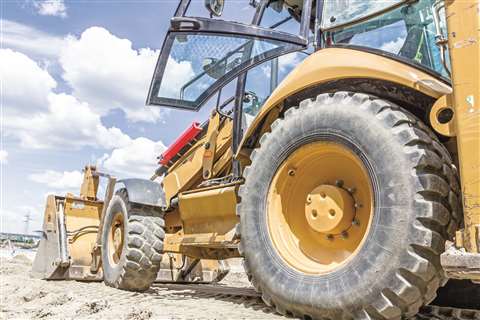 When looking for ways to cut costs or increase efficiency, companies often think of large-scale changes, such as the adoption of fleet-wide telematics. What's sometimes overlooked is the impact that paying attention to the smallest components at the heart of vehicles, such as the fuel injection system, can make.
When injectors get clogged or corroded, the engine runs at suboptimal efficiency and could even malfunction. According to one study, the presence of corrosion deposits reduced the injection quantity by 26%. This cuts the amount of energy transmitted and increases fuel consumption.
Today's fuel injectors in modern engines are more efficient than ever, but this means it is more important they are kept in good condition. One study of road construction sites found 25% more dust and particulates in the air than were present before work began. Equipment is often in operation for long hours in unforgiving conditions.
The construction industry has experienced an advancement in the sophistication of engine components. While these systems have a higher performance potential, they are also more susceptible to dirt and contaminants. Consequently, they require a greater standard of protection.
Malaysia-based construction firm Malbumi Group partnered with Shell Commercial Fuels to switch its fleet of over 300 construction vehicles and 60 stationary generators to Shell FuelSave Diesel with Dynaflex Technology.
"We have never seen injector carbon deposits as light as these, and which you can just wipe off," said Liew Yun Len, the company's chief mechanic. Historically, the company used to spend tens of thousands of dollars a year cleaning, maintaining and replacing fuel injectors.