Engines at the ready
By Alex Dahm17 October 2016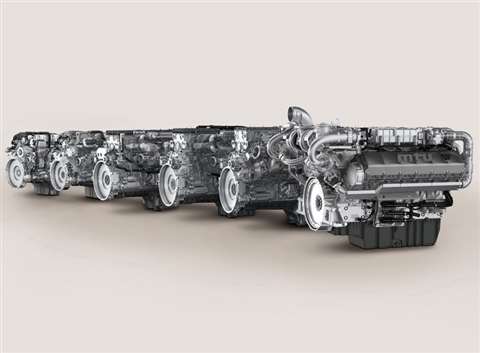 The impending European Stage V engine exhaust emissions legislation has a major impact on crane manufacturers and then on end users and owners worldwide. Katherine Weir reports
The next stage of exhaust emissions regulations for engines in new non-road mobile machinery sold in Europe will become mandatory on 1 January 2019. By this date, manufacturers will have to ensure that engines fitted in their machines meet the new Stage V emissions standards, superseding the current Stage IV. Stage V will tighten emissions limits for particulate matter (PM) and oxides of nitrogen (NOx) for non-road mobile machinery (NRMM).
Coming so soon after the last round of regulations makes implementation of the next stage another hard blow to all manufacturers and to builders of cranes, in particular. In light of this, a series of meetings involving representatives from the European Council and relevant European Parliament committees, secured a change to the original proposals. Instead of a 12 month transition period for all equipment manufacturers (OEMs) to adapt their machines to Stage V engines, an 18 month transition was agreed, with mobile crane manufacturers allowed a further 12 months on top of that. The additional six month 'sell off' period remained unchanged for all types of products.
The agreement follows concerted lobbying from all sides of the mobile crane industry, led by the European Materials Handling Equipment Federation (FEM) Cranes and Lifting Equipment Product Group with the support of the European Association of Abnormal Road Transport and Mobile Cranes (ESTA).
Søren Jansen, ESTA director, explains what this means for mobile cranes, "The engines get bigger and heavier with additional equipment and systems. The possibility of adapting such an engine system to the needs of a specific crane model is very limited so, instead, the crane must be adapted to the required engine system."
Compliance
Engine manufacturers, for example, Germany-based Deutz, have preparations for Stage V well under way. Gregor Fernandez, head of the business team, material handling, at Deutz, says, "Our current engine portfolio from 2.2 to 16.0 litre displacement is ready for Stage V. They are available on the market with our 'Stage V ready' logo."
The company's TCD 6.1 and TCD 7.8 six cylinder inline engines are suitable for crane applications. At April's Bauma exhibition in Munich it presented the new TCD 5.0 four cylinder engine development - also suitable for crane application.
Fellow German engine manufacturer Hatz recently launched its Stage V-ready 4H50TIC. It is a 2 litre engine with turbocharger and intercooler producing a maximum of 55 kilowatts.
Commercial engine and truck manufacturer Scania also confirms that its current industrial range - 9, 13 and 16 litre diesels from 202 to 566 kW - is ready for Stage V.
Similarly, diesel engine manufacturer MTU has engines already available for the new legislation and is working on the rest of its products. Frank Bühl, director of global construction and industrial (C&I), agriculture business at MTU, says, "MTU and Daimler will jointly develop MTU series 1000, 1100, 1300 and 1500 for compliance with the Stage V off-highway emissions requirements on the basis of the Daimler OM 93x and OM 47x commercial engines.
"Also, MTU´s current 10 and 12 cylinder series 1600 engines are developed for the future requirements of the emission legislations," Bühl continued.
Germany-based crane manufacturer Tadano Faun (part of Tadano in Japan) has been using MTU for its ATF all terrain range, and says it will continue to invest with the company ready for Stage V. Dr Uwe Renk, Tadano Faun spokesperson, explains that its medium duty engine generation (MDEG) will use type 4R1000 and 6R1000 engines, while its heavy duty engine platform (HDEP) will use type 6R1100, 6R1300 and 6R1500 engines.
Renk says, "We will buy complete systems from MTU, including engine and after treatment of exhaust gases, which we install into our cranes. The new Stage V systems will include EGR [exhaust gas recirculation], SCR [selective catalytic reduction] and DPF [diesel particulate filter], with the DPF being new compared to Stage IV systems."
Another crane manufacturer getting ready for the 2019 legislation is Liebherr. It has an engine portfolio that includes two 4 cylinder, two 6 cylinder, one 8 cylinder and one 12 cylinder configuration, covering a power range of 200 to 750 kW.
Simone Stier, head of promotion and communication at Liebherr components division, says, "Liebherr has developed SCRFilter for Stage V. It incorporates a DOC [diesel oxidation catalyst] catalytic converter, an SCR and an SCR-coated particulate filter. Thanks to the modular principle for engine construction, the same base engine by Liebherr can be used to comply with various emission standards, depending on the built-in exhaust gas after treatment system."
Manitowoc is converting its range of products to meet Tier 4 Final/Stage IV for Europe and the North American market. The crane manufacturer is using engines MTU and Cummins. Andreas Cremer, global product director for all terrain cranes at Manitowoc, says, "We will use a combination of both EGR and SCR technologies to comply with the latest emission standards, which includes DEF [diesel exhaust fluid]. For Stage V, DPF technology will most likely be used."
The magic formula
Regarding the technology that is best suited to get engines ready for Stage V regulations, Cremer says, "Up until now, EGR and SCR were good enough to reduce NOx and particles for our Mercedes engines but now smaller particles are being produced that will be handled in Stage V with the DPF."
For Stage IV, most manufacturers could meet the regulations without a diesel particulate filter, but for Stage V it becomes a necessary component to the engine because of the particle number limit.
Fernandez at Deutz explains that reducing the particle count to mandatory limits is the major challenge to fulfil Stage V. He says, "Up to 3.6 litre displacement we fulfil EU Stage IV without a DPF, but a DPF is optionally available for higher regulated markets (e.g. Switzerland). From 3.6 to 7.8 litre displacement, all our current TCD engines for Stage IV have a DPF as a standard. For the upcoming EU Stage V, all engines will have a DPF as a standard."
As with Manitowoc and Deutz, Scania will also use a DPF for the next round of emission regulations. To reach the solution the company used its experience from meeting Stage IV/Tier 4 final and from its truck division. Anders Liss, vice president of sales at Scania Engines, explains, "We have had a lot of parallel concept developments to find the best solution. Due to the extra cooling demand we will remove the EGR and other earlier demanded parts. This will make the engine cleaner, and simplify the engine and installation. To make the engine as robust and powerful as possible we will use SCR together with DPF."
Liebherr also went with the decision to remove the EGR for Stage IV and V due to "possible overheating, oversized ventilation and reduced service lifetime."
MTU explains how the combined SCR and DPF box will work. "With SCR an aqueous urea solution is injected into the exhaust system. The catalytic converter then converts the harmful nitrogen oxides into harmless nitrogen, carbon dioxide and water vapour," Bühl says. "With the DPF, the particulate filter reduces soot emissions to an absolute minimum."
In terms of servicing and after treatment, there is additional effort required from end users with DPF, especially if this was not already used in Stage IV. Changing and cleaning the filter will need to become part of the servicing of the machines. Liebherr says that cleaning intervals with the SCR coated filter can be stretched to more than 4,500 operating hours, while Scania also talks of "very long intervals" for exchange.
Renk at Tadano Faun speaks about what Stage V means for crane manufacturers using two engines. "As we use two engines in our ATF all terrain cranes from the 70 tonne class upwards, the additional DPF for meeting Stage V means that we have to take double the effort in adapting the crane design than competitors using just one engine in their cranes," he says. "Nevertheless, we are convinced that the two engine approach is the right path to go because it offers huge benefits to crane owners."