Engines: focus firmly on Stage V
By Joe Malone10 February 2016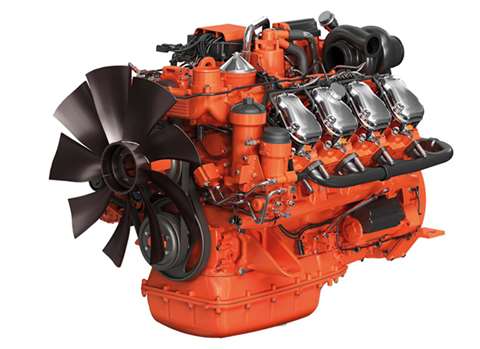 Throughout the world, engine emissions standards are getting tougher – highly regulated parts of the world such as the EU, US and Japan all comply with Stage IV regulations, or equivalent, which had previously been seen as the end of the road.
However, the European Commission has announced its intentions to implement Stage V, probably in 2019 and 2020. The aim of this is to reduce levels of very fine particulates in exhaust streams, as well as regulate more sizes and types of engines not currently covered by Stage IV laws and their predecessors.
Although Stage V emission standards will not be in force until at least 2019, Swedish-based Scania has announced it will offer such standards well in advance.
In-house development
Scania's new range combines top performance and total operating economy, and features engine-management and emission-control systems developed in-house, the company claimed. The new Stage V engine will come in three sizes – 9 litre, 13 litre and 16 litre, and will produce output ranges from 202kW to 566kW.
The company aims to help reduce original equipment manufacturers' (OEM's) engineering requirements for developing Stage V-compliant off-road products. Its Stage V solution relies on selective catalytic reduction (SCR) technology and diesel particulate filter (DPF) exhaust aftertreatment.
Anders Liss, vice president of sales at Scania Engines, said, "Scania's industrial engines are based on our successful Euro 6 engines for on-road applications."
Important requirements for the industrial engine segment are high uptime, generous torque at low revs, excellent fuel economy, and prompt engine response. These demands are all met by the new Scania engine range, said the company.
Key characteristics of the new engine ranges include being easy to service, modular architecture with individual cylinder heads, Scania XPI common-rail fuel injection, SCR and DPF exhaust aftertreatment, an engine management system, and a scraper ring to prevent carbon build-up at the top of the piston. This is extremely useful in low-load applications, it said.
To ensure control of all aspects of engine performance, Scania has developed new engine management systems. Its key functions include fuel injection, exhaust aftertreatment, charge air, and engine operating temperature. The control unit is mounted on the cool side of the engine.
Co-operation
Meanwhile, German manufacturer MTU will continue to co-operate with Daimler on developing and building high-speed MTU-brand diesel engines. Taking Daimler's OM 93x and OM 47x commercial vehicle engines as a basis, the companies will develop the MTU Series 1000, 1100, 1300 and 1500 units that comply with the Stage V off-highway emissions standard.
These engines deliver 100 to 480kW and will be available before the Stage V regulations become active. The two companies also agreed to extend their supply contracts for industrial engines compliant with older emissions stages.
Ulrich Dohle, CEO of Rolls-Royce Power Systems, said, "By extending our existing supply contracts, we are making industrial engines for all relevant emissions stages available to our customers on a long-term basis.
"At the same time, we can already unveil our solution for the new EU Stage V legislation."
The company said that its engines would meet the more stringent emissions limits by deploying an additional diesel particulate filter. Further in-engine features will also be important in helping lower fuel consumption.
Stage V ready
Japanese manufacturer Yanmar has announced its TNV-CR series industrial diesel engines are prepared already for the introduction of Stage V regulations. The company's entire range complies with the upcoming regime proposal, announced by the European Commission last September. It is also compliant with the Swiss OAPC (ordinance on air pollution control) ordinance regulations, it said.
Such conformity means that, for OEMs already using Yanmar TNV-CR engines, no change at all would be necessary to comply with future regulations. There are six designs of engines in the Yanmar TNV-CR series, a mix of three and four cylinder water-cooled diesels, and direct injection, which range from 19kW to 56kW.
The evolution of environmentally friendly technology has long been part of the company's corporate philosophy, and the DPF solution to clean up exhaust emissions was adopted to pre-meet EPA Tier 4 (US regulations) and EU Stage IIIB, said Yanmar.
DPF regeneration control enables Yanmar to achieve extremely low lube oil dilution by fuel oil, lower fuel and lube oil consumption overall, extended particulate filter durability and longer maintenance intervals, it claimed.
In conjunction with DPF and to combat clogging and cleaning down-time, Yanmar has successfully developed an exclusive regeneration system, with patterns easily selectable according to the operational period and load involved.
Currently, its engineers are evaluating new approaches to DPF cleaning in order to improve levels of servicing requirements further.
German manufacturer Deutz has announced that its 2.9 to 7.8l cubic capacity range diesel engines already meet the Stage V emissions standards.
In anticipation of the fourth emissions standard (EU Stage IV/US EPA Tier 4 Final), introduced in 2014, Deutz had already re-designed substantial parts of its engine range from scratch and had implemented the latest exhaust aftertreatment technology, it said.
In conjunction with a sealed DPF, these engines already conform to Stage V. Deutz said that this meant that no expensive modifications to customer equipment were needed for them to meet the next emissions standard, because engine dimensions
and design remained the same.
The company also said that training courses and service provision would be available to help customers sell on their machines to lesser regulated regions. It said there would still be de-tiered engines so that an across-the-board engine platform could be used both in Stage V markets and in areas with more relaxed regulations.
UK-based JCB has engineered a Tier 4 Final/Stage IV emissions solution for its JS130 to JS235 crawler excavators, claiming lower emissions and improved fuel consumption, without the requirement for a costly DPF.
The company's heavy products division has also improved access to the upper structure of the machines, delivering three-point access for operators
and service engineers.
Key new features include Tier 4 Final/Stage IV JCB Ecomax engines with no DPF, claiming an average of 6% fuel consumption improvement, a larger fuel filler neck for easier refuelling on site, smart control system with AdBlue display, a high capacity cooling pack, revised hand rails for three-point access, and the new plus pack.
To achieve the Tier 4 Final and Stage IV emission standards, manufacturers have to reduce harmful nitrogen oxides (NOx) by 90%, compared to the already low levels emitted by Tier 4 Interim models. To achieve this, JCB's engineers have used SCR technology with an integral diesel oxidation catalyst (DOC) using a diesel exhaust fluid (DEF), said the company.
The SCR unit replaces the engine's standard exhaust muffler. It reduces NOx in a chemical reaction using ammonia, which is found in the AdBlue solution. The DEF reacts with the NOx to convert the pollutants into nitrogen, water and tiny amounts of CO2, said JCB.
The DEF, which is composed of purified water and automotive grade urea, is non-hazardous, but does require certain precautions in terms of handling and storage.
JCB has also increased the diameter of the diesel tank filler neck with the fuel filler strainer up by 42% and the filler cap 28.5% for easier filling on site. A pop-up in-tank fuel level indicator has also been installed to prevent over filling. In addition, JCB has installed fuel taps on the feed side of the fuel filters, to cut fuel loss during fuel filter changes, said JCB.
The JS200 series machines have been upgraded with the use of the latest generation Kawasaki hydraulic pumps. This pump is 3% more efficient than the previous model, producing a higher flow for the same revolutions. This had allowed JCB to reduce engine rpm for the same hydraulic flow, contributing to a fuel saving of up to 6% over Tier 4 Interim/Stage IIIB models, it said.
The cooling pack has also been rearranged to increase capacity. The new layout is 34% larger with both the charge air cooler and the air conditioning condenser mounted on hinges to allow easy access for cleaning.
Redesigned platform
Volvo Penta has launched new 5 and 8 litre engines that meet EU Stage II, Stage IIIA and Stage IV emissions standards.
The D5 and D8 engines benefit from a redesigned platform and advanced fuel injection and aftertreatment systems. Although the D5 and D8 engines are new to Volvo Penta in Stage II and IIIA configuration, the same base units have been subjected to hours of running by Volvo Trucks and Volvo Buses, and have undergone extensive field tests in a variety of applications and machines, including terminal tractors and forklifts, according to the company.
The D5 and D8 engines share the same basic engine design as their D11, D13 and D16 counterparts, as well as a common electronics platform that allows them to communicate using the same protocol, regardless of emissions levels. Their inline four and six cylinder design features a common design footprint, with components like the turbocharger located in the same place on all models.
Displacement in the D5 and D8 is increased compared to previous versions, which Volvo Penta said offered improved engine block stiffness, as well as higher torque at low speed. But despite the larger displacement, fuel consumption is also reduced by as much as 2.5%, it said.
Meanwhile, the company has developed a Stage IV aftertreatment system with features that help operators reduce fuel consumption, downtime and maintenance costs. The new Stage IV engines come in 5, 8, 11, 13 and 16 litre displacements, ranging from 105 to 515kW. To meet Stage IV emissions requirements, Volvo Penta simply redesigned the SCR technology already installed in its Stage IIIB engines, it said.
As with JCB's SCR technology, DEF is injected into the exhaust line and reacts with harmful NOx in the catalytic converter to become nitrogen and water. Since NOx is created at high temperatures, a light exhaust gas recirculation further contributes to reducing NOx by lowering the engine's peak combustion temperature, added Volvo Penta.
David Hanngren, manager of industrial product planning, said, "Because they're configured to perform at optimum levels, burn less fuel and produce very little smoke, our Stage IV engines are, in many applications, a better solution than those using a DPF."
Japanese manufacturer Komatsu has provided a Stage IIIB engine conversion solution.
Komatsu Europe has made a conversion process available to support current and future demand for pre-owned Stage IIIB Komatsu machinery in lesser regulated countries where ultra-low sulphur diesel (ULSD) fuel is not available.
The conversion process allows Komatsu machines to run properly in territories where diesel fuel has higher sulphur content than in Europe, the company said. The Komatsu-approved modification process will be carried out by authorised Komatsu dealers.
Jim Venerus, deputy general manager for European product marketing, said, "Certain EU Stage IIIB engine technologies may not operate at peak performance levels in lesser regulated territories where non-ULSD fuel is used.
"The Komatsu-approved conversion process allows Komatsu dealers to provide a quick and easy solution to our customers without compromising product performance."
UK-based Perkins has launched the 403F-E17T, a new addition to its 400 Series range of engines.
Designed to meet US Tier 4 Final emissions standards, the engine follows in the footsteps of the electronically controlled four cylinder variant launched by Perkins in November 2014.
A 1.7 litre turbocharged engine, the 403F-E17T features common rail direct injection and full authority electronics, and is already attracting interest from compact equipment manufacturers in the construction sector and from the rental market, said Perkins.
It said the compact package size and engine architecture, featuring a small DOC, allowed OEMs to adopt no-compromise machine designs across many compact applications, including wheeled loaders, hydraulic excavators, aerial lift platforms, and small agricultural equipment.
The addition of the common rail fuel system and full authority electronics provides a tangible and marked increase in performance, which also allowsa OEMs greater flexibility in tailoring the engine to specific applications, it said.
Performance from the turbocharged 403F-E17T is 30kW at a rated speed of up to 2,800rpm.
This engine does not require an air-to-air charge cooler, saving valuable space in very tight engine compartments, which also allows OEMs to reduce installation cost and complexity, according to Perkins.
As a result, operators and end users will benefit from better torque, a better load acceptance and a smooth operation from machines equipped with this three-cylinder model.
This torque capability has not come at the expense of fuel consumption. Real life testing has shown an 11% improvement in specific fuel consumption (SFC) previously gained at Tier 4 Interim, it said.
As with all 400 Series models, ease of servicing is said to be another key benefit with the 403F-E17T, with the DOC only aftertreatment being service free; along with a standard 500-hour service interval for fuel and oil filters.
Kate Theobald, 400 Series marketing manager for Perkins, said, "This new model retains its compact dimensions, offering customers the ability to transform how their machines perform and operate.
The sheer flexibility of this engine will bring multiple benefits for OEM customers."